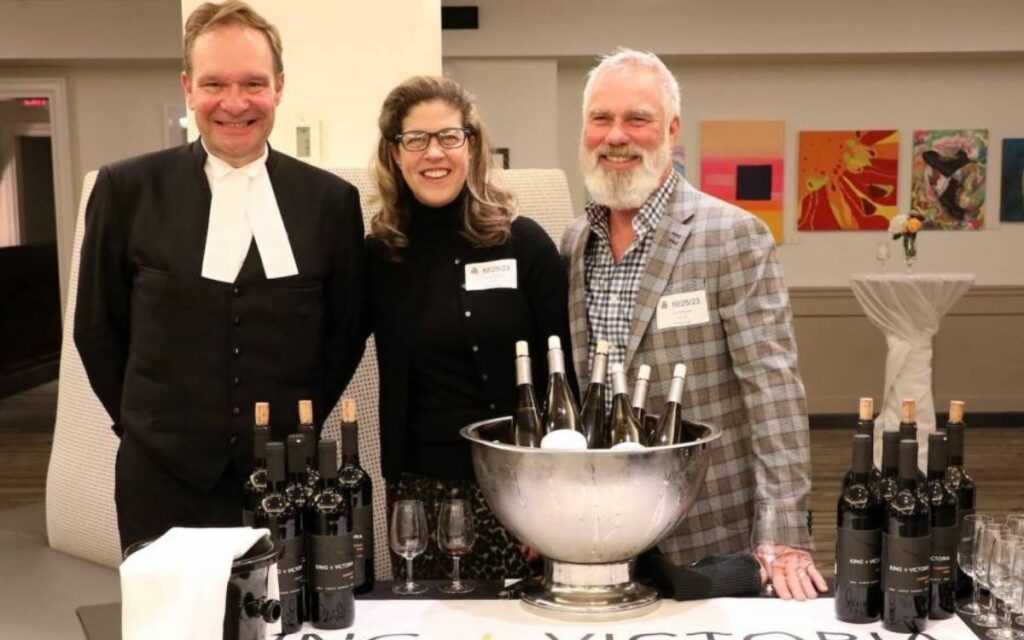 King and Victoria Winery's 2020 Cabernet and Watchful Eye Winery's 2021 Chardonnay will be served at all of the Legislative Assembly's formal functions throughout 2024. Pictured are Speaker Ted Arnott and Tracey and Joe Schenck from King and Victoria Winery. Photo credit: Legislative Assembly of Ontario/Nokomis O'Brien via The Grower
MPPs, staff, and guests will once again be sipping selections from Niagara at events throughout 2024, after two wines from the region were chosen to be the official wines of the Legislative Assembly of Ontario next year.
On October 25, Speaker of the Legislature Ted Arnott and the Grape Growers of Ontario hosted the 44th annual Speaker's Wine Tasting at Queen's Park. 
Members and staff voted on their favourites from a short list of six Ontario VQA wineries. 
Vineland's King and Victoria Winery's 2020 Cabernet was selected as the official red for 2024, while the 2021 Chardonnay from Beamsville's Watchful Eye Winery was picked as the official white. 
"Representing a riding with the most independent wineries in the province and a riding that now boasts the two official wines of the Legislative Assembly of Ontario confirms the world class status of our local growers and winemakers," said Sam Oosterhoff, MPP for Niagara West.
"I congratulate the Schenck family at King and Victoria Winery and George family at Watchful Eye Winery for their award-winning vintages."
As official wines of the Legislature, the two Niagara West wines will be served at formal functions at Queen's Park throughout 2024 and will be available for purchase by elected members and staff at the Legislative Assembly of Ontario gift shop.
"As the legacy partner of the Legislature's annual wine tasting event, Grape Growers of Ontario thanks the Speaker of the Legislative Assembly of Ontario for continuing the tradition of choosing the official VQA wines of the Legislative Assembly for the coming year," said Matthias Oppenlaender, Chair of Grape Growers of Ontario.
"Our agriculture value-added industry is rooted in the land, and Grape Growers of Ontario looks forward to continuing to work with the Government of Ontario to support Ontario's grape and wine industry."
The naming of official wines is one of Queen's Park's most cherished modern traditions – one in which Niagara is often well-represented. 
The official red and white wines of the Legislature were both from Niagara in 2023 (from Vineland's Kacaba Vineyards and Winery and Niagara-on-the-Lake's Ferox by Fabian Reis) and 2022 (from Niagara-on-the-Lake's Ravine Vineyard Estate Winery and St. Catharines' Henry of Pelham Family Estate Winery).