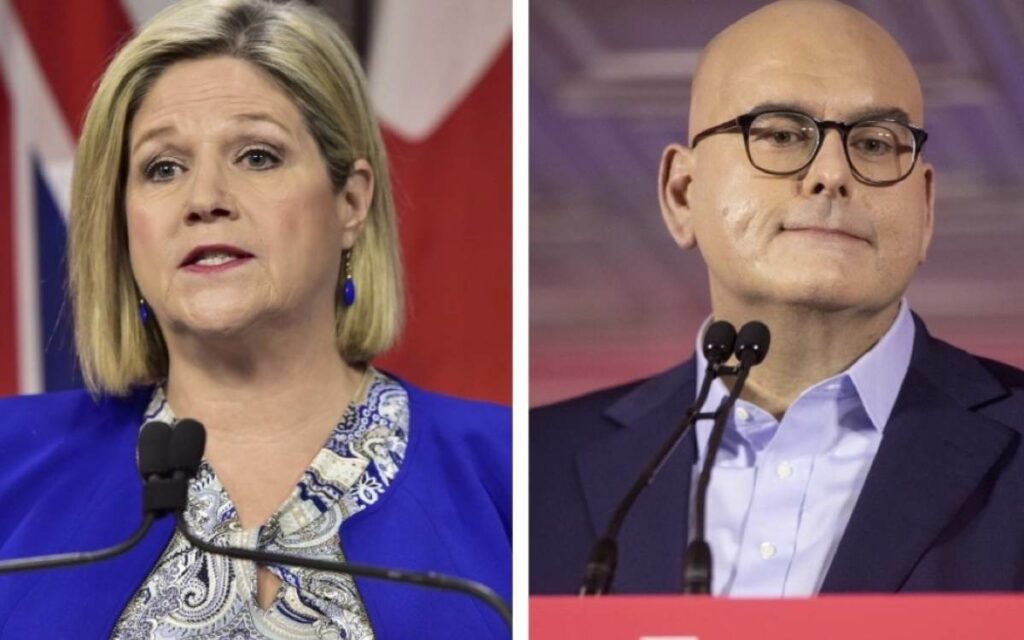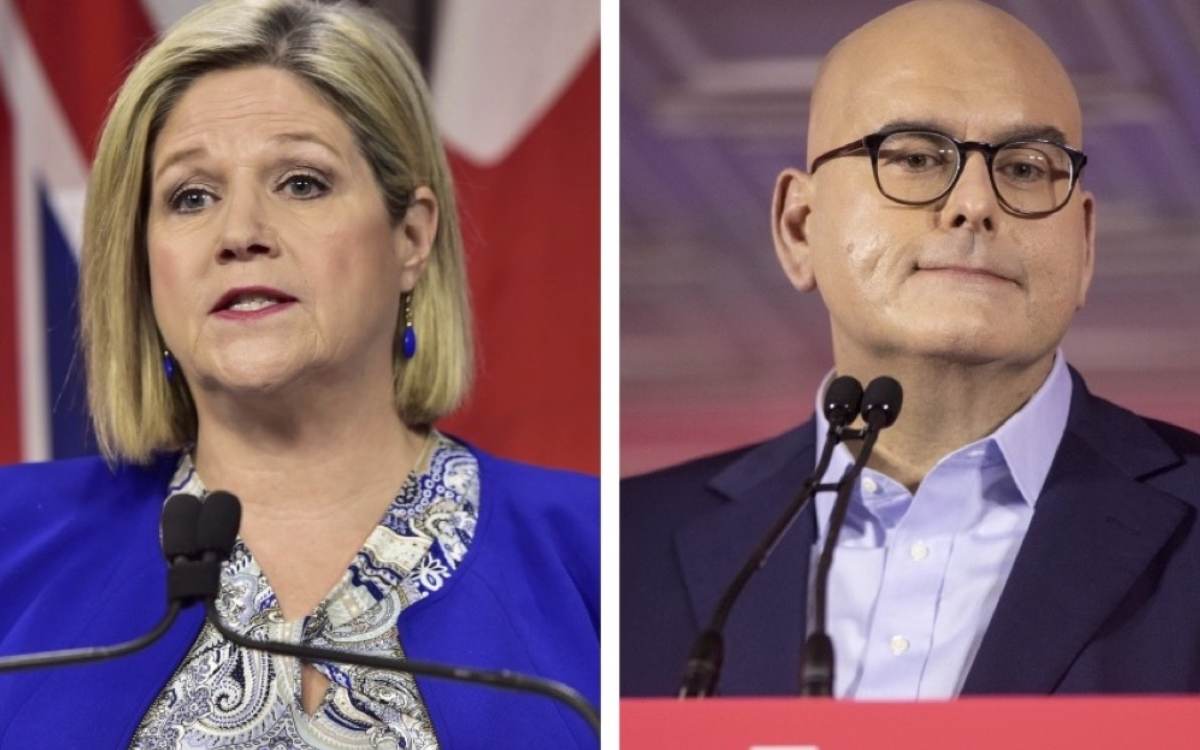 NDP leader Andrea Horwath (left) and Liberal leader Steven Del Duca. Photo credit: The Canadian Press/Frank Gunn and The Canadian Press/Chris Young
You have to hand it to the politicians running in this election campaign. Never let it be said that they are not laying out what they would do if elected.  
Since the campaign's launch last week, every day has been like Christmas. A promise here, a promise there. And nary a worry about how we will pay for it all, just a promise to balance the budget sometime in the future. One wonders how they can keep this pace up for the next three plus weeks. 
In their defence, they do seem to be responding to what is worrying Ontarians. Not surprisingly, given inflation, affordability seems to top the list. But jobs and the economy, the cost of housing, transportation, climate change, education, health care and helping kids recover from COVID also register. It is a long list, hence the never-ending stream of promises.   
Premier Doug Ford's Tories have been the most focused in both their promises and their message. With a campaign theme of "get it done," they are rolling out plans to build new highways, hospitals and long-term care beds, expand GO Transit, scrap license fees and some toll road fees, and cut the gas tax.  
They are counting on the public's frustration with the endless debates, studies and reviews that seemed to delay most major infrastructure projects in the past, while needs continued to grow. But if Mr. and Mrs. Front Porch are more worried about how to afford the groceries, they may not see the immediate value of large infrastructure projects that may or may not touch their riding. Expect more announcements to come.
In contrast, Liberal leader Steven Del Duca's Liberal platform has something for almost everyone. A promise to ban handguns was an early offering, followed by a catchy promise to cut all transit fees across the province to a "buck a ride," taking a page out of Ford's "buck a beer" promise in the last election. He will also spend millions buying out private sector owners of long-term care facilities, an ideologically driven promise that will not add a single new bed to the province.
His education platform could have been cut and pasted from the teacher unions' handbook – class sizes capped at 20, more money for repairing and building new schools, scrapping the current student testing regime, hiring thousands of more teachers, adding more mental health supports for students and re-introducing Grade 13. He will also mandate COVID vaccines for younger children, an approach that could anger as many parents as it appeals to. 
He also wants to raise the minimum wage and pay for personal support workers, provide rent relief, get more money from Ottawa for childcare, introduce a land speculation tax, plant millions of more trees, etc., etc. You get the picture. Still, having something for everyone can be useful in accumulating more votes – if people find it credible.
NDP leader Andrea Horvath has adopted the broad-brush approach as well with a campaign slogan of (she seems to have several) "They Broke It. We'll Fix it."  With sharp attacks against both of the other parties, she will bring back rent control, encourage more housing development, build a new hospital in Brampton, cut hydro fees, reach "net zero" green-house gas emissions by 2050, introduce free birth control and hire more teachers and health care workers. And we shouldn't forget she is also competing with Del Duca on how many trees her party will plant.   
A promise that may resonate is a commitment to bring in universal access to mental health services and introduce a new dental and drug plan for lower income families. 
All of these promises, many of which stretch years into the future, are just that, promises. What really matters is what "bumper sticker" message voters will get from all this? Which party or leader do they find most credible? Who do they think cares the most about their own problems?
So, stay tuned, there is still three plus weeks to go.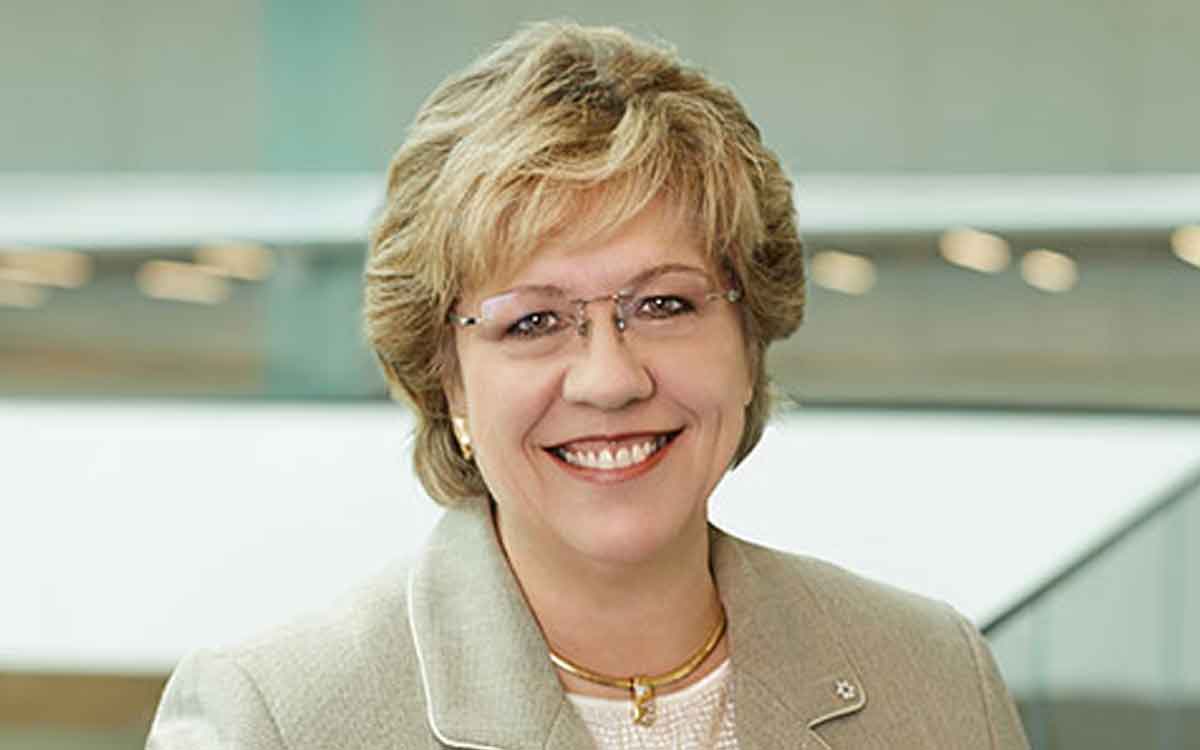 Janet Ecker is a former Ontario Finance Minister, Minister of Education, Minister of Community and Social Services and Government House Leader in the governments of Premier Mike Harris and Premier Ernie Eves. After her political career, she served as the founding CEO of the Toronto Financial Services Alliance, a public-private partnership dedicated to building Toronto region into an international financial centre. She currently sits on a number of corporate and non-profit boards, agencies and advisory committees.
Ms. Ecker received the Order of Canada for her public service contributions and was recognized as one of the "Most Influential People in the World's Financial Centres" by Financial Centres International.  She also received a "Canada's Most Powerful Women: Top 100 Award" from the Women's Executive Network and the Richard Ivey School of Business, among other awards. She is also one of the founders of Equal Voice, a national, multi-partisan organization working to elect more women.