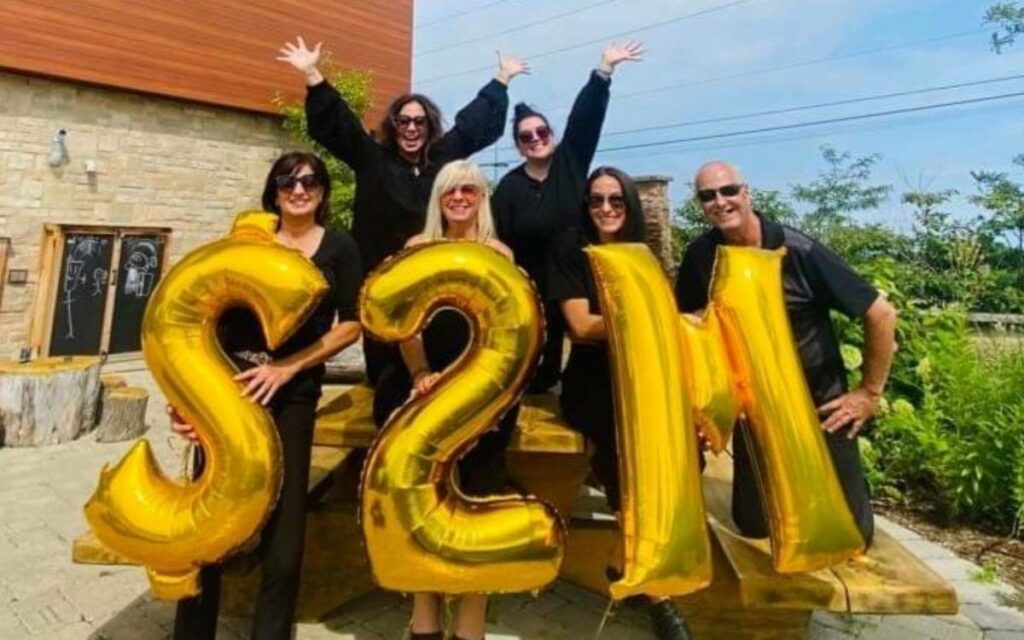 The agency's leadership team celebrates the massive donation. The money will help Pathstone hire more staff, and thereby help more children. The multi-million-dollar gift is Greg and Diane Slaight's second in the last two months. In July, the pair gave an identical donation to United Way Niagara. Photo credit: Pathstone Foundation
The incredible of generosity of Niagara-area philanthropists has been on full display this year, with several seven-figure donations given to a variety of organizations and causes in recent months. 
The latest multi-million-dollar gift comes (once again) from local couple Greg and Diane Slaight, who have donated $2 million to Pathstone Mental Health. 
The transformational gift is Mr. and Mrs. Slaight's second $2 million bequest in as many months. In July, the couple gave $2 million to United Way Niagara. 
And as it did with that organization, the Slaights' $2 million gift to Pathstone represents the single largest donation in the agency's history. 
"Over the last years we have all had to learn to deal with uncertainty and last-minute change at every turn. For many of us it has been a challenge, but for many of our children and youth in the peninsula it has led to unparalleled levels of anxiety and lack of stability," said Mrs. Slaight in a statement Tuesday. "Those emotions have left them feeling there is very little they can depend on. Greg and I know that the services available through Pathstone can help."
Headquartered in St. Catharines, Pathstone is the region's primary provider of children's mental health care services and a lead agency for the province. 
During the first year of the pandemic, the organization saw a 35 per cent uptick in demand for early intervention, prevention, and acute mental health support. Need for certain therapy programs saw unprecedented increases of 200 per cent.  
"More than 70 per cent of mental health issues arise before the age of 18, and 1 in 5 youth require mental health care," revealed Shaun Baylis, CEO at Pathstone. "We have acknowledged that the pandemic had detrimental effects on children and youth and we are seeing this first hand at Pathstone."
"Currently, there are 570 children who are waiting 3 to 8 months before they are placed in a program. Seeing a problem and not being able to solve it is frustrating, especially when the solution is in front of us."
Greg and Diane's generous gift will have an immediate impact on reducing wait times at Pathstone, as the organization, which currently employs 140 full and part time personnel, intends to use the funds to hire more staff. 
The donation will also help support research into new mental health therapies. 
"With more staff, we can help more kids. It's that straightforward," said Kim Rossi, director of philanthropy at Pathstone Foundation. 
"The Slaight's see value in people. They have been long-time supporters of Pathstone. They have great interest in what we are doing at the ground level and how we are supporting the mental health needs of kids in Niagara. Having seen the impact of their giving, they have entrusted us with this investment which will enable us to continue to do great work that will change lives and the paths of so many for years to come. Generosity of this magnitude is transformative."
If you or anyone you know would like to help Pathstone in its mission to bring effective mental health care to all Niagara youth who may need it, please consider donating via the agency's foundation here.