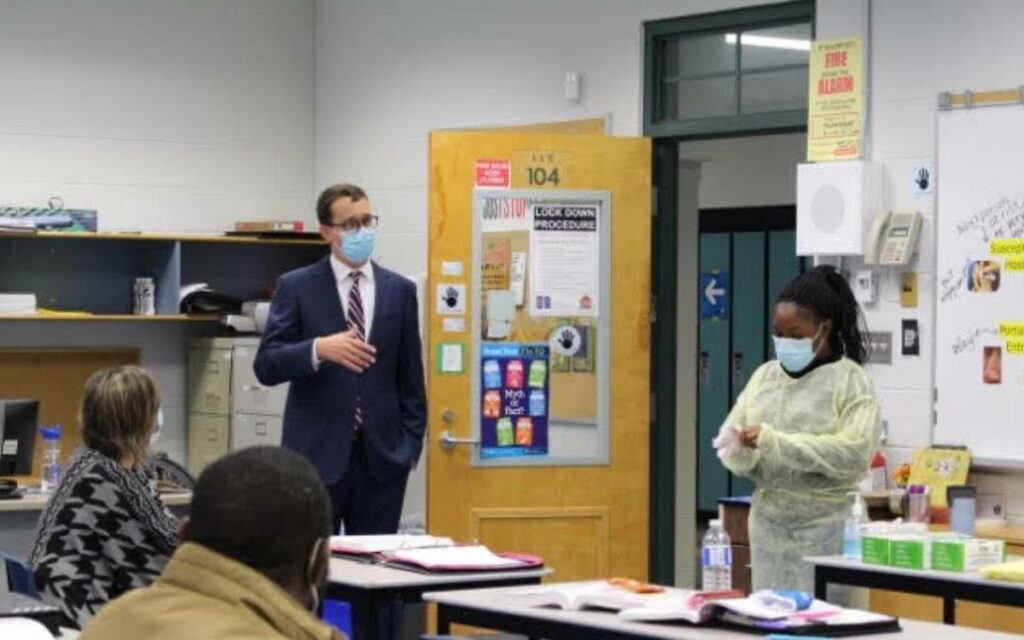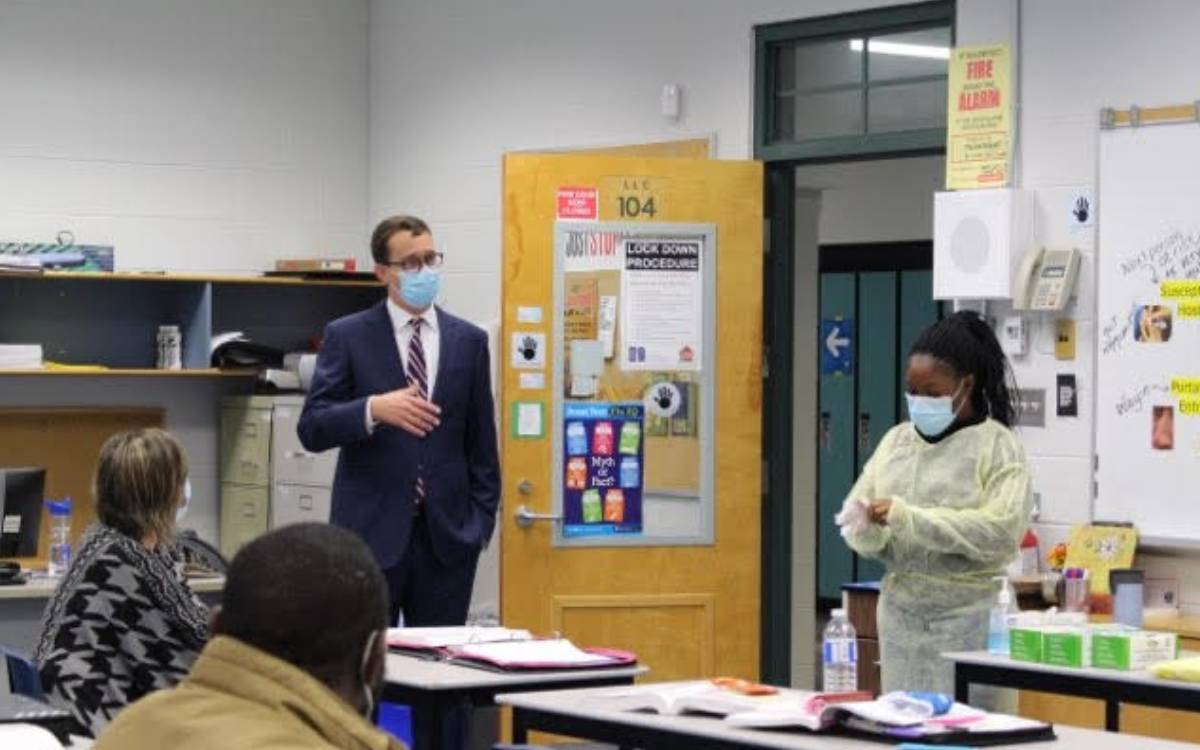 Monte McNaughton, Minister of Labour, Training and Skills Development was in St. Catharines Monday morning to announce a half-million dollars in funding.
Monte McNaughton, Minister of Labour, Training and Skills Development gave nearly 100 personal support worker (PSW) students a huge surprise yesterday morning in St. Catharines. The Minister was at Lifetime Learning, the District School Board of Niagara adult education centre that is running the training program to announce a half-million dollar investment that will pay for the tuition fee the students would otherwise have to fund on their own.
"It was amazing to see the students today and the looks on their faces when they found out there training will be covered," said Minister McNaughton. While the government has been criticised by some, ironically mostly conservatives, for spending too much money, McNaughton said the spending on training is specific and "laser focused" in order to educate people for the jobs that are available.
In fact, 98 per cent of all the students currently in the PSW program already have job offers. McNaughton said to his knowledge they are all staying in Niagara to work. The training began on Sept. 8 and offers a blended online and in-person format. Graduation is expected within 40 weeks.
"We're thrilled with this opportunity to support the development of more health-care providers in Niagara," said Leanne Smith, superintendent of curriculum and student achievement at the DSBN. "This funding will help us educate, prepare, and provide technical training to a new group of dedicated personal support workers who will positively impact the Niagara Region."
NIagara has been devastated by the COVID-19 pandemic with the unemployment rate doubling since just prior to the pandemic. According to Statistics Canada there were 23,000 people out of work in Niagara which equates to an unemployment rate of more than 11 per cent.
McNaughton said the government wants a win-win in local communities, providing education to out-of-work residents who then become qualified to work in jobs that urgently need to be filled like personal support workers.  "We want to provide the training for people to fill the jobs where there is a need. It's no longer a one-size-fits-all approach like it used to be years ago," explained the Minister.
"Niagara needs more personal support workers, and initiatives like the one at Lifetime Learning provide job seekers with solid foundations for career success," said Sam Oosterhoff, MPP for Niagara West and Parliamentary Assistant to the Minister of Education. "Through this investment, our government is helping hard-working people in Niagara train for this viable and important career path."
Yesterday's funding announcement also allows the program to expand to accept dozens of more students. "Looking at these students, I know this training will change their lives," said McNaughton.
While this most recent announcement focused specifically on PSWs, McNaughton said he continues to make getting more young people into the skilled trades a focal point. "There is a looming crisis of a severe shortage of skilled trades' workers." McNaughton said there will be "lots of announcements in the coming weeks" on that front.
Prior to the pandemic McNaughton said there were 204,000 jobs in Ontario that were going unfilled. Those unfilled jobs cost the Ontario economy $25 billion per year. "We need to ensure there's qualified people to fill the jobs available."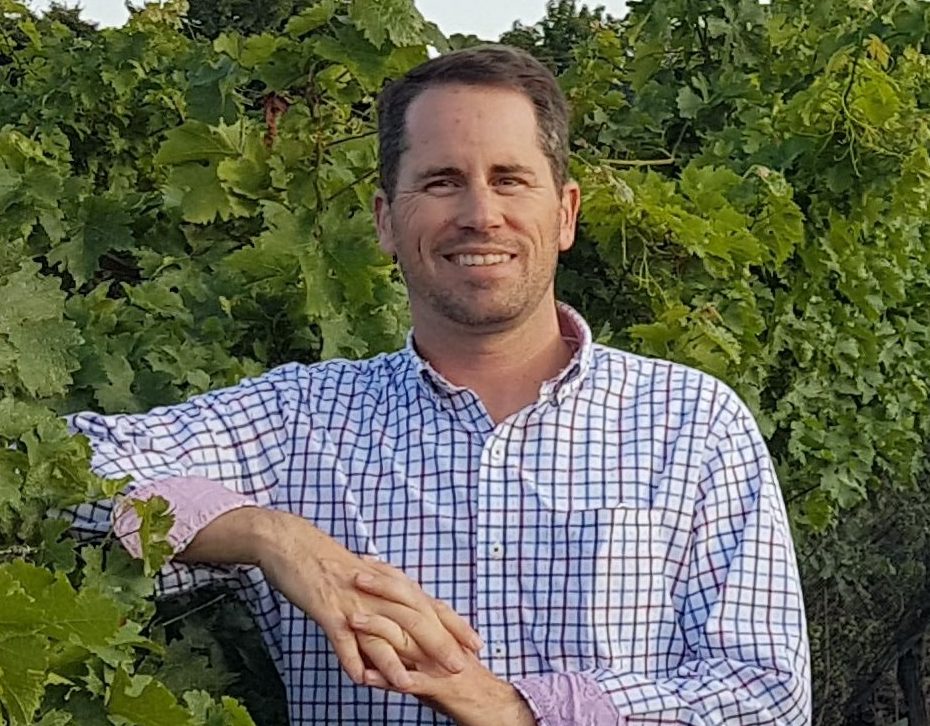 Kevin has spent over two decades as a public relations professional in a variety of sectors including professional sports, the arts, industry and healthcare.  After tiring of the daily commute to Toronto he returned to Niagara and launched The Niagara Independent, an online news source published twice weekly.
He is a graduate of Brock University, Niagara College and the Richard Ivey School of Business. He was named one of Niagara's 40 Under Forty in 2005.
Kevin is most proud of his twin daughters. He is also a triathlete and four-time Ironman finisher.