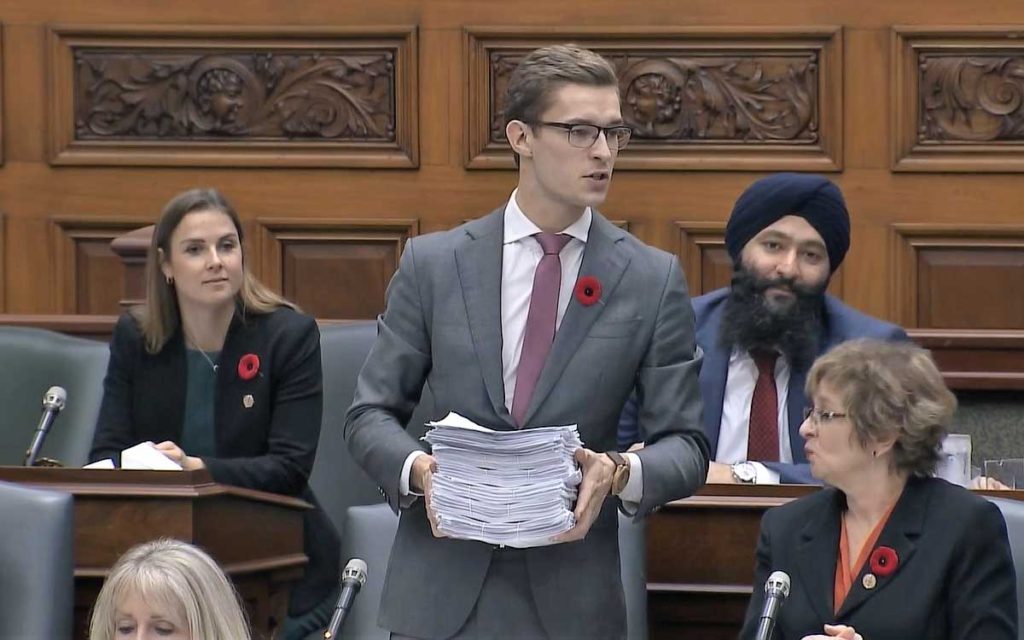 West Niagara MPP Sam Ooosterhoff presents the petition signed by 18,000 residents
Don't mess with west Niagara's hospital. That's the message coming out of the communities that surround West Lincoln Memorial Hospital (WLMH) after a Hamilton Health Sciences board decision to temporarily pull a number of services from the community hospital and relocate them to Hamilton, blindsided medical staff a couple of weeks ago.
In just under a week, the WLMH Community Action Group, had more than 18,000 signatures on a petition opposing the proposed changes.  Sam Oosterhoff, MPP for Niagara West, tabled a petition last Wednesday that called on the Government of Ontario to engage in community consultations with respect to hospital service delivery in the Niagara West region, and to expedite the process of rebuilding the WLMH.
"The recent decision of Hamilton Health Sciences to potentially remove services from the
hospital, has caused deep concern and disappointment in my riding and across Niagara," said
Oosterhoff. "But I'm very grateful for the thousands of community members who have come
together to fight for our hospital." Ontario Premier, Doug Ford, visited WLMH recently to get a first-hand look at its current state. Ford met with the hospital's former Medical Director, Dr. Gary Benson, to discuss the situation.
Oosterhoff assured his constituents that the PC Government was on their side. "I know our Minister of Health is working with HHS and doing everything she can to keep the services at West Lincoln." He also wanted to remind residents that they shouldn't hesitate to visit the hospital if they need to and that while discussions are taking place about its future, WLMH is currently a fully operational and fully functioning hospital.
Cindy Toth, who is a resident of West Niagara and a volunteer with the community action group, says it's extraordinary how quickly the community came together in support of its hospital. "We have an amazing group of people, thousands of them, who just wait for the call to action," she said. Toth says they are doing their homework and learning from other organizations who have had to battle similar decisions, like the former Hotel Dieu Hospital in St. Catharines and some of the Hamilton hospitals. "There have always been challenges to smaller community hospitals around the province."
Toth says residents strongly believe that there is a bright and positive future for WLMH and that it provides many services that the community needs. The community action group's first goal was to get an extension of time and Toth feels they have accomplished that. The group was initially very concerned about an upcoming Dec. 6th Hamilton Health Sciences Board meeting where the fear was a final decision would be made but it now appears that won't be happening.
"Hamilton Health Sciences has been a good partner and we don't want to forget that," said Toth. "They've supported the redevelopment of our hospital and the message seems to be they are still supportive of that."
The former Liberal government called redevelopment of WLMH a priority, promising that construction would begin by 2009 and after subsequent broken promises, the government's 2012 budget cancelled the project entirely.
The community action group's next meeting is Tuesday, Nov. 13th at 7 p.m. at the Mountainview Christian Reformed Church in Grimsby.