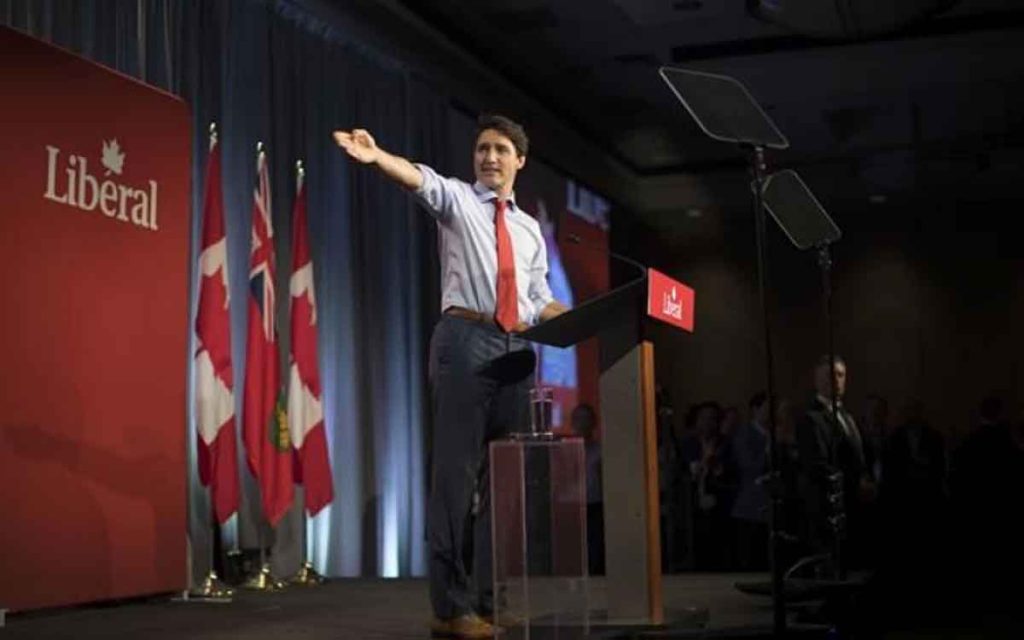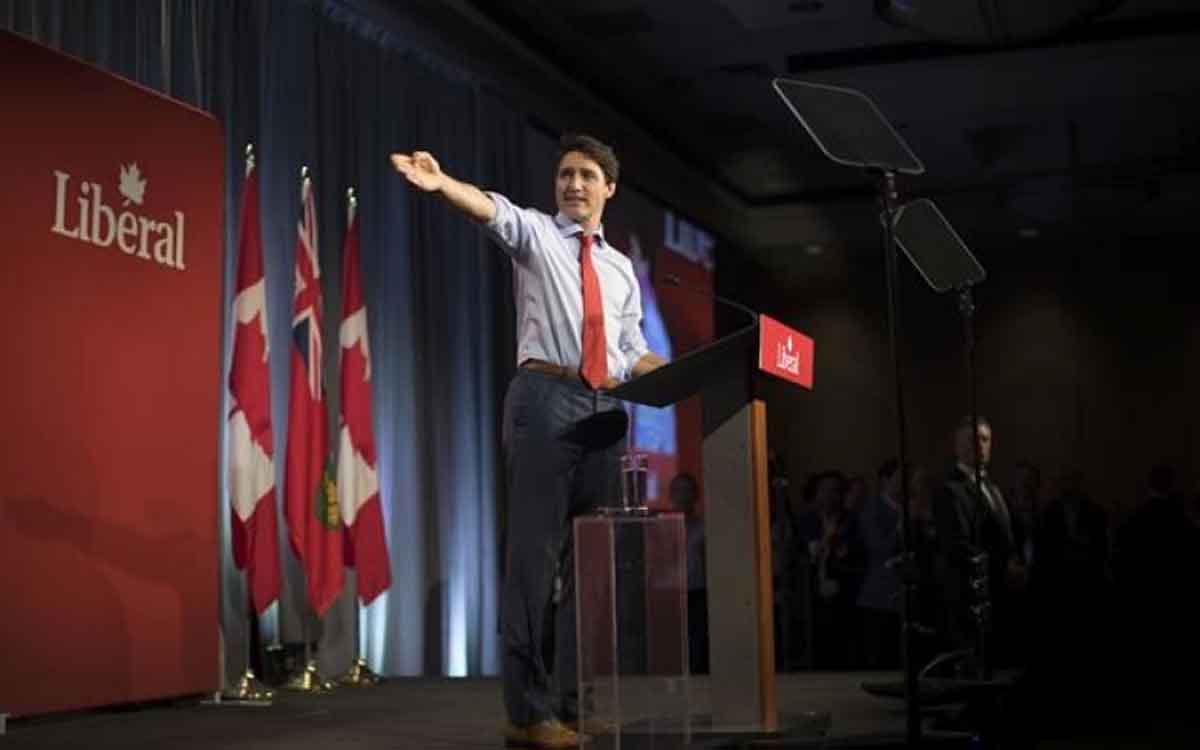 Justin Trudeau addresses supporters at the 2019 convention of the Liberal Party of Canada
Prime Minister Justin Trudeau was having great fun addressing his supporters at the Liberal Party of Canada convention in Mississauga last weekend. The PM was mocking his opponent, Conservative Leader Andrew Scheer, suggesting he and Ontario Premier Doug Ford were populist rubes dangerously appealing to the lowest common denominator of the Canadian public.
In his campaign-like speech, the PM revealed the Liberals' electioneering tact to galvanize their support: dish out a hefty dose of "fear and smear" and label the opponent as "populists," "climate change deniers," and "tolerant of alt-right, white nationalists." In his bid to be re-elected, Justin Trudeau is going toxic. His provocation suggests Canadians should brace for an election campaign of divisive debates and coarser, uncompromising public discourse.
Consider this statement: "Why worry about climate change, they say, when immigrants are taking your jobs. Andrew Scheer conveniently fails to call out alt-right conspiracy theories. Andrew Scheer fought against a non-binding motion to denounce Islamophobia. Andrew Scheer has proudly spoken at the same rallies as white nationalists. Is that someone who will govern for all Canadians? I don't think so."
The PM followed that inflammatory rhetoric this week with a jeering tweet: "White supremacy has no place in Canada. It's time for all parties, including Andrew Scheer's Conservative Party, to stand together in denouncing hatred in all its forms."
Then Trudeau's Border Security Minister Bill Blair piled on with a tweet of his own: "White nationalism is a threat to Canada and the safety of our communities. Andrew Scheer panders to people promoting these hateful views. This isn't leadership."
This type of grisly mud-slinging is something Canadians have not experienced before and, it appears, the Liberals' insinuations are being challenged by political commentators from all sides.
Conservative Senator Leo Housakos took offence to the PM's suggestion that Conservative supporters of Andrew Scheer are in allegiance with white supremacists. The Senator took to Twitter to hit back at the PM and Minister Blair. He tweeted: "TRUDEAU-born into 24 Sussex and raised in Westmount with trust funds. Calls HOUSAKOS-(a son of immigrants) born and raised in Park-Extension a racist/white supremacist. The desperation of this PM is pathetic and disgusting." He continued: "@JustinTrudeau, who compared my Greek immigrant parents to returning ISIS fighters, wants to lecture me on confronting racism. I'll take no lessons from you, sir. Where was your father when my grandfathers were fighting Nazis in WW2?"
Western newsman Lorne Gunter suggests the Liberals are testing out a 21st-Century version of McCarthyism to see whether that might get them "out of the SNC-Lavalin bog." Gunter observed:  "According to Trudeau, Scheer doesn't do enough to denounce white supremacists and once shared a speaking platform with people who were later banned by Facebook for their hateful messages. It is a very low-class, anti-intellectual and desperate ploy."
Liberal backroom operative Warren Kinsella agrees that this latest Liberal tactic is a "repellant strategy" by a PM and Party "desperate to move on from the Lavscam scandal." Kinsella wrote in an editorial piece: "It's dishonest and it's despicable, but Trudeau is also undeterred. The Liberal leader is double-digits behind the Tory leader, some polls suggest. He is frantically attempting to change the channel from Lavscam. So, what Justin Trudeau is doing is more than disgusting. It is disgraceful."
As for the arraigned Conservative Leader, on Wednesday Scheer emphatically stated that he "100 per cent denounces anyone who promotes white nationalism, promotes any type of extremism." He too took to Twitter to defend himself: "Racism and white supremacy are threats in Canada and I condemn them unequivocally," and then added, "It is pathetic and disgusting that Liberals are inflaming these threats to divide Canadians and score cheap points."
The whole ugly exchange this week was, perhaps, summed up best in a Sun Media editorial: "Liberals are treating racism like an electoral prop – that's wrong." What is disheartening for most Canadians is that this sordid exchange is only the Liberals' first salvo. We can expect that, as the politicians hit the campaign trail, there will be plenty more of this combative rhetoric. Though their accusations are completely groundless, our politicians make them anyway. The uglier, the better. Plant the seed. Look to reap the harvest at the ballot box.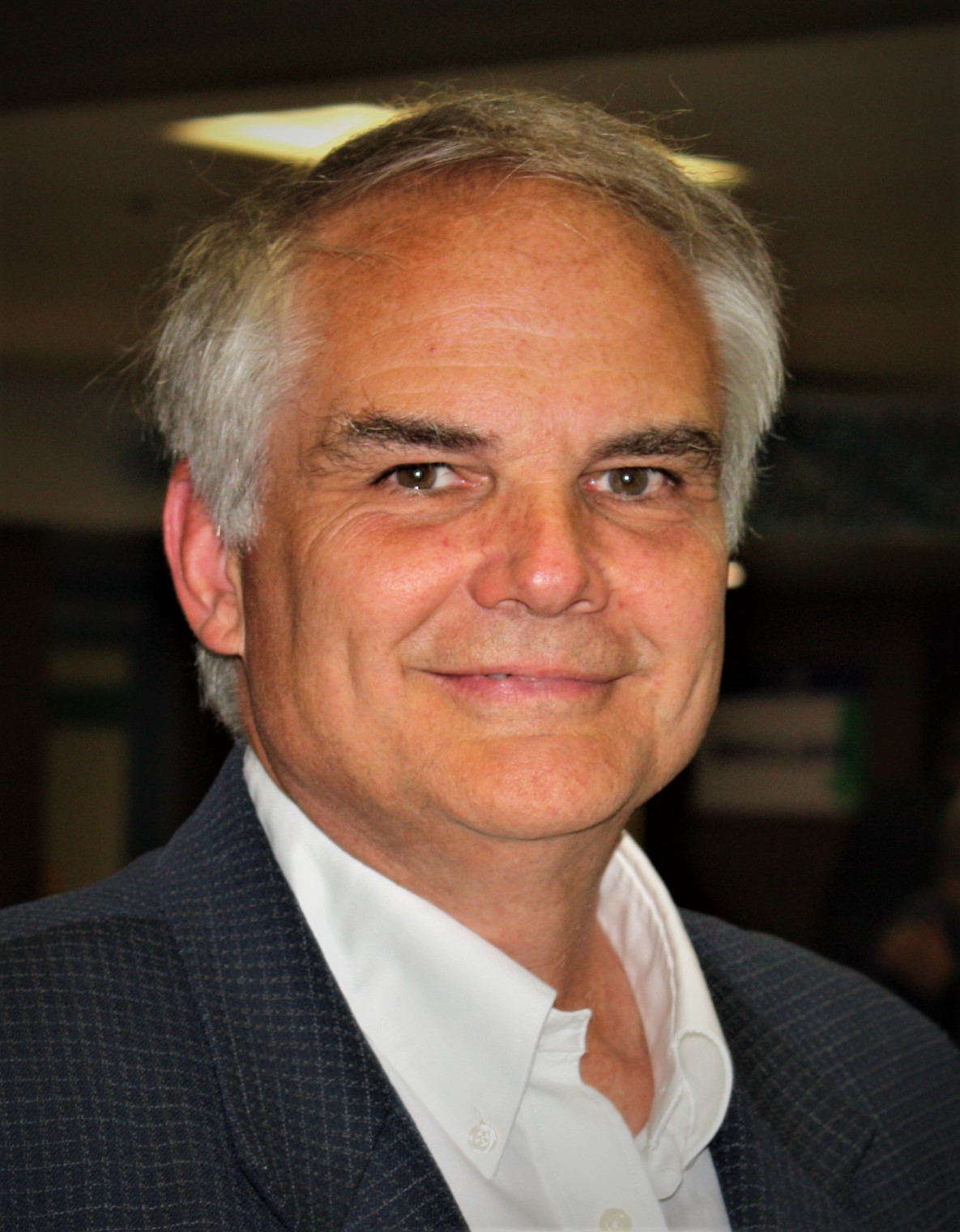 Chris George is an advocate, government relations advisor, and writer/copy editor. As president of a public relations firm established in 1994, Chris provides discreet counsel, tactical advice and management skills to CEOs/Presidents, Boards of Directors and senior executive teams in executing public and government relations campaigns and managing issues. Prior to this PR/GR career, Chris spent seven years on Parliament Hill on staffs of Cabinet Ministers and MPs. He has served in senior campaign positions for electoral and advocacy campaigns at every level of government. Today, Chris resides in Almonte, Ontario where he and his wife manage www.cgacommunications.com. Contact Chris at chrisg.george@gmail.com.