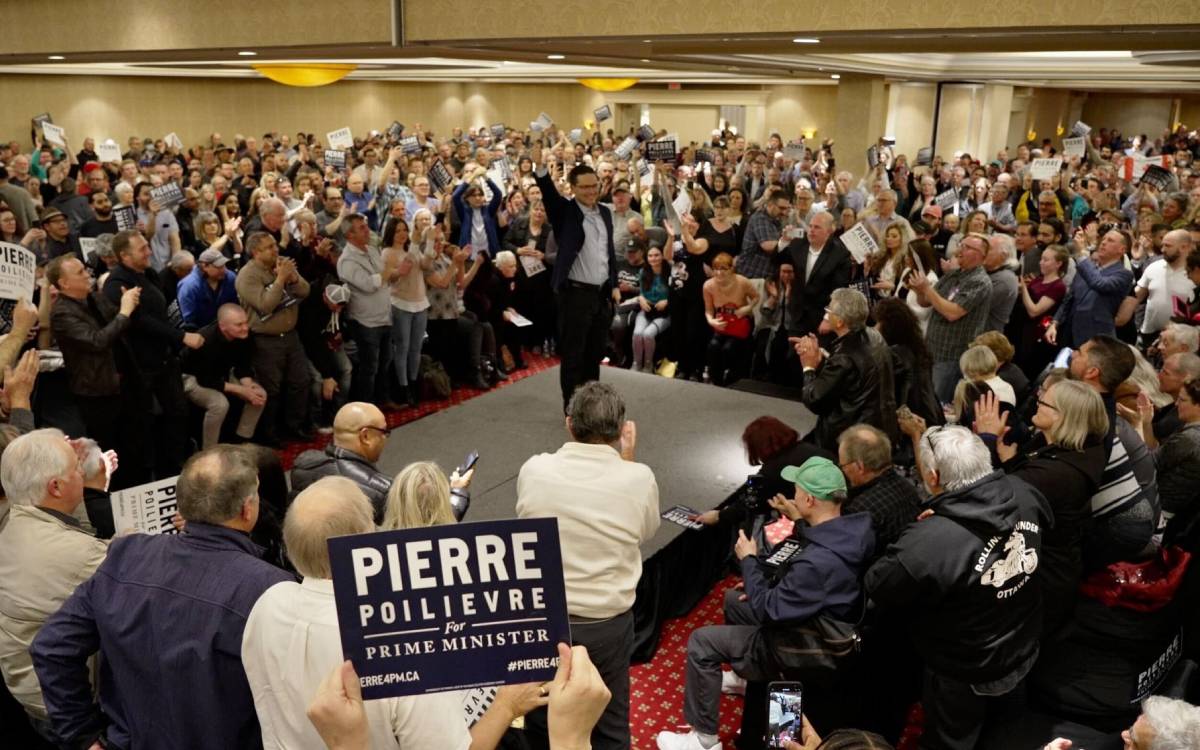 Well over 1,500 people showed up to see the leadership hopeful speak at the Holiday Inn in St. Catharines Thursday evening. Photo credit: Twitter/Pierre Poilievre 
"We will tackle inflationary taxes… and I will axe the consumer carbon tax." 
Pierre Poilievre rolled into St. Catharines last night and addressed a packed house at the Holiday Inn on Ontario Street. 
The atmosphere was electrifying. It has been at least a generation since Niagara has been treated to a political event of this scope… and it is not merely due to two years of pandemic restrictions. What we are seeing is no standard campaign for leadership of a major political party. This is a movement. It is uniting the young and the elderly, people from all career backgrounds, politicos, and non-politicos alike. In fact, some of those most gung-ho supporters may not have even voted in the past. This begs the question of what has caused such a phenomenon? Why are people suddenly so interested in politics and civic engagement? 
History has demonstrated that Canadians, particularly those in younger generations, are most involved in the political process during times of strife. We have been through a pandemic. The cost of living is exorbitant and gas prices are astronomical. Now, perhaps more than ever, we recognize the importance of taking steps to reconcile with our Indigenous Peoples. The world is also a more dangerous place as China, Iran, North Korea and Russia reveal their expansionist ambitions. The pump is primed, so to speak, and Canadians are once again seeking real leadership to tackle the challenges facing us in the coming years. 
Pierre Poilievre is presenting a bold, positive vision for the future. He channels former Prime Minister John G. Diefenbaker, a patriotic Canadian and an anti-communist, as he shares a vision of a United Canada. This is a message that resonates not only in western provinces but also in Quebec and in the North. Ontarians, for their part, also recognize a vested interest in ensuring that all provinces and territories benefit as Confederation members. 
Poilievre is also successful because he is able to reach a wide range of people. He is extremely well-read and can effectively debate Ivy League scholars, the likes of whom include Chrystia Freeland and Mark Carney. Yet, Poilievre is equally comfortable chatting with tradespeople, union members, students, seniors and veterans. He can relate to the challenges, hopes and dreams of all Canadians. 
Poilievre is also effective at sharing his thoughts and opinions in a clear, concise manner. In the words of Pierre himself, "I don't like watered-down politics". There is no doubt where he stands on the issues. This is incredibly refreshing to millions of people who are tired of being bombarded by parliamentary niceties, hidden agendas, and broken promises. 
Media engagement is another interesting point. Over the past many years, it has become commonplace for various forms of media to repeatedly question Conservative politicians on a plethora of divisive social issues. It is hard not to notice how little of the campaign to this point has been centred on these standard talking points. 
Perhaps it is that many other imperative topics demand media attention. On the other hand, could it be that relevant personnel have identified Poilievre as a candidate that will not play identity politics? Everyone knows that Pierre is a fighter and that he will not allow his campaign to become fraught with provocative internal and external divisions. 
Canadians from various backgrounds and communities have made it clear that they do not wish moral issues to become partisan. Prime Minister Stephen Harper understood this fact. Pierre also gets it, and it is invigorating his campaign. 
Finally, the specific objectives of Pierre's campaign are resonating with everyday working people from coast to coast. He seeks to grow our ethical, clean, and lucrative energy industry. Doing so will create and maintain hundreds of thousands of Canadian jobs. This policy is good for the environment and will lower the price of gas. Pierre also emphasizes the importance of fiscal conservatism. This means keeping spending under control, lowering taxes and accelerating private-sector job growth. At the end of the day, this is the best policy to increase investment in all industries. 
Poilievre contends for these noble objectives while he is eternally guided by an unwavering passion to preserve the fundamental freedoms of Canadians. In every speaking engagement, he quotes Diefebanker's "I am a Canadian" speech, located at the bottom of the Bill of Rights (1960). Pierre knows what it is that grassroots Canadians desire the most: A Canada that is, in the words of our national anthem "True North Strong and Free". 
These are the people that attended the event in St. Catharines Thursday night, as well as the rallies taking place across the country on a daily basis. They come from all professions and walks of life. Each person has a unique story in this beautiful northern land we call home. They recognize the challenges that lie ahead, and they are ready to get behind the platform of an inspirational leader. 
As many Conservatives have jokingly proclaimed amongst their Liberal friends, "it is time for another Pierre". A similar iteration can be found in American circles with "it is time for another Ronald". That, however, is a story for another day. 
Nick Redekop presently serves as Niagara Falls Riding Captain for the Conservative Leadership Campaign of Pierre Poilievre. He previously worked in the Office of Mayor Jim Diodati and the Constituency Office of MP Tony Baldinelli. Nick completed his Honours Bachelor of Arts Degree in Labour Studies at Brock University. He has always held a keen interest in local, Canadian and international politics. In his free-time, Nick enjoys reading biographies and memoirs, studying history and follows various sports. Nick has also completed the Grade 8 piano curriculum of the Royal Conservatory of Music. He resides in Niagara Falls.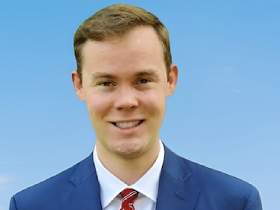 Nick Redekop completed his Honours Bachelor of Arts Degree in Labour Studies at Brock University. He has previously served in municipal and federal politics. In his free time, Nick enjoys following sports, taking part in outdoor activities, and reading biographies. Nick resides in Niagara Falls