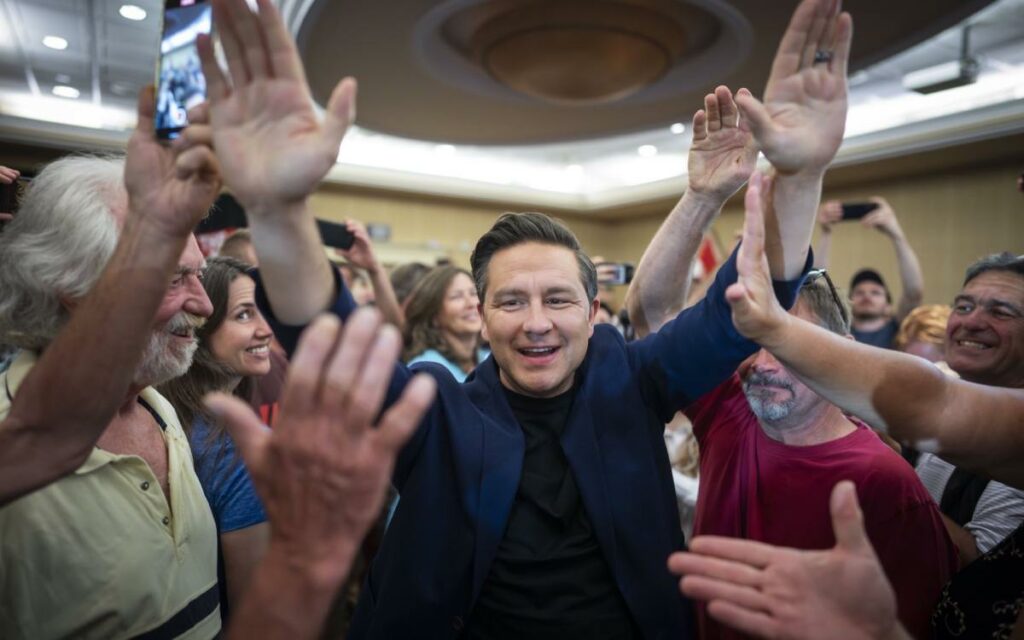 On Wednesday, July 19, the Conservative Party leader visited Niagara Falls, Port Colborne, and Thorold, before ending the day at a huge rally featuring some 1,600 supporters in St. Catharines (pictured). Photo credit: Pierre Poilievre
As part of his coast-to-coast Bring It Home campaign tour this summer, Canada's Leader of the Official Opposition Pierre Poilievre spent the day in Niagara on Wednesday, July 19, meeting with residents, popping into local businesses, and spreading his "common sense Conservative" message.
Poilievre started the day's circuit in Niagara Falls, holding a press conference alongside local Conservative MP Tony Baldinelli at the Queen Victoria Place Restaurant overlooking the world-famous falls.
Poilievre talked criminal justice, inflation, interest rates, and housing affordability.
"Justin Trudeau's policies have inflated the cost of everything," Poilievre told those gathered. "After eight years… rent has doubled, mortgage payments have doubled, needed down-payments have all doubled – it's double-trouble with Trudeau on housing." 
After answering questions from the media and sticking around to shake hands, the Conservative Party leader made his way south to Port Colborne where he visited Barber Hymac Hydro, a large machining and fabricating facility on Barrick Rd. 
"Family-owned Barber Hymac Hydro has the machines and the expertise to unleash Canada's full potential," Poilievre posted to social media after the visit.
"Remove the government gatekeepers so we can get Canada building again and bring home powerful paycheques for our people."
Following his time on Niagara's south coast, Poilievre headed to Thorold to visit E.S. Fox's Port Robinson engineering and fabrication shop. 
"I'll green light green projects like emissions-free nuclear power plants with components from companies like E.S. Fox Ltd.", Poilievre said after his stop in Port Robinson. "They have created powerful paycheques since 1934 when its founder lost his job on Christmas Eve and started his own business."
Headquartered in Niagara Falls, with facilities around Ontario, E.S. Fox is a multi-trade fabricator and constructor specializing in the industrial, commercial, institutional, and nuclear industries. 
The company is a major employer not only locally but provincewide, supplying millions of direct-hire person-hours each year.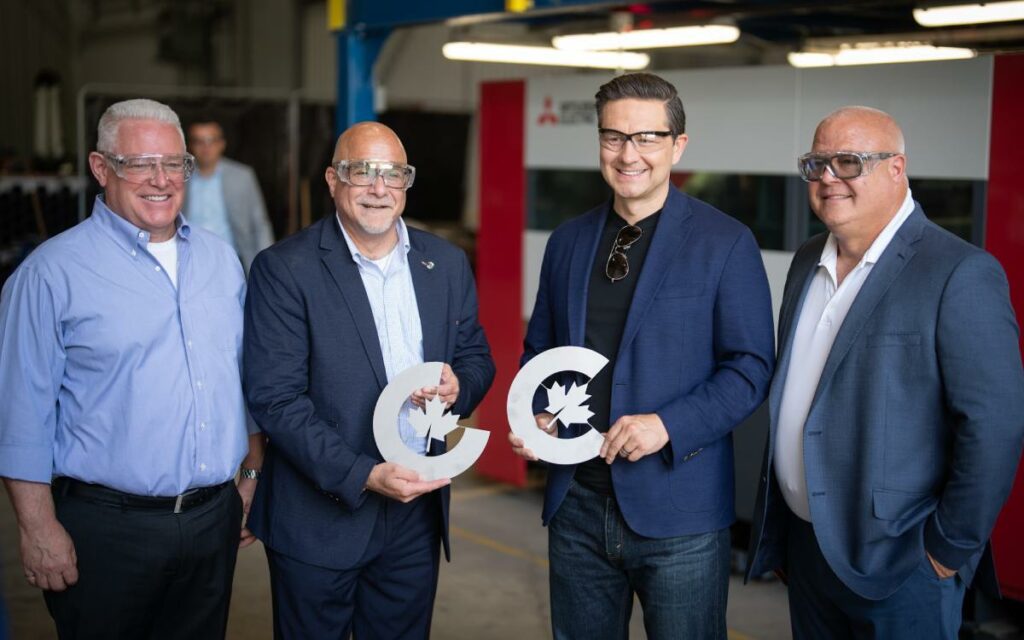 Pictured left to right: E.S. Fox Ltd. president Spencer Fox, Conservative MP for Niagara Falls Tony Baldinelli, Poilievre, and Pat  Cimek, Vice President Construction and Fabrication Services- E.S. Fox Limited. Photo credit: Pierre Poilievre
After a stop at Haver and Boecker on Ontario St. in St. Catharines, Poilievre wrapped the day Wednesday at a massive rally just down the road at the Holiday Inn Parkway Convention Centre.
Over 1,600 supporters young and old turned up to see the prime-minister-in-waiting deliver remarks. 
Numerous local dignitaries were in attendance, including MP Baldinelli, who serves as Poilievre's shadow minister for tourism and introduced the leader at the event, St. Catharines regional councillor Sal Sorrento, Niagara Falls city councillor Mona Patel, Welland city councillor and federal Niagara Centre Conservative candidate-of-record Graham Speck, and former federal Niagara Centre Conservative candidate and current Niagara Parks chair April Jeffs. 
Poilievre hit on a variety of issues in his 40-minute stump speech. 
On achieving housing affordability for Canadians, one of the main planks of his summer tour's unofficial platform, the Conservative leader explained how a Poilievre government would increase supply by incentivizing building.
"I will use the billions of dollars of federal infrastructure money as a lever to get the cities and provinces to speed up building," he said.
Poilievre intends to withhold or increase federal grants based on the percentage of building permits a city issues per year – "carrots and sticks", as he put it. 
His housing plan also includes a requirement that every federally funded bus or train station be surrounded by high-density housing options so that people can live near transit.
He also wants to sell off thousands of underutilized federal buildings and millions of acres of federally-owned land so that "we can build, build, build, build."
On allowing Canadians to keep more of their paycheques, Poilievre's plan centres around axing Trudeau's tax on carbon and cutting income tax so that "hard work pays off once again."
To keep inflation, debt, and taxes in check, Poilievre would cap government spending. "You have been pinching your pennies long enough, it's time for government to start pinching its pennies too."
He also talked about opening up Canada's energy and natural resources sectors and reforming criminal justice by getting rid of 'catch-and-release' law – "jail, not bail for repeat violent offenders" – and ensuring mass murderers like Paul Bernardo remain in maximum security for life. 
To great applause, Poilievre also said he would repeal Trudeau's Bill C-11 "censorship law", ban the government from creating a central bank digital currency, do away with all "mandates", and ensure there is no mandatory digital ID (for travel). 
He also said he would prohibit all of his ministers from having any involvement with the World Economic Forum (WEF).
"We will stop the foreign interference by Beijing and by Davos and will bring home control of our democracy to this country."
Referring to the general intrusion of Trudeau's policies on the individual, Poilievre closed the night on a philosophical note. Per Poilievre, the individual, not the state should be the ultimate arbiter in people's lives and freedom and power should be returned to the common people – the "extraordinary" individuals who make up this country.  
"These extraordinary people have the wisdom and virtue to make their own decisions, to run their own lives, to be masters and servants in their own country," Poilievre said.
"When they die, they are not famous, so their names do not appear in newspaper headlines and no words are spoken of them in Parliament. But when they walk through heaven's gates trumpets sound for them because God knows they carried their nation, their neighbours, and their families on their backs.
And so, the angels sing out: 'There goes greatness. These are the common people.'"