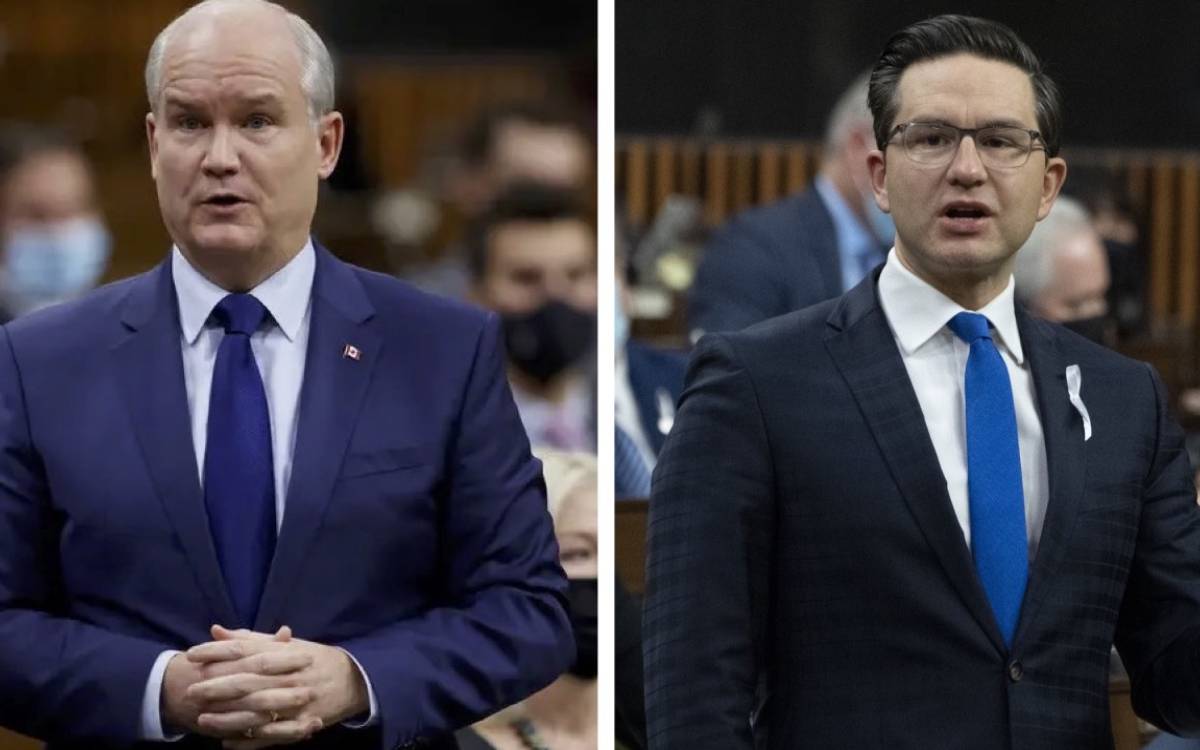 Set featured image
Recently ousted leader of the Conservative Party of Canada Erin O'Toole (left) and heir-apparent Pierre Poilievre (right). Photo credit: Reuters/Blair Gable and The Canadian Press/Adrian Wyld
Readers who turned on the TV or opened Twitter last week would be convinced that the Conservative Party is in a sorry state of shambles. If I had a dollar for the number of times I heard the word "division" in the moments following Erin O'Toole's ouster as leader of Canada's Conservatives, I'd be writing this from a beach in Turks and Caicos. 
It was an eventful, even historic, week. Despite social media appeals, caucus missives, late-night voicemails, and a promise to pivot on policy, Erin O'Toole was decisively deposed as the party's leader – a move that took a large portion of "official" Ottawa by surprise. 
For many conservatives in the movement, this was a slow-moving train that simply just reached its inevitable destination. 
Things had been rocky for Team O'Toole since the election loss in September. At that time, the number of the former-leader's defenders seemed to outnumber his critics. Though the outcome wasn't what the Conservatives wanted, there were enough minor victories to appease most Tories. There was little appetite to undo the work that went into building O'Toole's brand recognition with voters, and acknowledgement that he fared well against Justin Trudeau given the Prime Minister called a snap election at the most favorable time for him to secure a majority.
But that was five months ago, which is a lifetime in politics. If you fail to stay relevant, you'll find yourself electoral roadkill. And while that might sound like a sloppy attempt at a convoy play on words, the wheels were in motion on O'Toole's upset long before the truckers arrived in Ottawa.
A lot has changed since the election was fought, perhaps acutely for conservatives in Canada. Other jurisdictions have done away with restrictions, while we stayed in a state of lockdown. Conservative contemporaries in the United States challenged and fought vaccine passports, mandates, and mask restrictions, while they continued to be the norm north of the border. Scandinavian countries and the United Kingdom have been challenging the efficacy of lockdowns; meanwhile, kids in Ontario were out of school entirely on account of Omicron.
Simply put, a lot of conservatives just don't want to accept that way of thinking anymore. This sentiment is usually characterized as anger and frustration. I think it is more "FOMO" (fear of missing out). They like what other conservatives have on the menu, and they're ready to order.
O'Toole's attempts to tap into that sentiment were viewed by his colleagues either as too quiet, or inauthentic. They felt the leader was preoccupied tinkering with the margins on COVID restrictions, rather than calling for an end to them, full-stop. Ultimately, the movement got ahead of the person who was supposed to be leading the charge. 
The mainstream media chooses to portray this as a division or schism in the movement. In reality, the majority of caucus members (typically, the tip of the spear for grassroots party members) were decisive in opting for a shakeup. Less than a week after O'Toole was tossed, very few seem to be lamenting the leader gone by. If anything, it seems as though conservatives are feeling energized. 
This renewal for the federal Conservatives comes at a time when the discourse on COVID in Canada is changing. 
It's no longer controversial to suggest public health restrictions have unintended consequences – in fact, a majority of Canadians would like to see them lifted.  Former "COVID-zero" champions are now admitting that we must learn to live with it; even Dr. Theresa Tam is saying that "we need to get back to some normalcy". Saskatchewan Premier Scott Moe has teased the removal of vaccine passports, and Ontario's medical health officer is suggesting it's time to reassess the value of these documents. These are all favourable conditions for federal Tories who want to make an endemic message stick.
That said, the Conservatives need to be careful about overplaying their hand (no one needs a repeat of Alberta Premier Jason Kenney's "best summer ever" fumble). The difference between Canada and jurisdictions that have scrapped restrictions is that their hospitals are able to handle an increase in cases, while our brittle healthcare system cannot. 
Any message from Conservatives on bringing an end to COVID should be accompanied by a commitment to fundamentally transform healthcare in Canada so that we can live with the consequences of the virus without shutting society down. If Conservatives are truly feeling emboldened, they shouldn't be afraid to tackle this political sacred cow at a time when the shortcomings of our system are apparent to so many.
The ongoing trucker convoy in Ottawa is another situation the federal Tories need to handle with care. While demonstrators initially had the moral backing of many visible conservatives, they have decidedly overstayed their welcome. Conservatives would be wise to channel the support they've leant the convoy into persuasive calls for the government to start easing ineffectual restrictions. The well-worn brand labels of anger and frustration need to be shirked in favour of an impassioned pragmatism for how we should continue to treat COVID-19. 
Sure – the way the Conservative Party got to this moment of relevancy wasn't a masterclass in delicacy. But that's politics. It might be messy, but it certainly doesn't mean conservatives are a mess.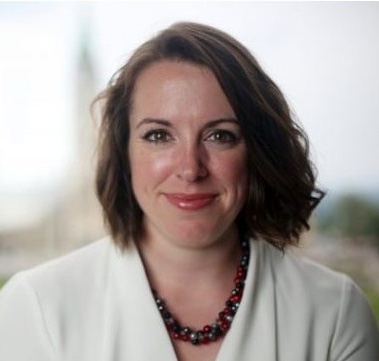 Kate Harrison is the Vice-Chair of Summa Strategies Canada, one of the country's leading public affairs firms. She is a regular political commentator on CTV, CBC, Sirius XM, and other talk radio stations, as well as a contributor to various news outlets. She has been involved in conservative politics for over fifteen years, and an active member of the country's conservative movement.