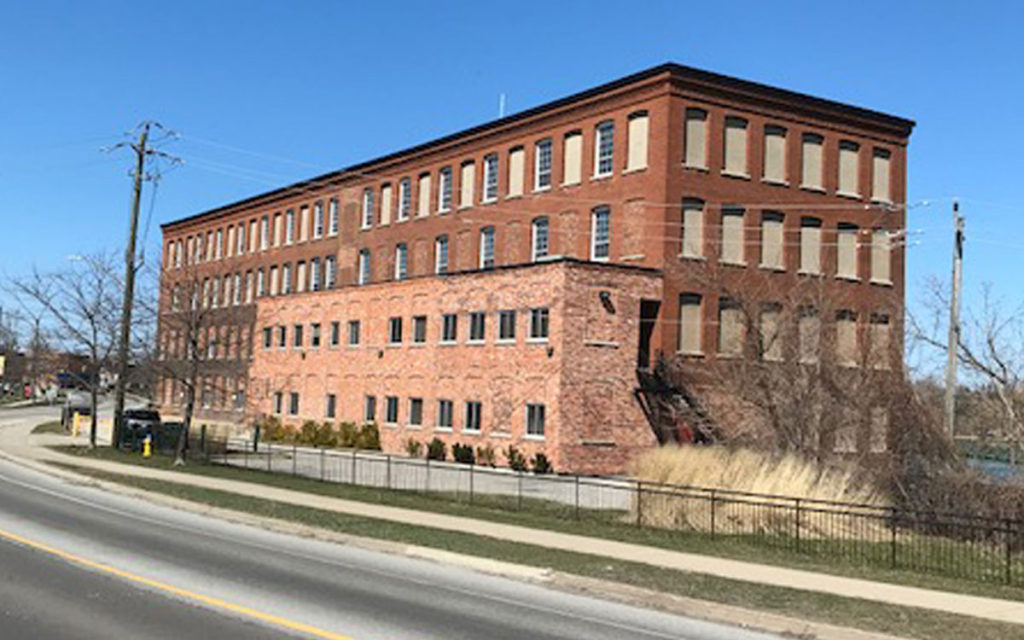 While the 'Port Tower' project still hasn't gotten off the ground in the Port Dalhousie area of St. Catharines, two new condo projects are winding their way through city bureaucracy and the court of public opinion hoping to have more success at becoming a reality than their languishing cousin down the street.
The two projects are essentially located side by side. The Port Dalhousie Harbour Club Inc. is looking to redevelop the former Lincoln Fabrics building while Royal Canadian Legion Branch 350 and Rankin Construction are planning on redeveloping the Port Dalhousie Legion building.  Somewhat similar to the port tower saga, there are both proponents and naysayers to both projects. One of the main concerns from those opposing the projects is the height of the buildings.
However, many business owners in the area fear that if both projects aren't approved it could mean even harder times for local business owners who have already felt the impact of the fight over the original condo proposal that caused so much controversy more than a decade ago.
Port Dalhousie business owner (TrySport Niagara and Lock Street Brewing Company) and Port Dalhousie Business Association (BIA) President Wolfgang Guembel said, "As Chair of the BIA, I have to represent the position of the Board as opposed to my own personal opinions.  The Board, as an organization is very much in favour of this development.  It represents good critical mass of residents, tax revenue for the City, and an opportunity to preserve an important part of our heritage architecture."
Guembel went on to say that as a commercial property owner in Port Dalhousie, and speaking as a Niagara resident, "Personally, I'm very much in favour of this specific project (Port Dalhousie Harbour Club Inc.) as they have proposed designs and elements that are consistent and sensitive to the new Secondary Plan for Port Dalhousie, as well as existing fabric of the community.  Similar to the Rankin/Legion project adjacent to the Lincoln Fabrics site, this project has been well thought out and adds value in both the marco and the micro for Port Dalhousie and St. Catharines."
Sheldon Rosen from the Port Dalhousie Harbour Club Inc. is happy to hear comments like that given the extraordinary amount of time and attention to detail the company has put in to working with city and regional planners as well as community members.
Rosen said from his perspective everyone has been working in a respectful manner as to each other's aspirations. He feels the planners have been, "extremely mindful of the public good."
The Lincoln Fabrics building is an interesting piece of property. It  has some unique heritage features while at the same time half the windows are bordered up and two stories were added to the building over the years that are not considered heritage. Rosen said, "By any standards it's not heritage. It's derelict and run down." Having said that, Rosen and his team plan to take the building to its original core and spend millions restoring the essence of the original building.
The Lincoln Fabrics project calls for, as Rosen described it, "copious amounts of underground parking" which will exceed municipal standards in terms of the ratio of parking spots to units. The company has applied for 150 units but he expects that ratio to come down given interest in the larger units. "This building is anxiously awaiting a residential purpose," said Rosen.
One of the interesting items in the existing building is a service elevator that the Harbour Club group plans to carefully dismantle and make into a sculpture in a public place. The elevator has been serviced once a month since 1905.
Rosen thinks both condo projects are a win-win for the area as they will bring residents to Port Dalhousie that have an above average net worth and will support local businesses. In fact, Rosen shudders to think of what will happen to Port Dalhousie if this type of development doesn't go through. "That little community will be wiped off the map if something doesn't happen," he said.
Guembel agrees that the threat of decline to Port Dalhousie if nothing happens is real. Speaking for himself he said, "I believe much of St. Catharines needs new residential density.  This is not a Port Dalhousie issue, but rather a St. Catharines issue.  If you look at recent census data, St. Catharines is one of the only municipalities, south of Sudbury, to have a decline in population.  We also have limited new lands for development.  To grow our community, our population, and our tax base, we need smart, sustainable, well planned density."
He went on to say that, "unless those of us living in St. Catharines can afford both, cuts to service and resources, and, consistent annual property tax increases that are greater than the rate of inflation, then we all need new residents living in Port and the rest of St. Catharines."
Both Rosen and Guembel are perplexed at the lack of support by Port Dalhousie Ward councilors Carlos Garcia and Bruce Williamson.
Rosen can't understand why a councilor would be opposed given all the potential benefits to their ward. "How can any councilor not be in favour of this development?" he asked. "It's appropriate development."
"Fear is easier to perpetuate then taking the time to educate people about sustainable development and corporate social responsibility," said Guembel.
"To be clear, developers are not perfect and not always noble; you can't generalize this about anyone.  However, as a community, with strong leadership from City Staff, Council members who don't just care about their own wards and stakeholders who want to be a part of our community, we can together find ways to move forward.
There is a meeting tentatively set for May 7 to further discuss the developments.