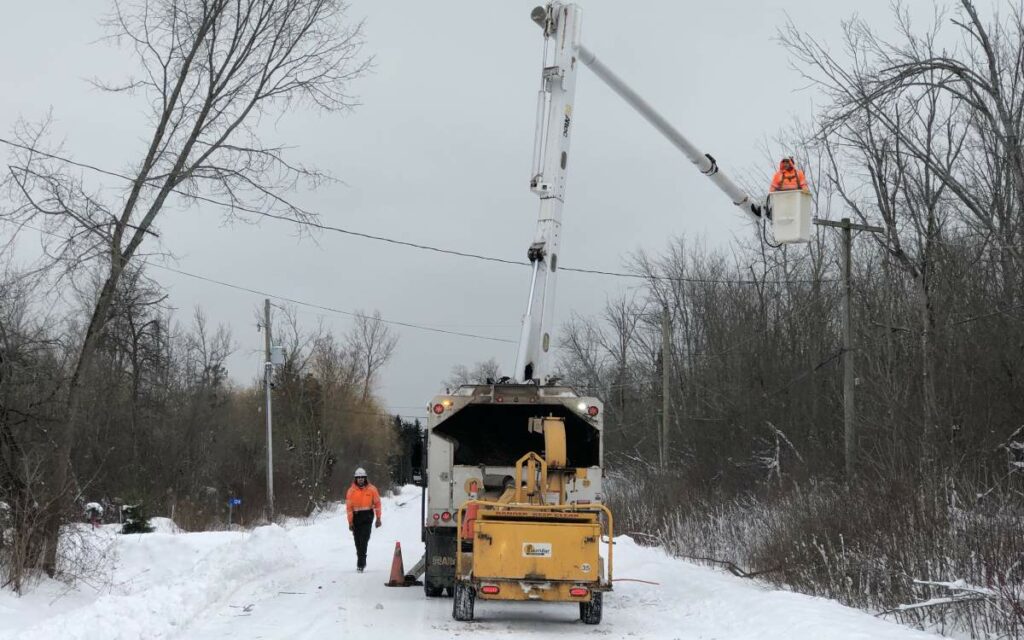 Some residents were without power for a full week after a once-in-a-generation blizzard ripped through Niagara's south coast last Friday and Saturday. Photo credit: Canadian Niagara Power
It's been a long week without power for many residents of Fort Erie and Port Colborne, but the tireless efforts of hydro crews across the region have finally paid off. 
As of Thursday evening, restoration work was "substantially completely" and effectively all of the approximately 15,000 households that lost power at the peak of last weekend's Christmas blizzard once again had electricity. 
Less than 100 households remain without power, mainly due to individual damage at the hydro stack. Stack repairs are the responsibility of the homeowner and must be complete before reconnection can take place. 
"Our goal was to have all of our customers connected by the end of today (Thursday)," said Jeff Hoover, regional manager of Canadian Niagara Power (CNP). "While there may be a few exceptions due to outstanding repairs to customer's services, we have met that goal." 
"This was possible because of the extraordinary efforts of the CNP team and support from other local distribution companies and contractors. Thank you to everyone who answered our call for support to make this possible." 
Niagara's south coast was hit by a massive blizzard starting early Friday, December 23, lasting through to Christmas Eve night. 
Residents in Wainfleet, Port Colborne, and Fort Erie experienced sustained winds approaching 100km/h, and gusts as high as 124km/h. Depending on the area, communities received anywhere from 30 to 75cm of blowing snow, with some drifts reaching over two metres in height. 
Visibility was effectively zero all day Friday and Saturday. Dozens of vehicles were ditched or stranded at the side of the road by Christmas morning. 
Waves of over 20-feet from Lake Erie smashed into the shoreline, as freezing spray encased lakefront homes in solid ice. 
Conditions were so severe that the Niagara Region declared a formal state of emergency on December 24 for Wainfleet, Port Colborne, and Fort Erie.
Chair Jim Bradley said he made the decision in consultation with the regional emergency response team and mayors Brian Grant, Bill Steele, and Wayne Redekop. 
"I know that staff from our 12 municipalities and the Region are cooperating to address the numerous challenges related to this severe weather event," Bradley said at the time. 
Residents began losing power Friday, December 23. Nearly 15,000 households were without electricity on Christmas Eve. Though available, utility crews were unable to begin large-scale restoration efforts throughout the blizzard's peak, as roads were impassable.
CNP had restored power to approximately 11,000 households by Boxing Day. 
According to CNP, about 180 customers woke up Thursday morning without electricity – a full seven days after power started going out around Fort Erie and Port Colborne. 
By Thursday night, virtually every affected household had power restored. 
From start to finish, it took hundreds of crew members, both from CNP and crews from other local utilities around the province, working around the clock to address the mass outage.
Crews from as far afield as Sudbury and Cornwall travelled to Niagara to help with the restoration. 
Wainfleet formally terminated the state of emergency for its municipality on Tuesday. Port Colborne did the same on Wednesday. Fort Erie, the hardest hit of the three Lake Erie communities, ended its state of emergency on Thursday, as did Niagara's upper-tier government.
Concerns now shift to possible flooding across the region, with temperatures reaching double digits, leading to significant snow melt, and rain in the forecast for various communities. 
On December 28, the Niagara Peninsula Conservation Authority (NPCA) raised its flood status to orange – indicating municipalities, emergency services and individual landowners in flood-prone areas should prepare.
"For Haldimand County to Fort Erie, the forecast snow melt and rainfall has the potential to result in riverine flooding," the NPCA said in a statement. "The extent of flooding will depend upon the amount of rainfall that is received. During this time, localized flooding is anticipated due to many roadside ditches being filled with debris, ice and snow."