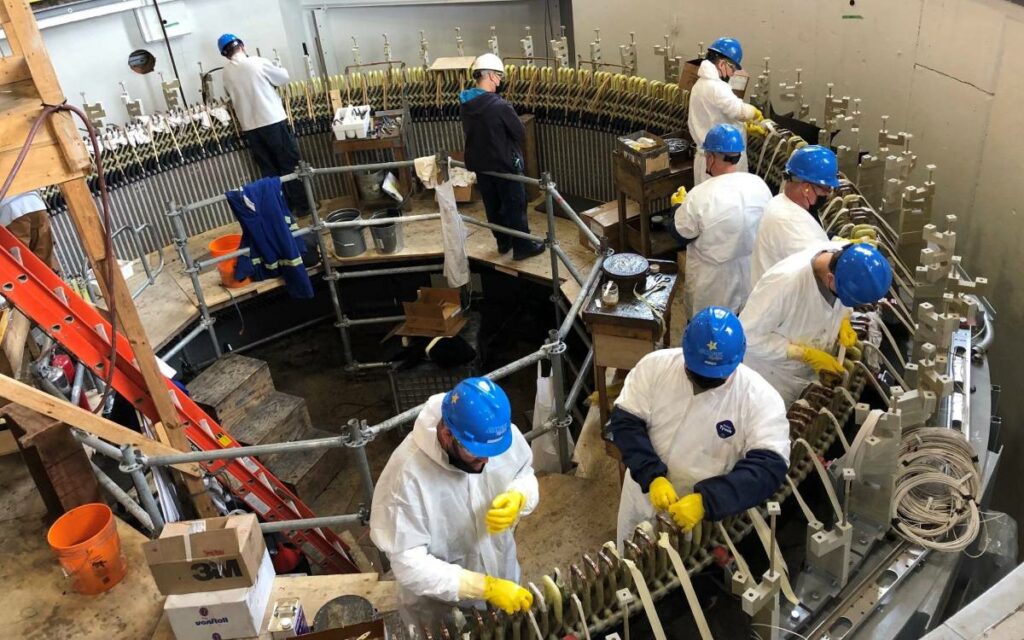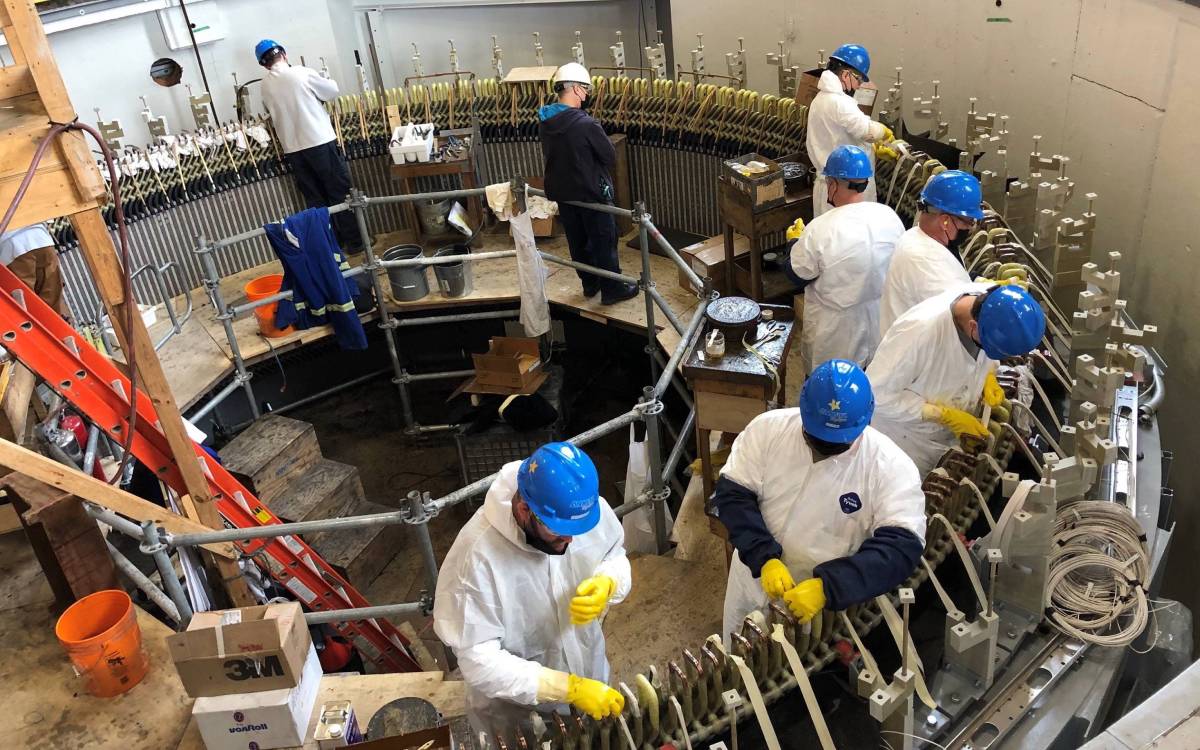 Technicians work to install one of two new generating units at the Sir Adam Beck I Generating Station in Niagara Falls. The $128-million project will be complete later this year. Upgrades to a third generator at the plant were finished in 2021. Photo credit: OPG
Currently in its 100th year of operation, the Sir Adam Beck I Generating Station in Niagara Falls will soon have two brand new generating units at the 438-megawatt (MW), 10-unit hydroelectric facility. 
On schedule for completion later this year, the $128-million Ontario Power Generation (OPG) project will add about 125 MWs of incremental peaking generating capacity at the station.
The project is part of OPG's 22-year, $2.5 billion overhaul of the company's fleet of generating units across the province. 
"It has been a busy past few years at the station," said Dave Bonell, senior manager of projects in OPG's 'Renewable Generation' division. "The investments we are making into Beck I will help the plant continue to operate reliably and efficiently for many more years. And the clean power generated here will play an important role in supporting Ontario's economy and fighting climate change."
Decommissioned and dormant since 2009, Beck I's original 40 MW G1 and G2 units operated on the now discontinued 25-hertz distribution system and provided power to steel mills in Hamilton and upstate New York.
Installation and testing of the new G2 unit turbine and generator will be completed by spring 2022. Work continues on installation of the G1 unit turbine with a late summer 2022 target for completion.
"Nearly 100 years ago, the Sir Adam Beck I station in Niagara Falls helped set the standard for 25 Hz frequency, which became the norm across North America," said Jessica Polak back in 2020, then-OLG's vice-president of operations. "But there is no longer a demand for the 25 Hz power cycle, so it's time to overhaul and upgrade these two units."
"The new generator units will be lighter and more efficient, and able to make more energy with less water required to pass through the turbine."
Proof of the station's original design and durability, the project reuses the existing 100-year-old penstocks and draft tubes. Penstocks, effectively long pipes, bring water down the side of the Niagara Escarpment to the station, while draft tubes are fitted at the end of a turbine runner to maximize water pressure.
The Beck I plant was the largest hydroelectric generating station in the world when it opened in 1922. It took about 10,000 workers to build and set the stage for large-scale hydroelectric development in Ontario. 
Today, Beck I is part of a larger complex of three hydro operations harnessing the power of the Niagara River, which also includes the 1,499 MW Sir Adam Beck II GS and the 174 MW Sir Adam Beck Pump GS. The complex supplies about 40 per cent of OPG's total hydroelectric production.
Clean, reliable, flexible, and relatively inexpensive, hydroelectric power generates approximately 26 per cent of Ontario's electricity, second only to nuclear (60 per cent) as a fuel source.