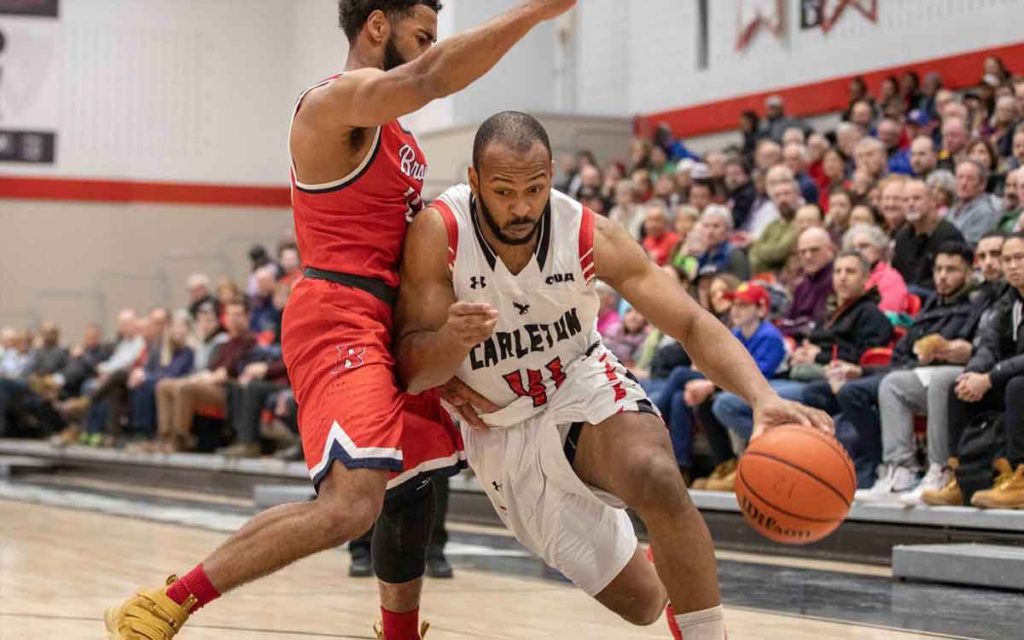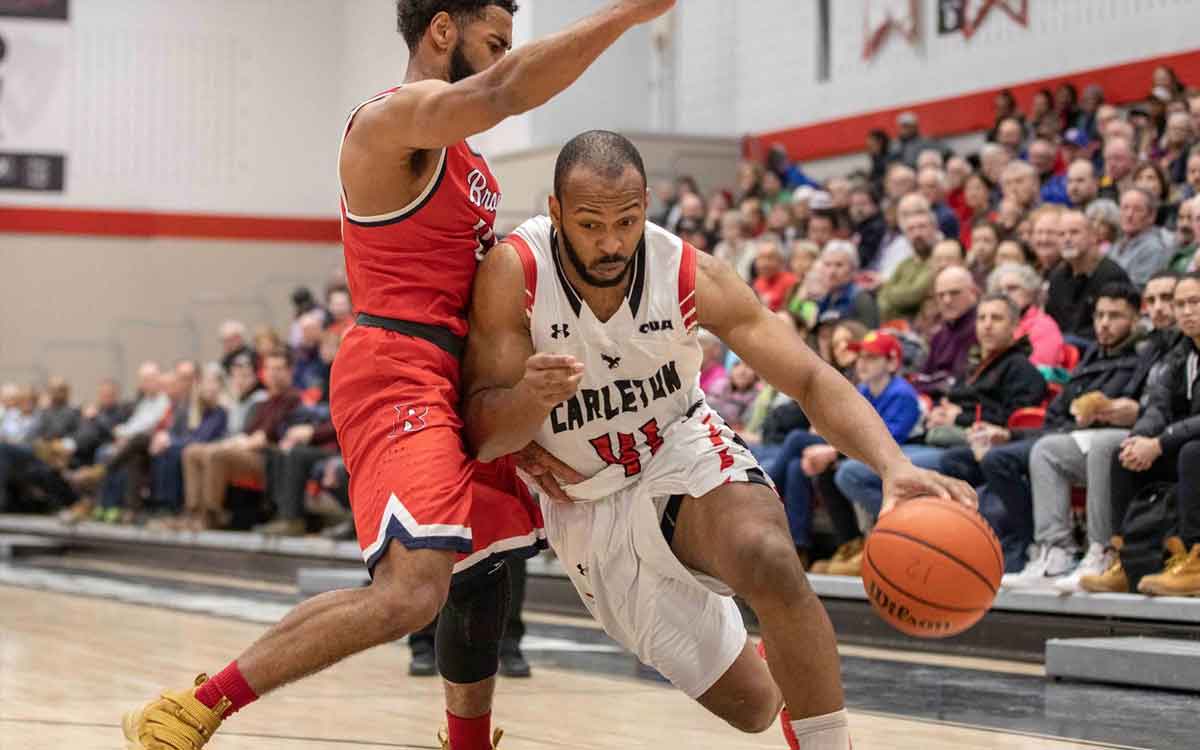 Brock's Tyler Brown (left) defends Troy Reid-Knight of the Carleton Ravens during the OUA semifinals in Ottawa on Wednesday. Photo: Valerie Wutti
Probably the greatest Canadian university sports program continues its roll, this time right over the Brock Badgers.
The Carleton Ravens men's basketball team nearly doubled up on the Badgers Wednesday night in the nation's capital with a 86-44 victory in the Ontario University Athletics (OUA) semifinals. The Badgers, who had a strong season with an overall record of 18-9 were simply no match for the powerhouse program at Carleton. Brock could only manage 25 first half points while the Ravens poured in 44. Carleton never let up outscoring the Badgers 24 to nine in the final quarter. The Badgers shot 27.8 per cent from the field compared to Carleton's 46 per cent.
The Ravens, the most dominate men's basketball team for years, has a win-loss record of 22 wins and just one loss while averaging 91 points per game. Their one loss came at the hands of the Ryerson Rams, the team Carleton will play on Saturday in what will be the most anticipated Canadian college basketball game of the season to date.
Carleton has won 13 of the last 15 men's basketball national championships. Between 2003 and 2006 the program went on an 87-game winning street and at one point had won 54 straight games at home. They regularly play NCAA Division One opponents in pre-season, and win, beating the likes of Ol Miss, Cincinnati and Maryland.
As for the Badgers, this was Madhav Trivedi's first season as interim head coach and, despite the tough playoff loss to end the his team's season, he loved every minute of coaching.
"I loved coaching for Brock this year. It was an incredible experience. This university is absolutely amazing," said Trivedi. "We have such a terrific vibe on campus. The fantastic administration, community and the support we have at Brock is everything that a coach could ask for. In our country, players and coaches want to experience what its like to play Division 1 and NCAA basketball and you truly get that at Brock. You can't ask for anything more than that."
"I think the most important thing for our players to take away from this season is you can never give up," said Trivedi. "You can never ever give up. There's ups and downs through the season and we try to teach life lessons and its done through sport. Don't give up. Things aren't always going to go your way and you just have to continue to fight right up until the last minute. Take this experience, learn from it, and become a better player because of it."
In their final game as Badgers, forward Cassidy Ryan and Johneil Simpson led Brock in scoring with 21 and 12 points, respectively. Simpson added six rebounds and Ryan shot 50 per cent from the field.
Daniel Cayer recorded eight rebounds and four assists, while Tyler Brown contributed three rebounds, three assists, two steals and six points.
For Carleton, Eddie Ekiyor led the way with 25 points.