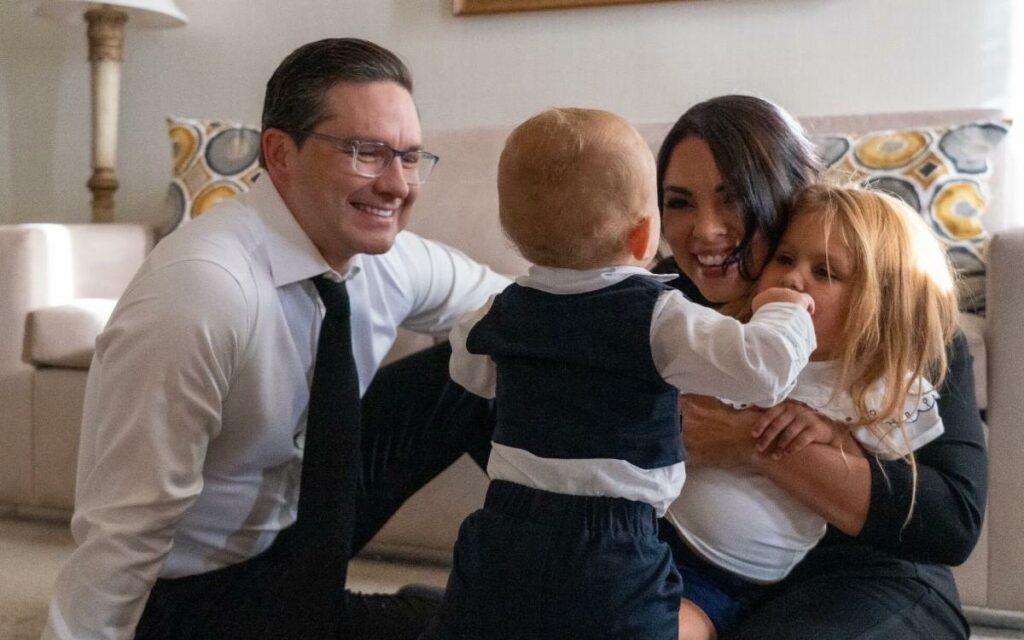 Two of the ads depict Poilievre as a family man, with his wife narrating and his kids appearing in many of the frames. Image from September 2022. Photo credit: Twitter/Pierre Poilievre
It's all coming up roses for Pierre Poilievre. Up in the polls and flush with cash, Poilievre is quickly approaching the one-year anniversary of the landslide victory that saw him decisively take the helm of the Conservative Party, and what a year it's been. With politicians set to head back to Ottawa in just a few short weeks, expectations couldn't be higher for the Conservative leader as he seeks to define himself ahead of the next election and in the process, pick up the votes needed to form government.
If you're tuned into politics, you may have started to notice subtle shifts in Poilievre's looks and mannerisms. Over the course of the summer, the Conservative leader has turfed the glasses and done away with the attack dog tone that has come to define much of his time in office and storied exchanges with members across the aisle. 
These may seem like minor changes – just like changing your hairstyle – but they are strategic and have likely been implemented because of extensive focus testing to determine how Canadians perceive the leader and party brand. The strategists in charge of helping Poilievre become the next prime minister aren't taking anything for granted, and their internal data likely mirrors that of a recent survey by Abacus Data which found that while most Canadians are open to a change of government, impressions of Poilievre and his party remain quite negative.
This is not a new problem. Previous party leaders have found themselves facing the same brand identity questions, and both Andrew Scheer and Erin O'Toole attempted to address these perception issues during their respective tenures to reach accessible voters. Think back to Scheer walking through the suburbs, or that black t-shirt donned by O'Toole on the cover of the 2021 Conservative election platform. 
Elections are a multi-million-dollar event, and despite no clear timeline on when Canadians will head to the polls, the Conservatives are already off to the races. This week, Poilievre's team dropped three new ads that will have a total ad spend of three million dollars. The remarkable ad buy outside of an election period speaks to the health of the Conservative's bank account, and the party's willingness to shape perceptions ahead of their opponents' efforts.
Two of the ads depict Poilievre as a family man, with his wife narrating and his kids appearing in many of the frames. The third ad takes aim at the carbon tax, which is an early indication of the battleground for which the Conservatives will look to frame the ballot box question. All three ads present the Conservative leader as the solution to getting Canada back on track.
Polls have so far shown that Canadians are willing to hold their nose and consider voting for the Conservative Party, but anything can change between now and when the writ drops. Turning voter intention into actual ballots cast is a whole different beast and depicting Poilievre as a relatable, everyday family man may be the deciding factor for women and suburban voters in the GTA and Vancouver. These demographics will be the key determinant of whether the Conservatives are relegated to the opposition benches for a fourth election in a row, or instead to a resounding victory. 
Whether you're watching a football game or a YouTube clip, it's likely you will come across one of these ads. At the end of it, Conservative strategists are hoping that you'll be thinking to yourself: hey, I could grab a beer with that guy and hear him out.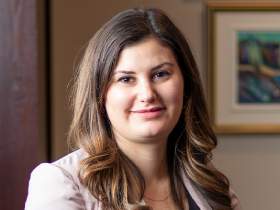 Josie Sabatino is a Senior Consultant at Summa Strategies, focused on providing strategic insight and helping clients meet their objectives in an ever changing and complex political and regulatory environment. Prior to joining Summa, Josie spent nearly a decade in political communications and most recently served as the Director of Communications to the Hon. Erin O'Toole, former Leader of the Official Opposition.