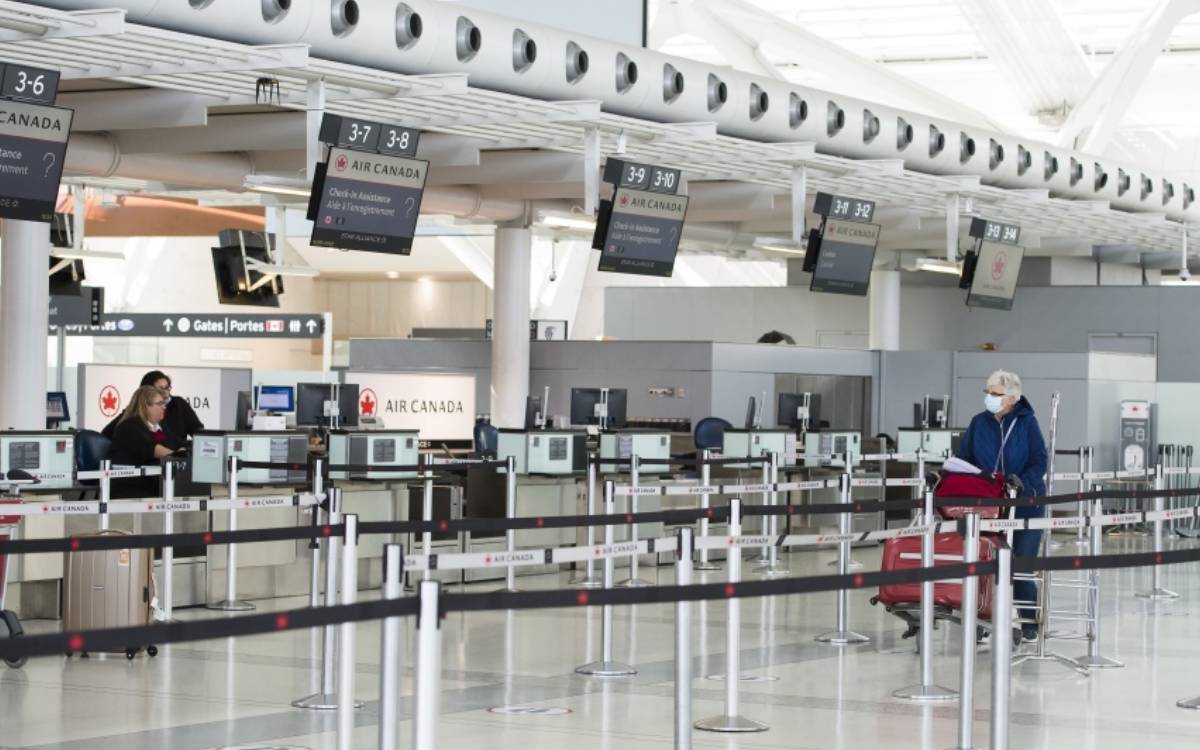 A near empty Air Canada line at Toronto's Pearson International Airport last spring. April 8, 2020. Photo credit: The Canadian Press/Nathan Denette
After immense pressure put on by the provincial premiers, on April 22 the federal government finally announced a ban on direct commercial and private flights from India and Pakistan. The federal government belatedly moved on the ban after dozens of cases of B.1.617, the dominant strain of COVID-19 in India, showed up in B.C., Quebec, and Alberta.
The move to ban flights comes as India reports an average of more than 300,000 cases of COVID-19 per day.
Maclean's recently reported that between March 1 and April 15, "COVID-19 has been traced back to some 465 international flights. Delhi was the departure city for 165 of those flights, more than double any other international departure city." According to the publication, "Health Minister Patty Hajdu said that while 20 per cent of all passengers entering Canada were on flights from India, they accounted for half of all positive COVID-19 tests upon arrival."
While the provinces welcomed the federal government (which control Canada's international airports) finally taking action, they worried that it did not go far enough. Quebec Premier Francois Legault and Ontario Premier Doug Ford wrote to the prime minster, "There is an urgent need to address issues with testing and quarantining at the borders, including falsified COVID-19 testing documentation, travellers opting [for] fines over complying [with] quarantine requirements, or travelling via private vehicle/plane to avoid quarantine, among several other areas of concern."
They continued that it is "…crucial that all non-essential travel be curtailed. The introduction of stricter measures for travellers crossing at land borders is a significant step to achieve that goal and ensure that collectively we are doing all we can to protect our citizens."
Niagara Falls Mayor Jim Diodati concurs that right now it is vital for the federal government to properly lockdown the borders from incoming variants in order to flatten the curve of the third wave and be able to open more fully in the summer.
"If you are going to have traveller restrictions, they have to work. The faster they close the loopholes, the faster we'll crush the curve. The faster we vaccinate, the sooner we can reopen and have a successful summer season."
In Ontario and in Niagara, the variants continue to be the predominant concern. Niagara's Chief Medical Officer of Health Mustafa Hirji recently told CKTB, "Provincially we're looking at upwards of 80 per cent of cases [now being] variants. In Niagara we are over 70 per cent, probably closer to 75 per cent now. COVID-19 at this point has basically become the variants."
There has been a plethora of articles in publications on both sides of the border noting the burgeoning business of Canadians and other visitors flying into Buffalo and taking car services across the border to avoid Canada's quarantine and other rules for travellers.
Joel Noden of HOCO Entertainment and Niagara Falls Tourism said, "We are at a point where I believe vaccinations are starting to make a difference in our numbers. However, as has been said by the experts, we can't outpace the virus and its variants by vaccine alone."
"Stronger restrictions on flights from overseas and tighter quarantine measures at our land crossings can only help in slowing down the spread until such time as we have an increased and stable supply of vaccines allowing more shots in arms. This will allow us to hopefully reduce restrictions on travel and dining thereby salvaging our summer and fall tourism seasons with a flow of domestic visitors," said Noden.
Joe DiCosimo of Hilton Hotels agreed, "while this pandemic and the required lockdowns have obviously been very tough on our industry, with the vaccinations progressing we see some light at the end of the tunnel. There does still seem to be some importing of the virus by travelers finding their way across our borders, land and especially airports, and they are bringing the variants with them. A proper airport lockdown across the country now will help us flatten the curve quicker and then get to a full and permanent reopening in the summer."