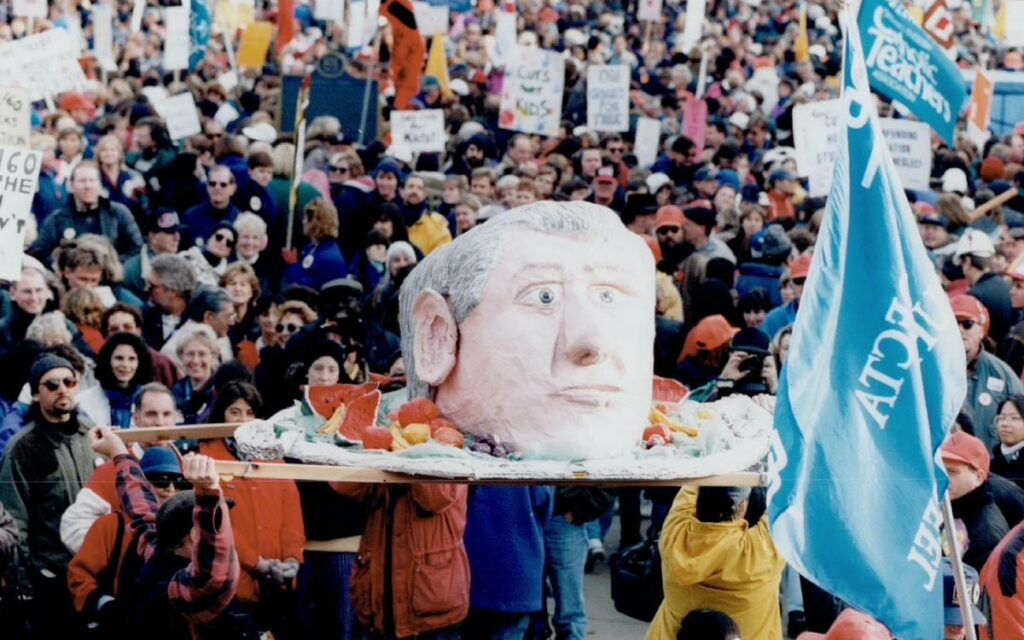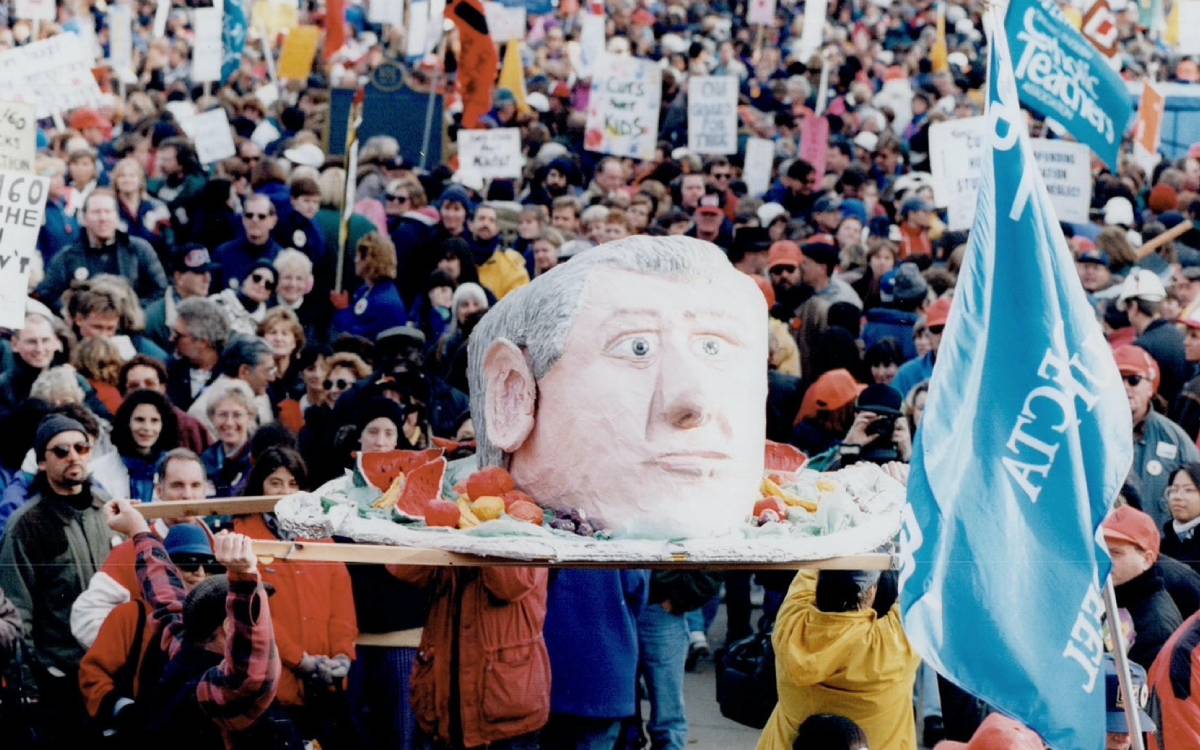 Premier Mike Harris' head on a platter during a demonstration by teachers and parents in 1997. As Harris' former finance and education minister Janet Ecker explains, protesting politicians with threatening behaviour is nothing new, but that doesn't make it any less inappropriate. Photo credit: Toronto Star/Tony Bock
Has our democracy come to this? As we enter the third week of a federal election campaign nobody but Prime Minster Justin Trudeau seemed to want, one thing is becoming very clear – there is a growing wave of incredible anger within the electorate.
Several Liberal campaign events have been disrupted. One had to be called off completely due to outraged protestors who seem to think it's okay to bring their children with them to yell obscenities at a sitting Prime Minister.  
It is not okay. No matter what you may think of Mr. Trudeau or his policies, this is not acceptable behaviour. It is not civilized, it is not democratic, it is not acceptable. 
Nor is it new.
For example, literally thousands of demonstrators stormed the Ontario Legislature in 1995 and smashed in the doors to try and disrupt the swearing-in of the newly elected majority government of Premier Mike Harris.  
This author had armed security officials at one point during her political career due to death threats.  Cabinet colleagues had cans of tuna thrown at them or were seriously harassed at various events.  Family members of elected officials – wives, husbands, and children – were harassed. Stores displaying election signs in support of Premier Harris were threatened.    
Many political commentators of the day tut-tutted over the behaviour and said, what can you expect, Premier Harris and his agenda are so objectionable to people that they are understandably hitting back.
If that was the case then, and the Harris brand of politics was the cause, what does that say about Mr. Trudeau today? Would those same commentators want to attribute blame for this behaviour to his brand of politics?  
I didn't think so. 
But it is behaviour that is actually undermining our democracy. It causes well qualified men and women to refuse to run for office. It causes campaigning politicians to withdraw from face-to-face encounters with real voters as they cocoon with security officers, out of fear for theirs and their staff and family's safety.
But we have a right to free speech these demonstrators will argue, we have a right to protest. Yes, you do. But you do not have the right to disrupt events, yell obscene, racist and misogynist insults and put the safety of everyone in attendance at risk, as has happened.  
You do not have the right to vandalize politicians' homes, harass their friends and neighbours or shout at them in public restaurants.
And while the attacks on the Liberal campaign have dominated the headlines, it is not just Mr. Trudeau who is on the receiving end. Many other candidates across the political spectrum have been subjected to such abuse in varying degrees. 
Why is this happening?
A good question with no one good answer. As noted, it is not particularly new, but it is getting worse.  
It is far past time for everyone involved in our democratic process to look in the mirror. Commentators and politicians who treat each other and their supporters with contempt are contributing to the problem. Media pundits who drive up their ratings by saying inflammatory and derogatory things about the government of the day help fuel the flames. Each one of us who refuses to listen to, or respect other views cannot escape our share of the blame. 
And then there is social media and the internet, torquing the emotions of subscribers, repeating conspiracy theories and spreading misinformation.  
There is no doubt that the pandemic is fuelling a lot of this emotion. People have lost jobs and businesses, loved ones have died, enjoyable every day activities have been denied. Governments at all levels have not distinguished themselves with their competence during this time and there is no end in sight. There is real anger, frustration, confusion, anxiety and fear.  
But none of that justifies the behaviour we see now. We must all share the blame, just like we all must share the duty to try and fix it before it is too late.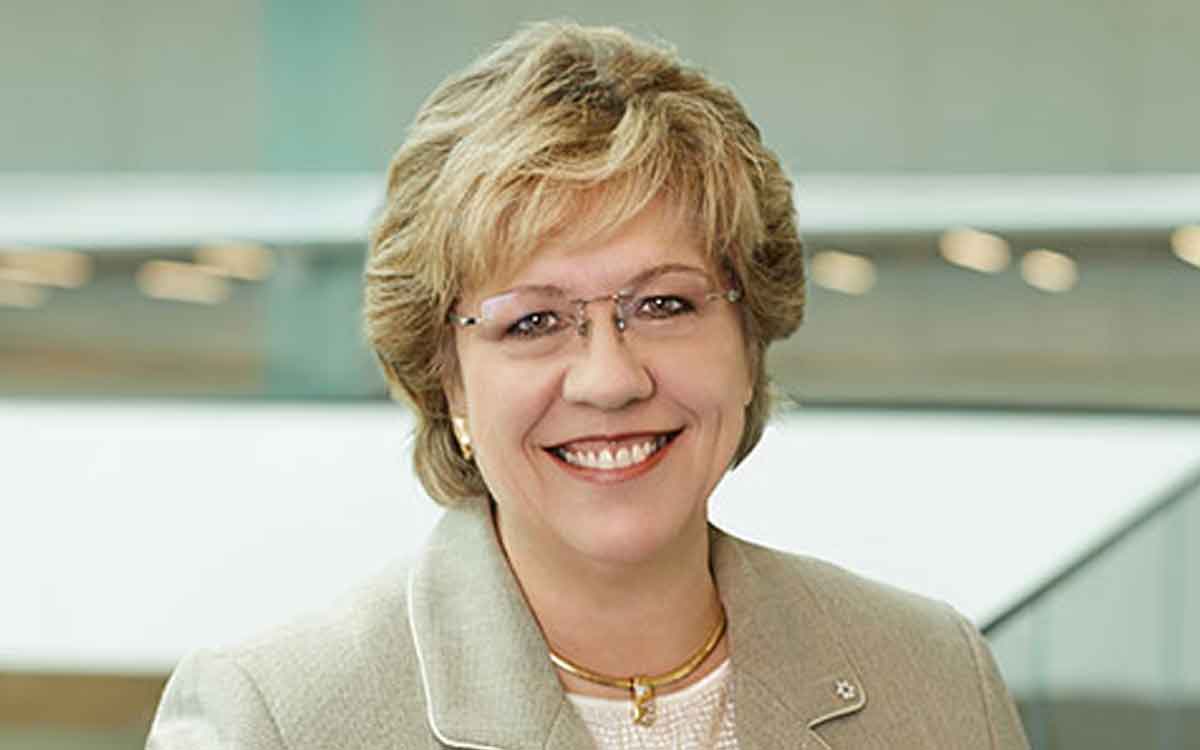 Janet Ecker is a former Ontario Finance Minister, Minister of Education, Minister of Community and Social Services and Government House Leader in the governments of Premier Mike Harris and Premier Ernie Eves. After her political career, she served as the founding CEO of the Toronto Financial Services Alliance, a public-private partnership dedicated to building Toronto region into an international financial centre. She currently sits on a number of corporate and non-profit boards, agencies and advisory committees.
Ms. Ecker received the Order of Canada for her public service contributions and was recognized as one of the "Most Influential People in the World's Financial Centres" by Financial Centres International.  She also received a "Canada's Most Powerful Women: Top 100 Award" from the Women's Executive Network and the Richard Ivey School of Business, among other awards. She is also one of the founders of Equal Voice, a national, multi-partisan organization working to elect more women.