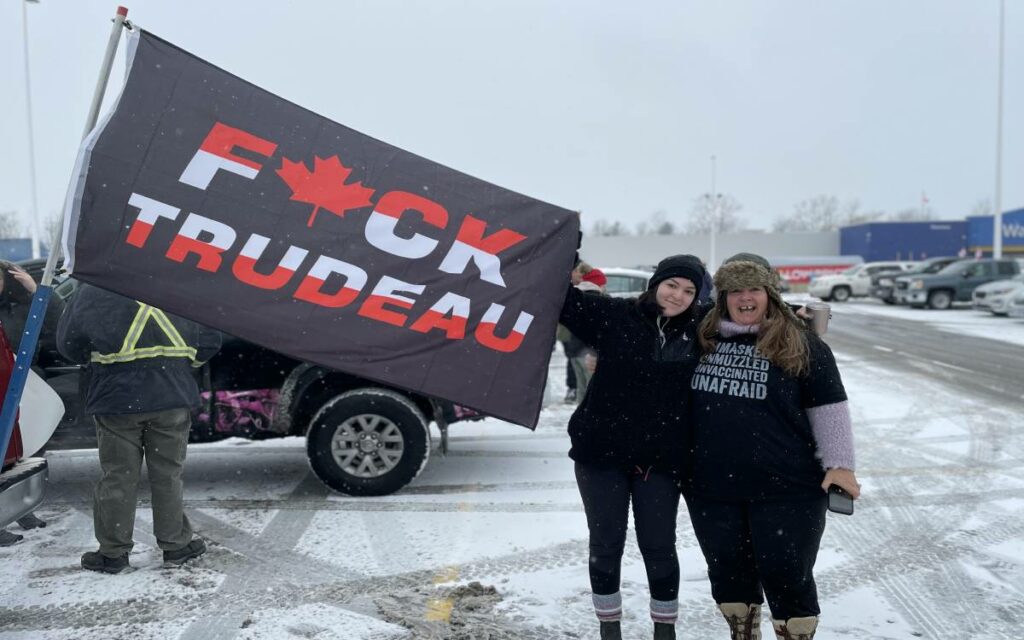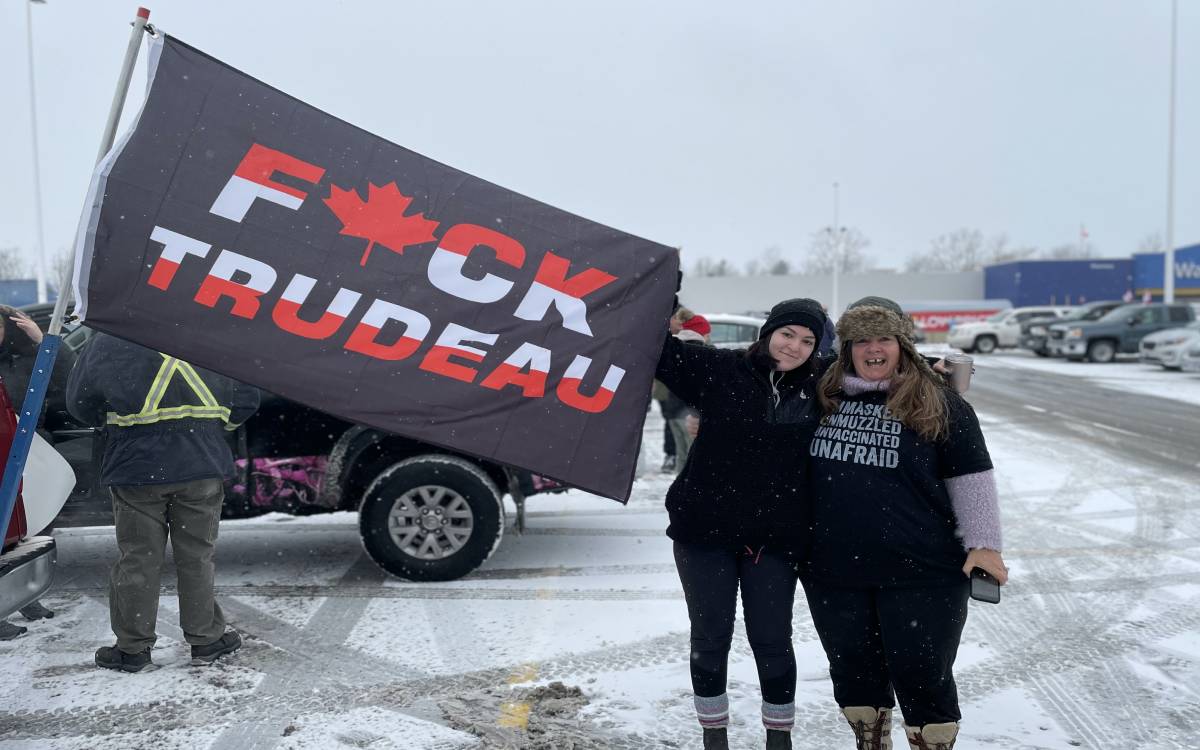 Pictured (right) is Kayla Bennett, who made the trip from Wainfleet to participate in the rally, Sunday, Jan 23, 2022. Photo credit: The Niagara Independent/Nicholas Tibollo
On Sunday morning, several hundred protestors packed the Walmart parking lot on Garrison Rd. in Fort Erie to show support for the thousands of previously exempt cross-border truck drivers refusing to comply with the federal government's recently implemented vaccination mandate. 
As of Jan. 15, 2022, Canadian truck drivers re-entering the country after a trip to the U.S. must be fully vaccinated if they want to avoid a mandatory 14-day quarantine and pre-entry, arrival, and day eight COVID testing. 
An estimated 26,000 of the 160,000 Canadian and American truckers who make regular cross-border trips are currently unvaccinated.
"Without truckers, how are we going to get food on the shelves, and clothes on our backs?", said protest participant Kelly Bennett, who made the trip from Wainfleet for Sunday's event. 
"Truckers are in their cabs, by themselves. They have absolutely no contact with most people. Grocery store workers, restaurant workers don't have to be vaccinated. Why are they mandating truckers?"
Close to $500 billion worth of trade crosses the U.S.-Canada border via trucking each year. With anywhere from 15 to 20 per cent of the bi-national workforce sidelined, numerous industry experts have warned of significant supply chain shortages in the coming weeks and months.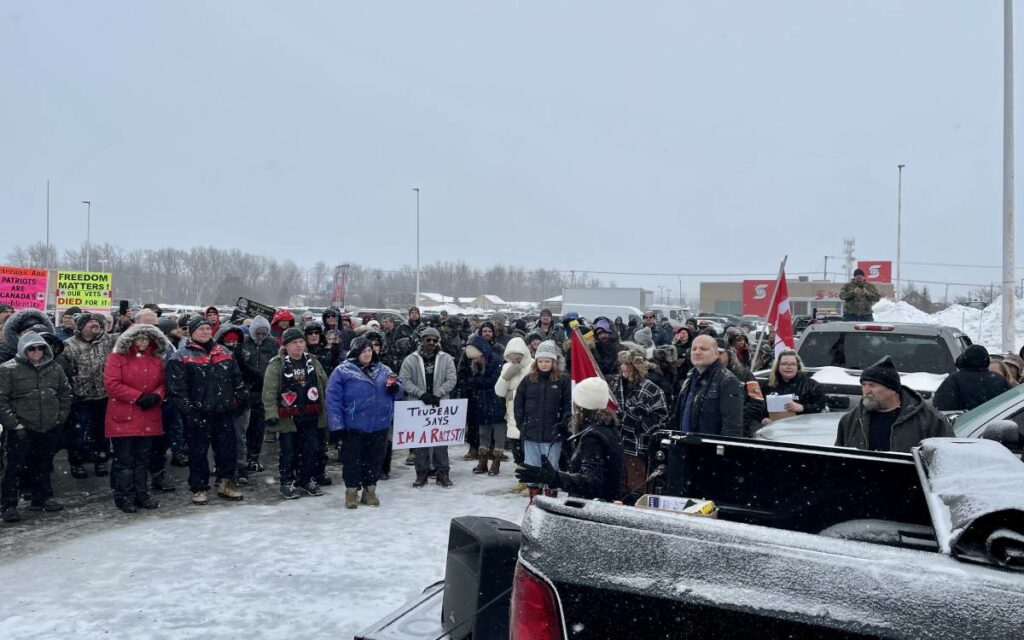 Amongst the diverse crowd in attendance was Ontario MPP Belinda Karahalios (pictured speaking to some of the assembled, Sunday, Jan. 23, 2022). Photo credit: The Niagara Independent/Nicholas Tibollo
In an interview with The Niagara Independent after delivering a speech to participants, current Cambridge MPP Belinda Karahalios talked about why it was important for her, as a provincial politician, to make the trip to Fort Erie to engage with a federal issue. 
"Yes – it's a federal issue, the trucking mandate, but it's being mirrored provincially," said Karahalios, who was ejected from the Ontario PC Party caucus in July 2020 after voting against legislation that expanded the province's emergency authority. 
"You have our so-called conservative premier who ran on 'Open for Business' and supporting the little guy. Well, truckers are the little guy," said Karahalios. 
"He [Premier Ford] hasn't stood up – none of them have stood up – to Trudeau and said, 'this is going to affect our supply chain and individuals' lives'…he stayed quiet on the issue. So, as a provincial representative, I felt it was my duty to stand up for Ontario truck drivers who essentially have no elected representatives speaking up for them."
Sunday's protest in Niagara, which culminated in participants slow-rolling on the QEW between Fort Erie and exit 46 in St. Catharines, represents only a small part of the larger "Freedom Convoy" currently on route to Ottawa from locations across the country. 
Two convoys of transport trucks left B.C. on Saturday for the nation's capital, meeting up with Alberta truckers Sunday night. 
Another Ontario convoy passed through Windsor Sunday. 
Additional convoys from Quebec and the east coast are expected to leave in the coming days.
All participants will arrive in Ottawa by Saturday, Jan. 29, where they'll take part in a massive demonstration at Confederation Park. 
The Canadian Trucking Alliance (CTA) – a federation of provincial trucking associations that represents some 4,500 carrier, owner-operators, and industry suppliers – released a statement on Saturday condemning the Freedom Convoy.  
"[The CTA] does not support and strongly disapproves of any protests on public roadways, highways, and bridges," read the statement. "Members of the trucking industry who want to publicly express displeasure over government policies can choose to hold an organized, lawful event on Parliament Hill or contact their local MP. What is not acceptable is disrupting the motoring public on highways and commerce at the border."
To move forward, CTA president Stephen Laskowski encouraged truckers to simply get vaccinated and comply. 
"This regulation is not changing so, as an industry, we must adapt and comply with this mandate," said Laskowski. "The only way to cross the border, in a commercial truck or any other vehicle, is to get vaccinated."
A GoFundMe set up in support of the convoy has raised close to $4 million to help purchase fuel and food for participating truckers.