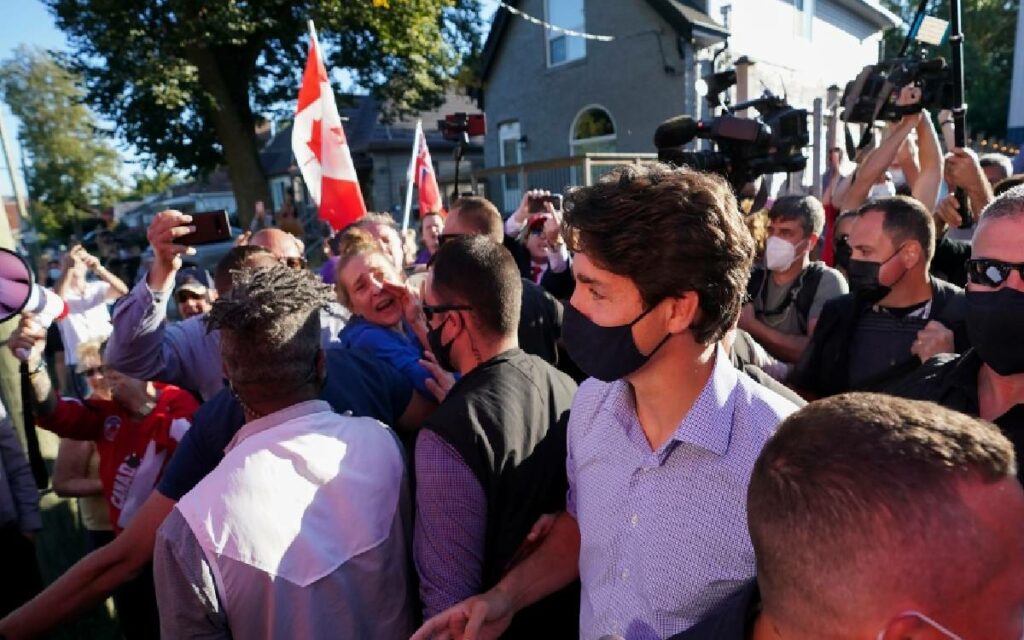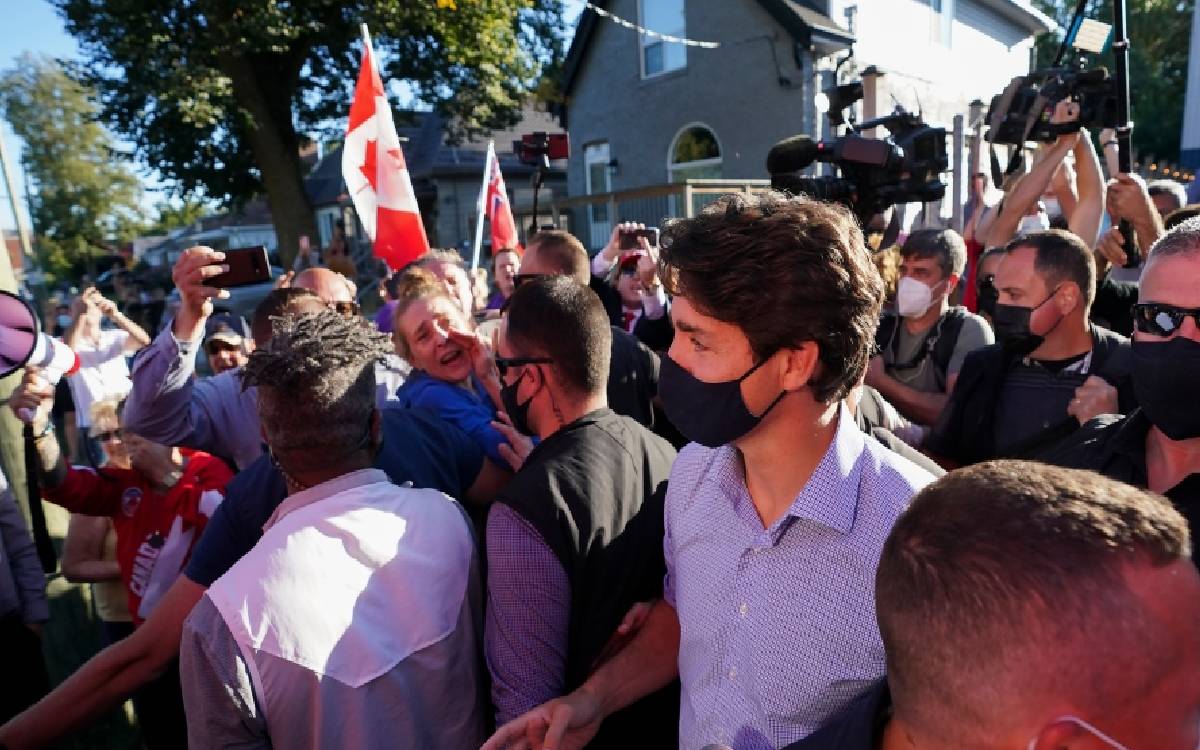 Liberal leader Justin Trudeau is escorted by security to his campaign bus in London, ON as protestors – many of whom were identifiable as PPC supporters – hurl insults and small stones, Sept. 6, 2021. Photo credit: The Canadian Press/Nathan Denette 
Watching the federal election play out in Ontario this week looks like watching the sequel to that iconic movie "Network" where crazed TV news anchor Howard Beale ignites a national firestorm with his chant, "I'm mad as hell and I'm not going to take it anymore." 
In this case, the crazed individuals are the ones protesting the campaign of Prime Minister Justin Trudeau, shouting obscenities at the top of their lungs, dragging their children into harm's way, pushing and shoving and most recently, throwing pebbles at him as he headed towards his campaign bus.  
For a politician who prides himself on "bringing people" together, he has certainly unleashed some of the greatest anger and divisions many commentators and pollsters have seen in an election. If Mr. Trudeau has not asked himself what his unnecessary election call in the middle of a pandemic has unleashed across the country, he should have by now.  
People are tired and cranky, worried about the next phase of the pandemic, aghast at the tragedy unfolding in Afghanistan, concerned about a rocky economy, fearful of letting their kids go to school, struggling to save their retail business, the list goes on.  
A politician on the hustings, particularly one who still has not been able to answer the question of why the election was called, other than to appeal to his hunger for a majority government, is a very tempting target for that anger and frustration.  
None of this is to defend or excuse the increasingly undemocratic and aggressive behaviour of the hostile crowds. Most appear to be the so-called "anti-vaxxers."  But there are also many others whose actual hatred of Mr. Trudeau and what he represents to them has been on clear display.
But something else is becoming clear as well. Many of the vehement protestors appear to be supporters of the People's Party of Canada (PPC), the creation of disgruntled federal Conservative Maxine Bernier. Having lost his bid to lead the federal Conservative Party he took his marbles home and created his own party.  
Mr. Bernier has condemned violence by the protestors but his pitch is resonating strongly with demonstrators' sentiments, particularly his calls for "freedom" and a "revolution" in the face of what he labels "tyranny." 
But there is an old saying in politics "be careful what you wish for."  
In their attempts to bring down Mr. Trudeau, the PPC party's increased support in public opinion polls is draining supporters from Erin O'Toole's Conservative Party.  For many of Mr. O'Toole's supporters, this must feel like "Deja vu all over again", to quote a famous ball player.  
In the mid 1990s, federal Conservatives watched electoral victories slip through their fingers as a western protest movement created the Reform Party, lead by Preston Manning. He syphoned off Conservative support, allowing Liberal Prime Minister Jean Chretien to win – and win big (three consecutive majorities). 
The same advice should be offered to the rest of the hostile crowd – if they really want to defeat Mr. Trudeau, they are going about it the wrong way. Their actions are motivating hesitant Liberal voters to set aside their irritation with Trudeau over the election call and vote. 
Is that really what they want?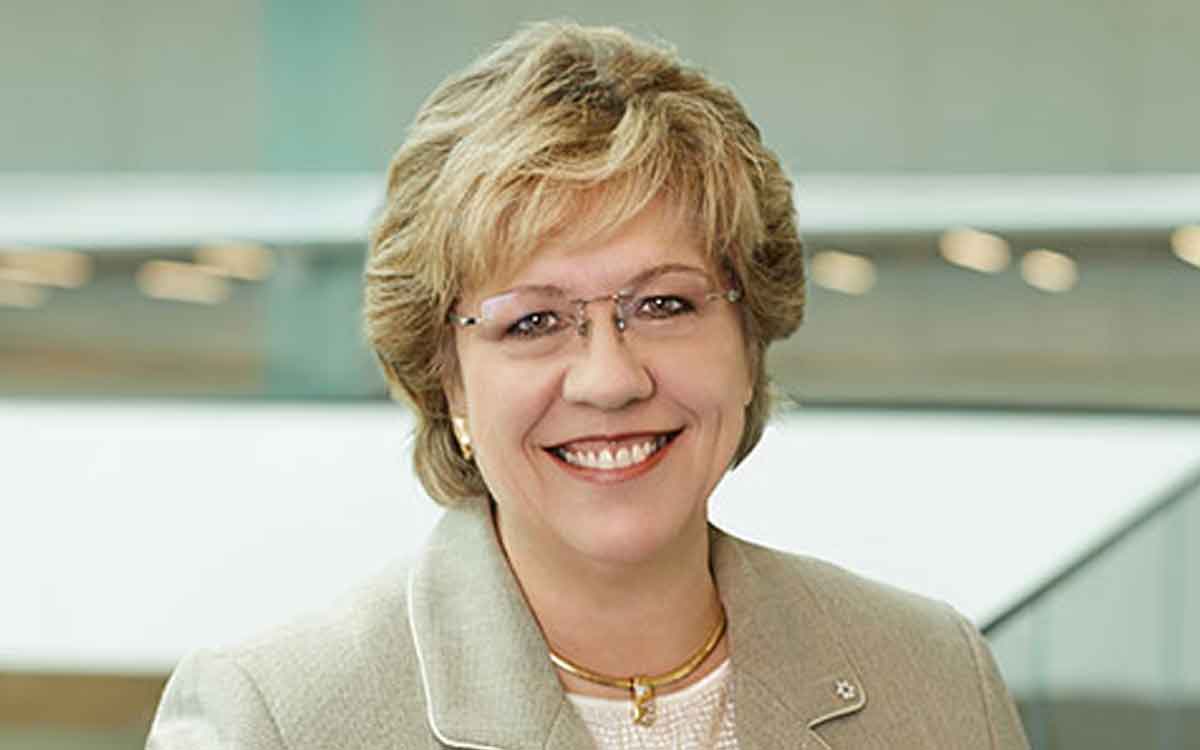 Janet Ecker is a former Ontario Finance Minister, Minister of Education, Minister of Community and Social Services and Government House Leader in the governments of Premier Mike Harris and Premier Ernie Eves. After her political career, she served as the founding CEO of the Toronto Financial Services Alliance, a public-private partnership dedicated to building Toronto region into an international financial centre. She currently sits on a number of corporate and non-profit boards, agencies and advisory committees.
Ms. Ecker received the Order of Canada for her public service contributions and was recognized as one of the "Most Influential People in the World's Financial Centres" by Financial Centres International.  She also received a "Canada's Most Powerful Women: Top 100 Award" from the Women's Executive Network and the Richard Ivey School of Business, among other awards. She is also one of the founders of Equal Voice, a national, multi-partisan organization working to elect more women.