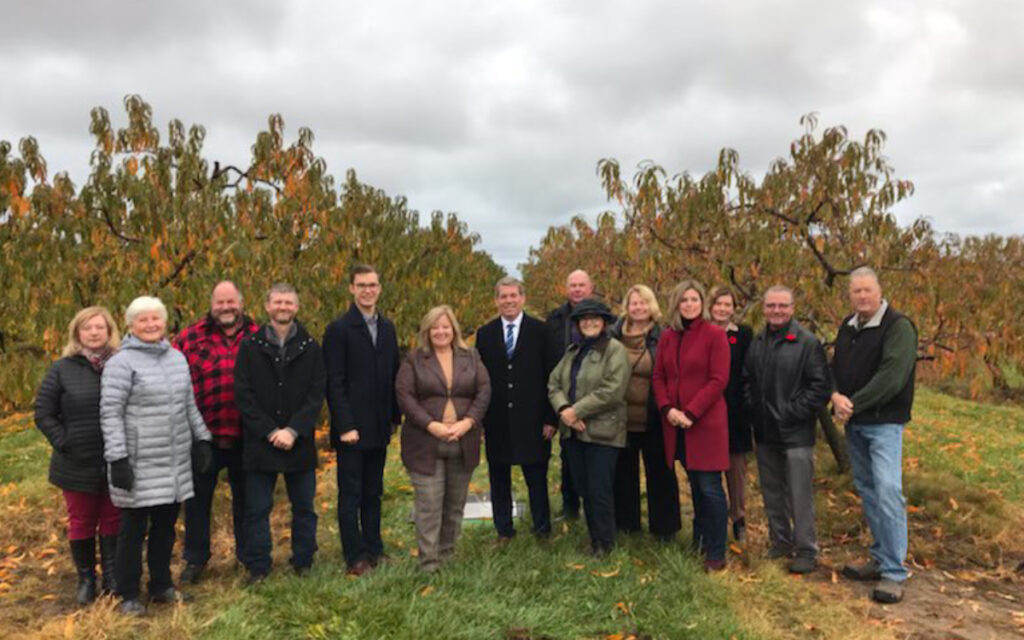 Local, provincial, and federal officials, alongside industry stakeholders, gathered at Hipple Farms in Lincoln on Monday, October 30, to celebrate $8 million in provincial-federal funding. Photo credit: Twitter/Sam Oosterhoff
On Monday, officials from the governments of Ontario and Canada, along with industry stakeholders, gathered at Hipple Farms in Lincoln to announce a joint provincial-federal investment of up to $8 million to help apple, tender fruit, and wine grape producers grow popular varieties of produce.
Under the new "Growing Future Opportunities Initiative," eligible producers can apply to receive 75 per cent of cost-share funding for plants, with plantings to be completed by the end of 2026. 
The replanted stock will yield varieties of produce that better meet market demand, increase yield hardiness, and improve resistance against pests and diseases.
"We're making sure the agri-food sector in Ontario realizes its incredible potential by ensuring product supply aligns with consumer demand," said Lisa Thompson, Ontario Minister of Agriculture, Food, and Rural Affairs. 
"This initiative will support our fruit growers as they produce more grape, apple, and tender fruit varieties that are widely sought after both domestically and internationally."
The apple and tender fruit intake of the initiative will open next month. While the wine grape intake is anticipated in the winter of 2024.
The up to $8 million in funding is being provided through the Sustainable Canadian Agricultural Partnership (Sustainable CAP).
Sustainable CAP is a five-year (2023-2028), $3.5-billion investment by federal‐provincial and territorial governments to strengthen the competitiveness and resiliency of the agriculture, agri‐food and agri‐based products sector. 
This includes $1 billion in federal programs and activities and a $2.5 billion commitment that is cost-shared 60 per cent federally and 40 per cent provincially/territorially for programs designed and delivered by the provinces and territories.
"The Ontario Tender Fruit Growers has prioritized new variety development for many years and is well positioned for this opportunity," said Phil Tregunno, Chair of the Ontario Tender Fruit Growers. "We greatly appreciate this funding to meet market demand, address climate change pressures and reduce reliance on imports to feed Canadians."
"Wine Growers Ontario appreciates Minister Thompson's continued support of the Ontario grape and wine industry," said Aaron Dobbin, President and CEO at Winer Growers Ontario. "(Monday's) announcement will help our industry as we continue to adjust to consumer demands and the influx of heavily subsidized foreign imports."
The Niagara Peninsula accounts for 90 per cent of the province's tender fruit crop, and over 93 per cent of Ontario's grape-growing volume.