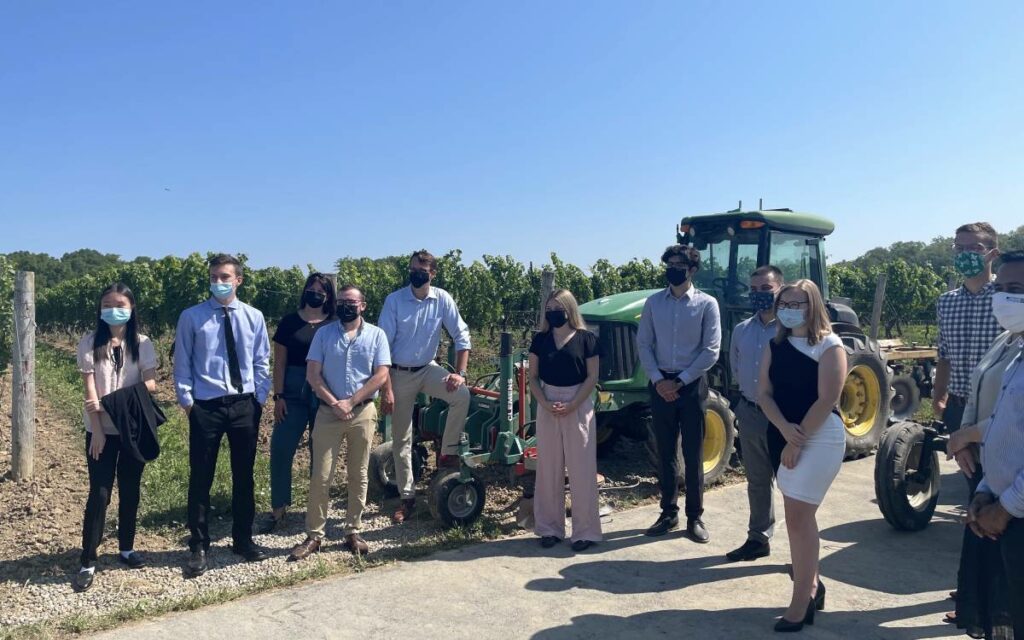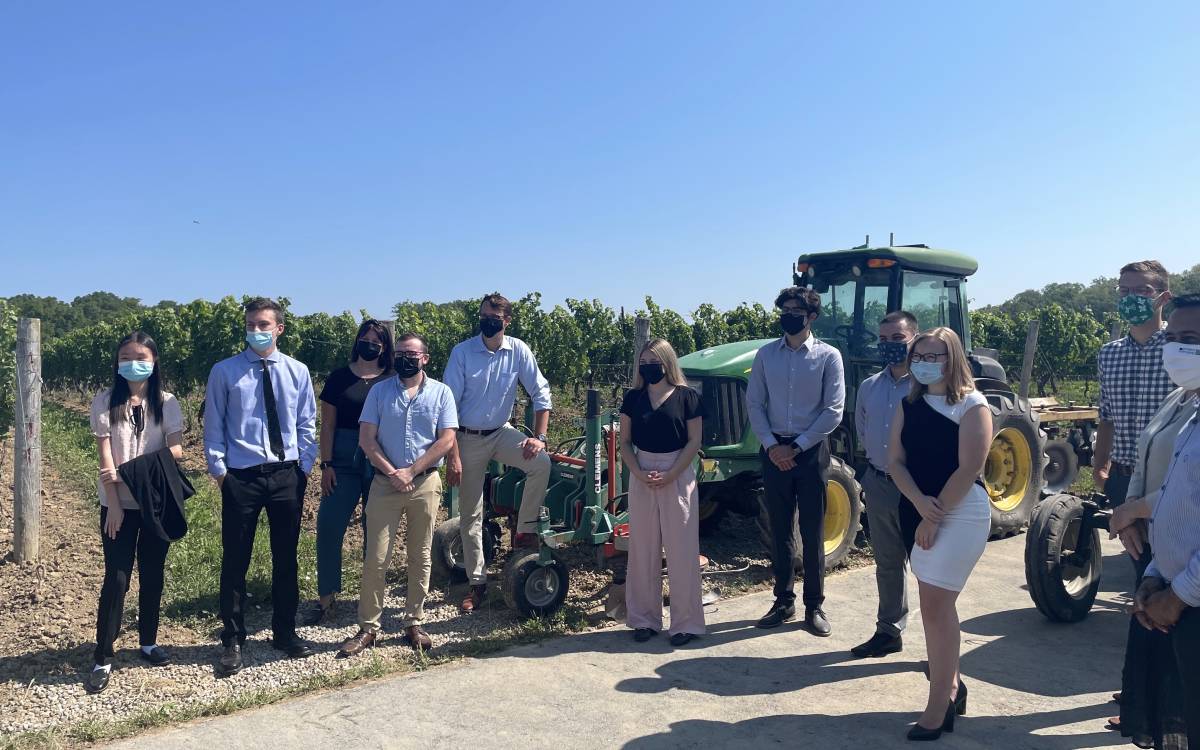 Minister of Labour, Training and Skills Development Monte McNaughton (fifth from left) in Vineland with some of the beneficiaries of the provincial funding announced Thursday. Photo credit: Ministry of Labour, Training and Skills Development
On Thursday, Ontario's Minister of Labour, Training and Skills Development Monte McNaughton joined Niagara West MPP Sam Oosterhoff and Lincoln mayor Sandra Easton in Vineland to announce over $2 million in provincial funding to help Niagara youth enter the high-demand field of information technology (IT).
The investment will provide over 90 young people in the region with free, paid training to acquire skills relevant to a career in IT. Participants will get practical experience by assisting local businesses with their technology-based needs, helping them recover from the pandemic by expanding online.
"Connecting young people with opportunities in technology is vital to kickstarting their careers while helping our shopkeepers and merchants deal with the impacts of COVID-19," said Minister McNaughton. 
"This training program is a win-win for young workers and local businesses looking for help expanding online. This investment meets the challenges of today while training our young workers in the technology of tomorrow."
To roll out the program, the Town of Lincoln is partnering with the local not-for-profit training organization Civiconnect. Based out of the organization's Beamsville studio, Niagara-area youth between the ages of 15 and 29 will undergo a total of 15 weeks of in-class learning and on-the-job training. Participants will learn a variety of technical skills, including IT marketing, web development, and systems administration.
"We will be able to mitigate some of the challenges posed by COVID-19 while contributing to long-term economic development and youth retention in the Town of Lincoln," said Kailene Jackson, Co-Founder and Director of Programming at Civiconnect. "Bridging the gap between youth and the business community is key to creating the prosperous and inclusive communities of tomorrow."
Youth enrolled in the program will take part in five weeks of classroom instruction, before then moving on to a paid 10-week job placement at one of 75 small to medium-sized businesses in Lincoln and the wider Niagara region. Participants are each paid approximately $10,000 for their services.  
"The pandemic has shown us that businesses are in need of digital innovation and education to ensure their survival and growth in 2021 and beyond," commented Mayor Easton. "This initiative will allow us to support our local businesses in facing this changing COVID-19 landscape, prepare youth for job opportunities and build upon Lincoln's vision to be a place to grow, prosper and belong."
The first cohort of trainees have already started the program. Two more sessions will run from September to December 2021 and January to April 2022. 
"The pandemic created significant challenges for accessing the skills and training needed to upgrade our local workforce," said MPP Oosterhoff. "Workers and businesses in Ontario and Niagara are some of the most innovative and entrepreneurial in the world. This partnership demonstrates our government's commitment to working with local partners to build a highly skilled and competitive workforce and will ensure our province remains the engine of Canada's economy."
Ontario is home to the second-largest information technology industry in North America, with 24,000 IT firms employing over 320,000 workers.
Youth from anywhere in Niagara can apply to the program. Interested candidates are encouraged to contact Civiconnect directly via email at info@civiconnect.ca.