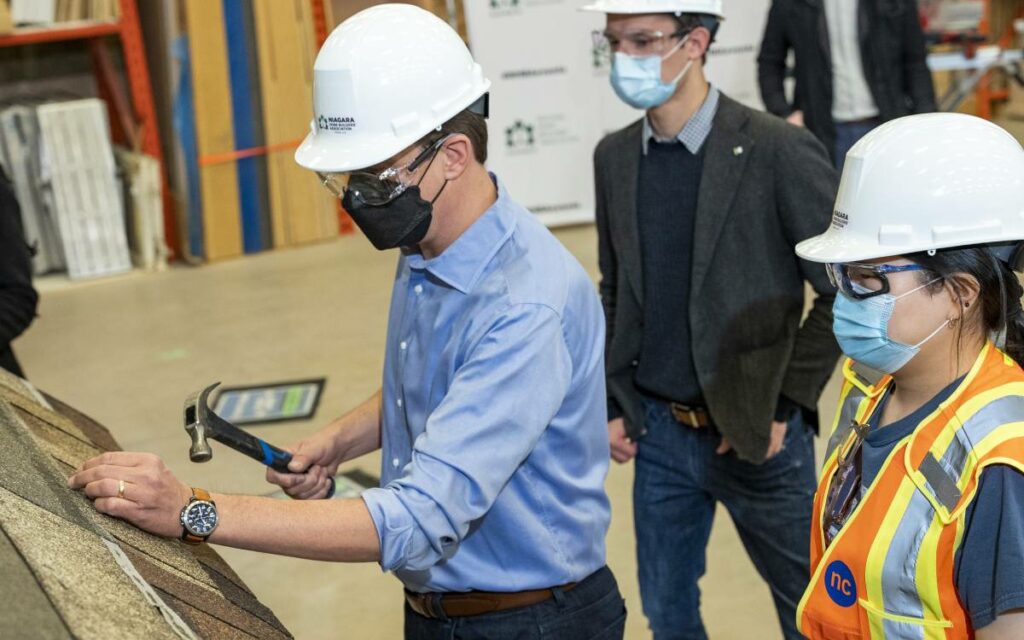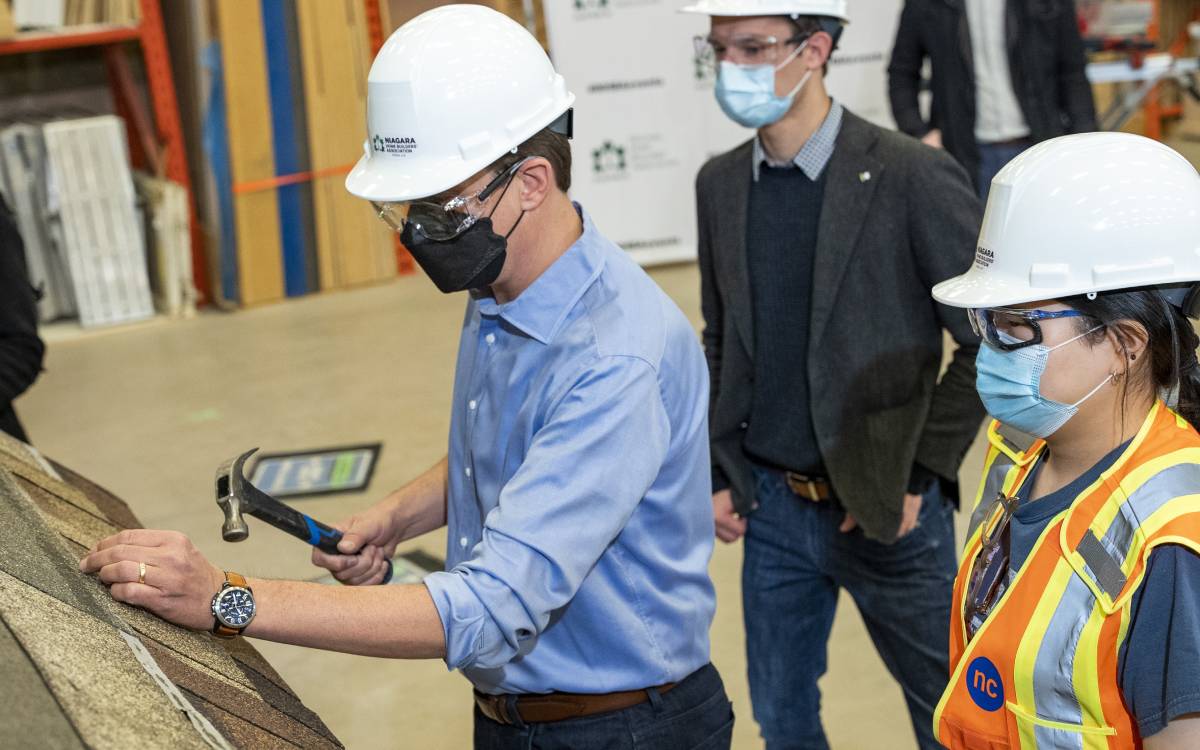 Minister of Labour, Training and Skills Development Monte McNaughton tries his hand at securing roof shingles as MPP for Niagara West Sam Oosterhoff and student Jihye Lee look on at Niagara College's Walker Advanced Manufacturing Centre in Welland, Apr. 19, 2022. Photo credit: Niagara College
On Tuesday, officials from the provincial government, Niagara College, and the Niagara Home Builders' Association (NHBA) met in Welland to announce a new $1.2 million initiative to equip un- and underemployed Niagara residents for well-paying careers in roofing and drywall installation. 
The program will provide free skills training and tools for up to 80 people and will lead directly into paid job placements with local employers. 
"All across our province, we continue to see a shortage of workers in the skilled trades, for many life-long careers that pay six figures with defined benefits and pensions," said Ontario Minister of Labour, Training and Skills Development Monte McNaughton.
"These unfilled jobs cost our economy billions in lost productivity and mean families are waiting longer for the goods and services they need. That is why our government is making strategic investments to offer hands-on training and paid work placements for eager job seekers in Niagara, connecting them with local employers in their community who are ready to hire."
Niagara College will provide program participants eight weeks of technical training in either roofing or drywall installation, depending on preference. Courses will teach specific skills for the respective trade and general tool, technique, and health and safety preparation. 
Course delivery will be flexible so participants can maintain employment throughout the training. The program will welcome 80 participants over four intakes between June 2022 and March 2023. 
Successful candidates will be awarded a 'Construction Skills' Certificate of Completion at the end of the eight weeks.
"Niagara College is grateful for this funding, which will help us address an urgent need for skilled workers in the residential construction industry," said college president Sean Kennedy. "Today's investment by the province supports our important role working closely with industry partners to meet the current and future needs of employers."
Each participant will get a hard hat, steel-toed safety boots, safety glasses, and professional-grade tools they need to perform their training – all of which they get to keep. They will then transition to a six-week paid job placement with a local employer in the community.
The NHBA will lead both the initial recruitment and job placement efforts, engaging association members to provide opportunities for participants. 
"Trade-based jobs are in demand. We are in a crisis and need to ensure our industry continues to move forward," said NHBA executive officer Chuck McShane. "This program will open doors for our local workforce, economy and the industry sector overall."
According to job posting activity from the last six months and government estimates, demand for skilled tradespeople in the Niagara area and across Ontario is experiencing significant growth. 
By 2025, it's estimated that one-in-five jobs in the province will be in the skilled trades – and with the Ontario government's plan to build 1.5 million homes in the next decade, demand for skilled tradespeople in the construction industry specifically will continue to remain high for years to come. 
"Home builders across Niagara are building the places where so many will live, work and play," said MPP for Niagara West Sam Oosterhoff. "The need for skilled tradespeople continues to grow, and this investment will help close the skilled trades gap in Niagara, allowing for more homes to be built across our region, and improving housing affordability for Niagara families."
Funding for the program is provided by Ontario's Skills Development Fund, a more than $200 million initiative that supports innovative programs that connect job seekers with the skills and training they need to find well-paying careers close to home.
Roofers and drywall installers currently make $27 per hour on average. 
No prior construction background is required to apply to the Niagara program.
Interested applicants can inquire about participation by contacting Alicia Dimitrov-Lawrence at the NHBA: alicia@nhba.ca or 905 646-6281