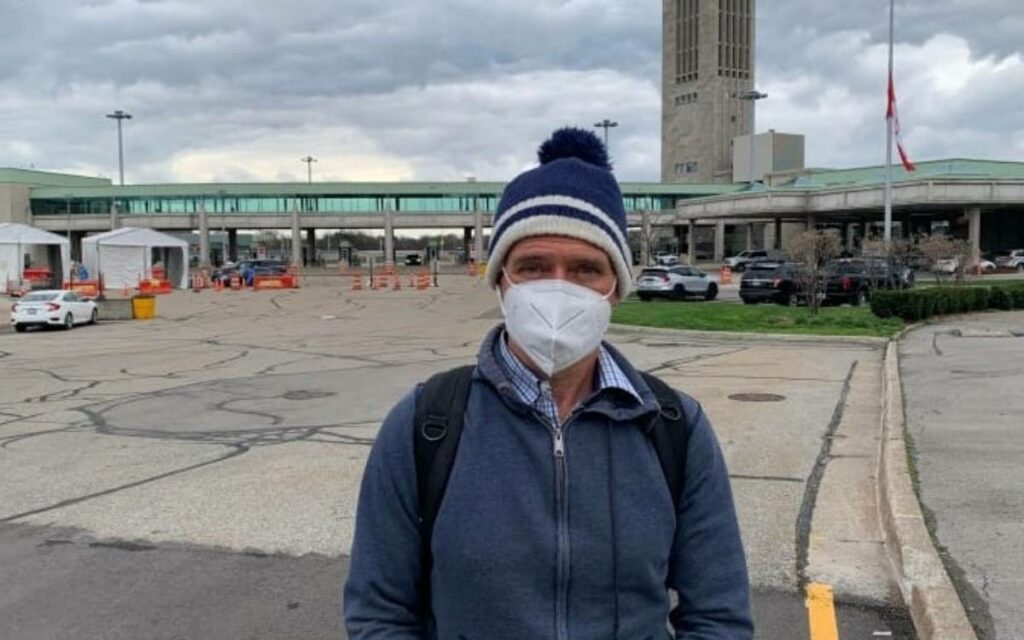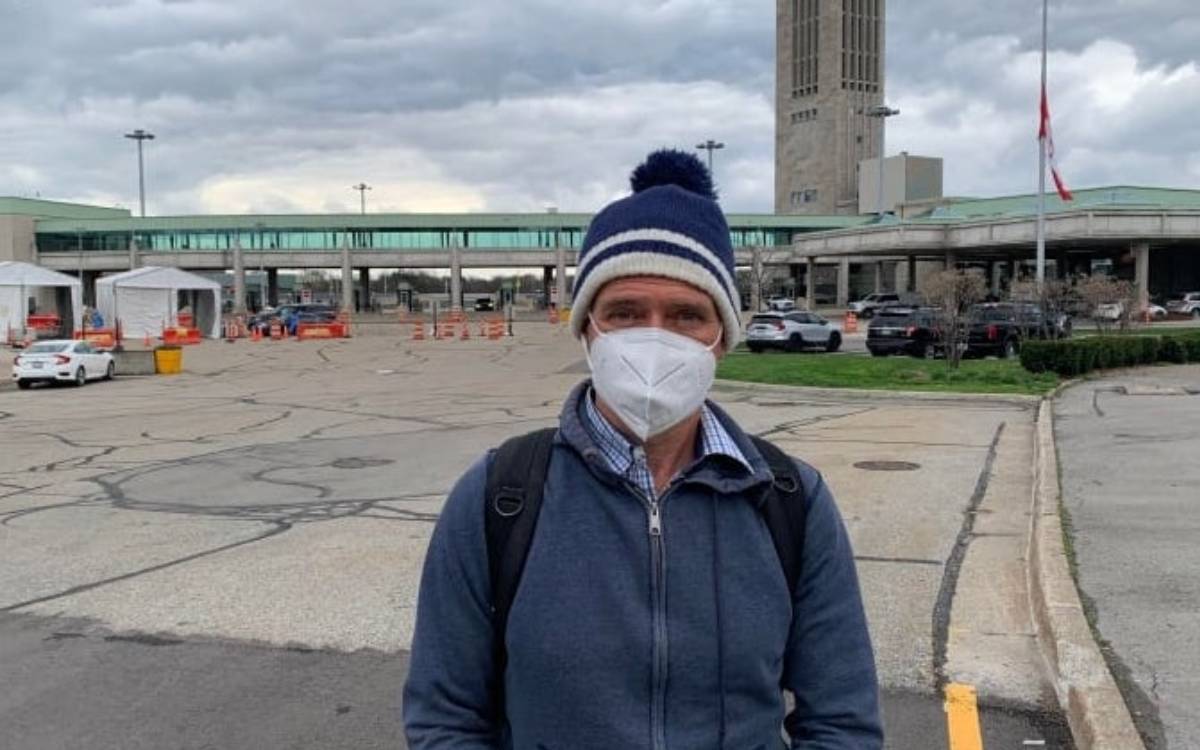 Man from Toronto stands in front of Rainbow Bridge, Niagara Falls, ON. He walked across from the American side after flying into Buffalo, NY. Countless Canadians have exploited the loophole in order to avoid mandatory hotel quarantines. Photo credit: CBC/Laura Clementson.
Provincial governments of every political stripe continue to detect COVID-19 variants arriving in their provinces via loopholes in the federal screening and quarantining systems at their airports and land borders. On multiple occasions the premiers have asked the prime minister to clamp down on these loopholes.
Two weeks ago, Quebec Premier Francois Lagault and Ontario Premier Doug Ford wrote a joint letter to Prime Minister Trudeau saying, "There is an urgent need to address issues with testing and quarantining at the borders, including falsified COVID-19 testing documentation, travellers opting [for] fines over complying [with] quarantine requirements, or travelling via private vehicle/plane to avoid quarantine, among several other areas of concern."
They added, it is "crucial that all non-essential travel be curtailed. The introduction of stricter measures for travellers crossing at land borders is a significant step to achieve that goal and ensure that collectively we are doing all we can to protect our citizens."
Despite the premiers' pleas, the borders have continued to be porous to entrants carrying the virus. In Niagara recently, the India variant was identified in a COVID patient, prompting Niagara's Acting Medical Officer of Health Dr. Mustafa Hirji to explain, "The one in Niagara is travel-related, and I think that highlights some of the risks when people are travelling, of getting infected with other versions of COVID-19 and bringing it back."
In fact, as of yesterday in Niagara there were 1,530 active COVID cases. Of those, over 70 per cent were foreign-based variant cases.
Premier Ford was prompted to write a fourth time to Prime Minister Trudeau yesterday about the loopholes at the borders. Ford's letter stated, "As you are aware, Ontario is currently fighting an extremely challenging third wave fueled by variants, including the B.1.1.7 variant that has now become the dominant strain in the province. Recently, we have also seen new travel-related cases of the B.1.617 variant in Niagara, Ottawa, and London, and confirmed cases of the P1 variant in Hamilton."
"In the past two weeks alone, 40 domestic and 24 international flights landed at Toronto Pearson International Airport with confirmed cases of COVID-19. Unfortunately, because there is currently no testing requirement for domestic travellers, passengers who may have been exposed on the domestic flights are immediately able to move around within Canada. During the same two-week period, 172,000 individuals, excluding essential truck drivers, have crossed Canada's international border. Many of these travellers entered at the land border to bypass mandatory hotel quarantine."
Ford's concerns seem corroborated by a number of recent media reports.
The CBC reported that many Canadians are skipping hotel quarantine rules at airports by flying in via private chartered flights and many others by flying into airports, like Hamilton, Ottawa, and London that don't have quarantine hotels.
The National Post revealed that in addition over 30 per cent of people flying into Canada have found exemptions to the federal COVID protocols. And the Toronto Sun claimed that just 16 per cent of border land entrants have been tested.
In the CBC story, Dr. Leighanne Parkes, an infectious diseases specialist and medical microbiologist at the Jewish General Hospital in Montreal remarked, "If you're going to have a system in place that necessitates quarantining upon return from travel, it can't be sort of a two-tier system where some individuals get to bypass that system by virtue of whatever means of travel they're taking."
Stories abound of travellers coming into Canada by land or air being instructed to quarantine at their homes. Often, they are visitors who then quarantine with family or friends and end up passing on COVID-19 to their hosts, who then pass it to their workplaces. While the virus was obviously 'travel-based', most of the infections that flow from the visitor get recorded as community spread, thereby drastically underestimating the actual impact of travel-based infections.
In his letter to Trudeau, Ford concluded, "It's clear the current system must be strengthened to ensure that international travellers are abiding by the mandatory quarantine requirements. Existing measures at the border, an area of federal responsibility, failed to keep variants of concern out of Canada. These variants entered our province through our borders and, as a result, have had devastating impacts on our communities. While we cannot go back in time, I want to make sure we are working together to prevent any future variants from entering our country."