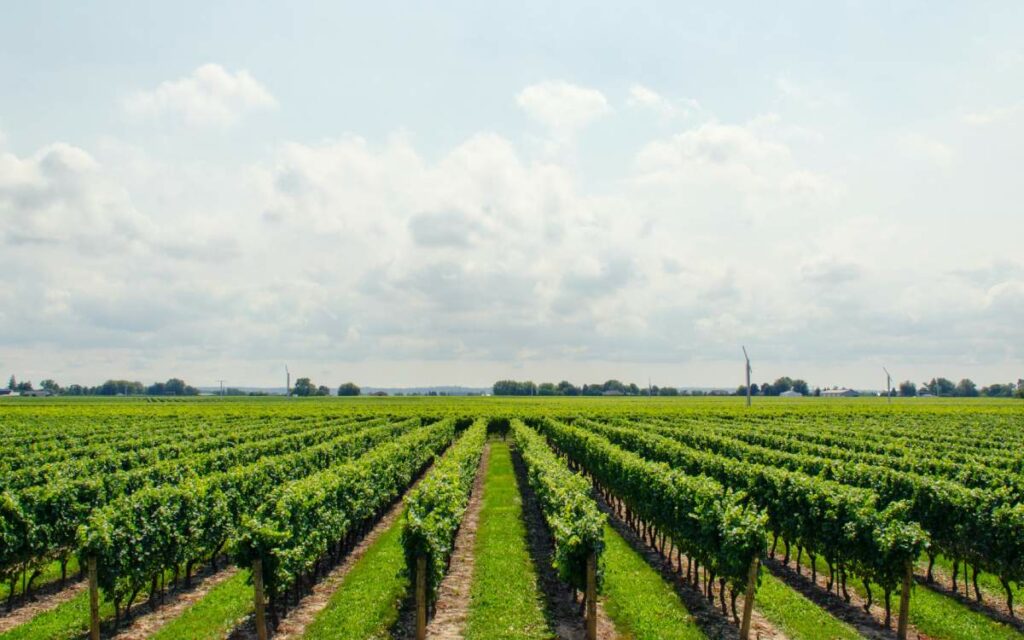 One the strategy's stated objectives is to increase both the consumption and production of food grown and prepared in Ontario by 30 per cent over the next 10 years – good news for a region that relies on food production as a major source of jobs and is a large contributor to local GDP. Photo credit: Pexels/Math
In an announcement that largely flew under the radar last week, the provincial government released its 'Grow Ontario Strategy'. 
The new strategy, which promises to "strengthen the agri-food sector, ensure an efficient, reliable, and responsive food supply and address ongoing vulnerabilities through new innovations", has the potential to have a significant impact on Niagara's economy.
"The Grow Ontario Strategy is especially critical for our diverse agri-food sector in Niagara," said Sam Oosterhoff, Parliamentary Assistant to the Minister of Red Tape Reduction and MPP for Niagara West.
"Our region leads the province in grape and tender fruit production, and includes a number of major greenhouse, dairy, poultry and cash crop operations."
For decades, agri-business has been a cornerstone of the local economy, thanks to the peninsula's favourable climate for growing, land base, pool of experienced operators, and research capability.
According to the latest available statistics from Niagara Economic Development, the region is home to over 1,800 farms and agricultural operations. The industry supports just shy of 20,000 local jobs and contributed $1.41 billion to regional GDP in 2016. In fact, Niagara represented 42.8 per cent of the total agricultural economic impact of the Golden Horseshoe area in 2016, despite the fact that Niagara represents only 23 per cent of its total farmland.
Thus, major challenges faced by the industry of late – including historic labour shortages, as well as outdated supply chain infrastructure and declining processing capacity – have been felt particularly hard in Niagara.
"The Grow Ontario Strategy lays out an exciting roadmap and action plan to support stability across the supply chain, fostering greater innovation and adaptation of technology while addressing labour supply challenges for the benefit of all stakeholders, but most importantly for the safety and security required by Ontario's consumers," said Dr. Ian Potter, President and CEO of Niagara's Vineland Research and Innovation Centre.
"Under the auspices of Grow Ontario, Vineland Research and Innovation Centre will continue to support the horticultural sector and Ontario government to de-risk innovation and derive maximum positive impact from the challenges and opportunities of today and into the future."
The province's plan focuses on three key priorities:
Strengthen agri-food supply chain stability – increase both the consumption and production of food grown and prepared in Ontario by 30 per cent, increase Ontario's food and beverage manufacturing GDP by 10 per cent and boost Ontario's agri-food exports eight per cent annually by 2032. 
This includes opening applications for the $10 million Food Security and Supply Chain Fund which will provide funding for projects such as updated inventory software, expanded warehousing to allow increased inventory levels or automation equipment to address labour gaps. The province is also strengthening its food processing capacity and food security to position the sector for growth through the $25 million Strategic Agri-Food Processing Fund.
Increase agri-food technology and adoption – boost research infrastructure, advance the uptake of new technologies, grow the market for Ontario innovative technologies domestically and globally, and grow the use of data to support efficiencies in the agri-food sector and value chain.  
The province will also begin consultations on modernizing the Agricultural Research Institute of Ontario Act to fuel innovation and support efforts to provide modern, relevant research information to farmers and agri-food businesses.
Attract and grow Ontario's agri-food talent – the province aims to increase total agri-food sector employment by 10 per cent by 2032, as well as increase awareness of modern, high-tech agri-food careers, opportunities for mentorship and hands-on job training, and support efforts to increase veterinary capacity in underserviced areas of the province.  
"The Grow Ontario Strategy is our government's plan to make sure the province's food supply chain remains safe, strong and stable from farm to fork," said Lisa Thompson, Minister of Agriculture, Food and Rural Affairs.
"This plan is a bold vision of pride and trust in the quality and quantity of food produced in Ontario, grown on the foundation of a competitive agri-food industry that serves the needs of Ontarians, Canadians and the world."
Ontario's agri-food sector contributes $47 billion in GDP to the provincial economy, representing 6.4 per cent of total Ontario GDP. Food and beverage processing is the province's largest manufacturing sector in terms of GDP and one of the largest in North America.