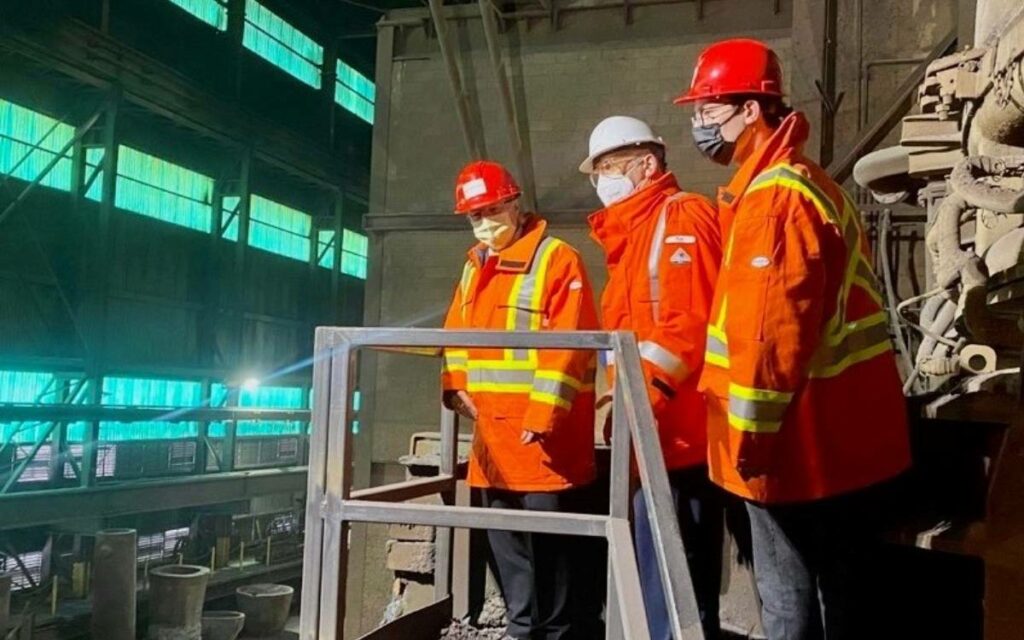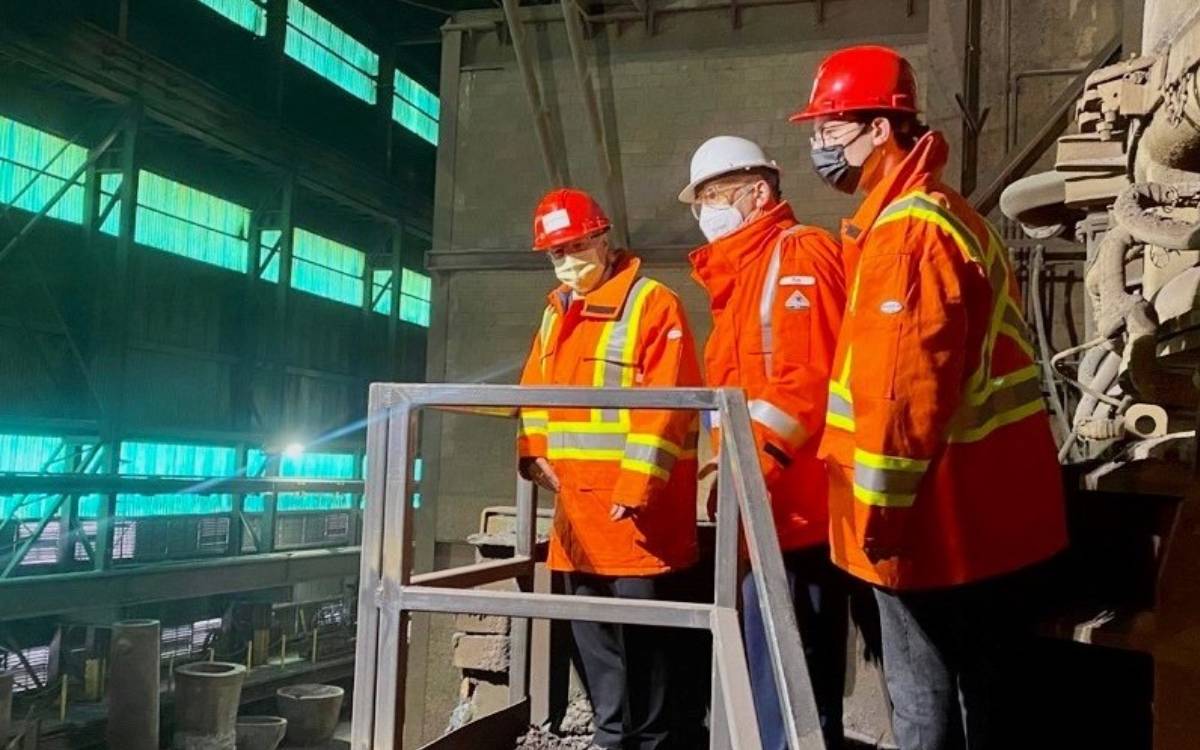 Minister Vic Fedeli (left) tours Valbruna ASW's Welland facility with company president Tim Clutterbuck (centre) and MPP for Niagara West Sam Oosterhoff, Feb. 16, 2022. On Wednesday, the province announced a $4.4 million investment at Valbruna ASW, along with a $480,000 investment at nearby Quick Plug CA Inc. in St. Catharines. Photo credit: Office of Minister Vic Fedeli
Minister of Economic Development, Job Creation and Trade Vic Fedeli was in Welland on Wednesday to announce nearly $5 million in provincial funding for two local companies in the manufacturing and agricultural sectors.
The funding, provided through the province's Regional Development Program, will supplement sizeable internal investments made by Welland's Valbruna ASW Inc. and St. Catharines' Quick Plug CA Inc. to expand and upgrade local operations. 
"Our government is proud to support local manufacturers across the province, allowing companies to create good, local jobs," said Minister Fedeli. "We look forward to seeing more of these kinds of private-sector investments that are creating the conditions for long-term regional economic growth." 
"We thank Valbruna ASW and Quick Plug for contributing to our province's vibrant steel and agricultural sectors and for contributing to our province's dynamic and growing manufacturing sector and economic recovery."
Valbruna ASW is Canada's only manufacturer of specialty carbon, alloy, and stainless steel products. The province is providing the company with $4.4 million in funding to supplement an existing $50 million investment in new innovative equipment and facility upgrades. The provincial contribution will create 15 jobs and help the Niagara manufacturer be the first in Canada to produce hi-nickel alloys. 
"This investment is strategic to the future of Valbruna ASW, our current and future employees, our customers and suppliers and our community partners," said company president Tim Clutterbuck.
"As Ontario's, in fact Canada's, only specialty steel producer, uniquely capable of refining high quality stainless steels, we are grateful for the support and recognition of the provincial government under Premier Ford and Minister Fedeli through the Regional Development Program. We are excited to undertake this project, which will improve our efficiency and productivity as well as reduce our environmental footprint."
Quick Plug CA Inc. engineers and manufactures a variety of peat plug products for professional growers, including traditional greenhouses and hydroponic growers. The company is investing $3.2 million to centralize its North American production facility in St. Catharines, which the province will supplement with $480,000. 
The funds will help Quick Plug modify its current facility, as well as purchase new equipment and machinery to build a new, state-of-the-art manufacturing line. Quick Plug also plans to build a new research and development center in the facility.
"Quick Plug CA Inc. would like to thank the Government of Ontario for the support provided through the Regional Development Program. We will use these funds to not only improve our existing processes, but to invest in automation and newer technologies," said the company's managing director Bill Maartense. "These investments will help us be a safe and productive employer that provides good local jobs for many years to come."
The provincial funding is expected to help create 30 new jobs at Quick Plug. 
"The manufacturing and horticultural sectors are key economic drivers in Niagara, and I am happy to see the province investing in both local sectors today," said MPP for Niagara West Sam Oosterhoff in a statement Wednesday. "Minister Fedeli is a tireless advocate of the Ontario spirit. The important investments today in Valbruna ASW in Welland and Quick Plug in St. Catharines will lead to good-paying jobs and long-term regional prosperity."
Ontario's Regional Development Program provides cost-shared funding to businesses, municipalities, and economic development organizations to help local communities attract investment, diversify their economies, and create local jobs.