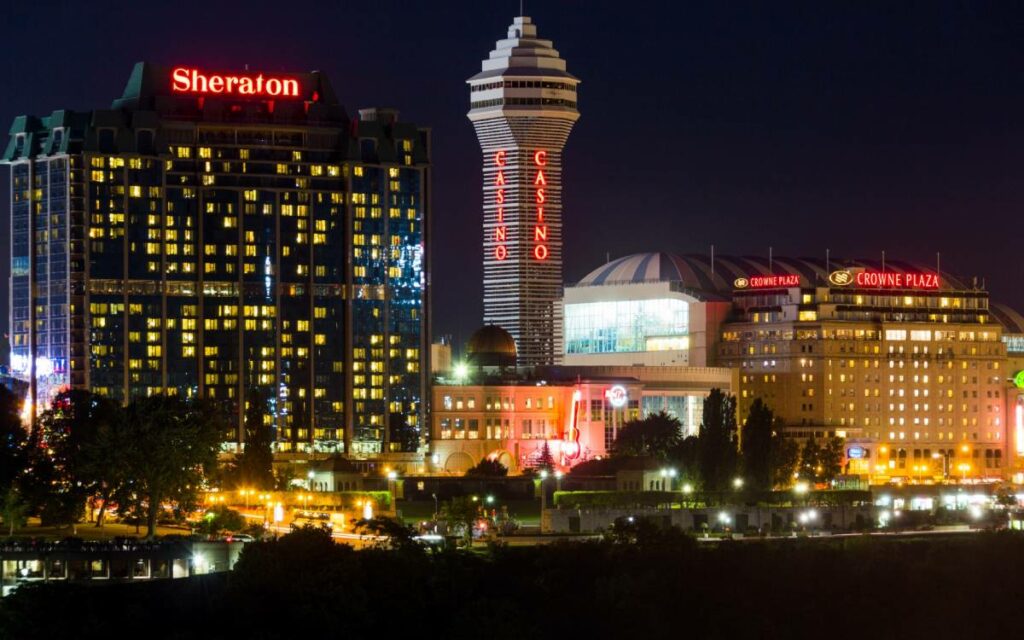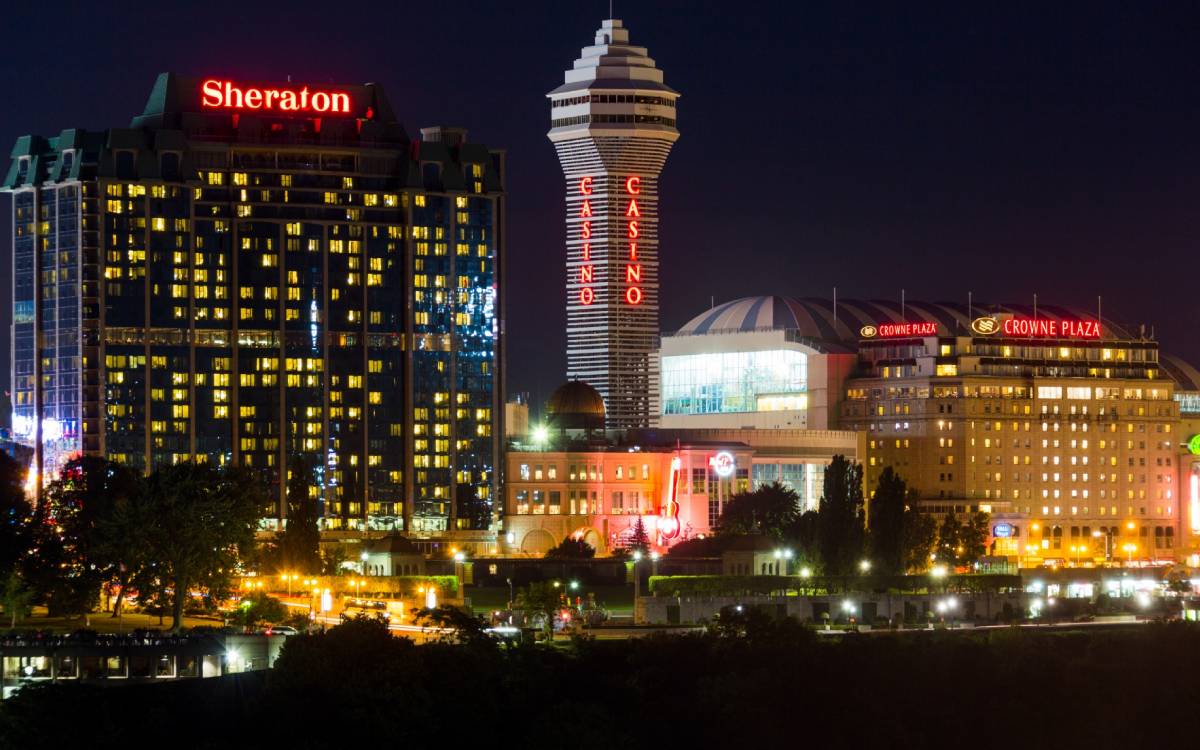 Casino Niagara at the centre of the Niagara Falls skyline. The casino turned 25 on Thursday, Dec. 9, 2021. Photo credit: Public Domain Pictures
Last Thursday, Dec. 9 represented exactly 25 years since Casino Niagara officially opened its doors to the public, becoming Ontario's second-ever casino, preceded only by its cross-border cousin in Windsor. 
In the quarter century since its establishment in 1996, Casino Niagara has welcomed over 100 million guests and employed thousands of local residents. 
Initially opened as an interim gambling facility while the city's $1 billion Fallsview Casino Resort was developed, Casino Niagara managed to remain operational after the former began welcoming visitors in June 2004. Since that time, what was meant to be a transitional facility has avoided numerous calls for closure. 
Under its current operator, the casino is contracted to stay open until at least 2040. 
"We're incredibly proud to be celebrating this milestone anniversary, not just internally but with the community as a whole," said Richard Taylor, president of Niagara Casinos, which includes both Casino Niagara and Fallsview. 
"We realize what a privilege it is to maintain a successful business for 25 years and would like to express our sincere appreciation to our associates for their loyal support and to our valued patrons for making Casino Niagara a premier entertainment destination." 
Few, if any public officials had a greater impact on bringing the casino to Niagara Falls in the mid-1990s than the city's mayor Wayne Thomson and local Member of Provincial Parliament (MPP) Bart Maves. 
When Thomson initially proposed pursuing a casino to staff after hearing that the provincial government was open to the idea in 1991, the second-time mayor received significant pushback.
"You wouldn't believe the negativity at that point," Thomson told The Niagara Independent in an interview. "They said, 'Are you crazy? A casino? Do you ever want to be elected again? There's drugs, and gambling, and noise.' But I said, 'It's jobs and opportunity for a major tourism destination."
As Thomson explained, his office spent the next few years lobbying the province and the public, trying to convince both that Niagara Falls was the best place in Ontario for a casino. 
During the municipal elections in 1994, someone in Thomson's office had the idea to ask residents in a referendum if they supported bringing a casino to the city. 
"I said, 'I don't know, what if it's 30 per cent? Then we're finished.' But he (the staff member who proposed the idea) said, 'No, it's going to be 64 per cent.' And we had the election and, wouldn't you know, the people voted 64 per cent for a casino – if you can believe that. I was blown away."
"It was the best thing that ever happened to the region."
When Bart Maves was first elected to office as part of the Mike Harris 'Common Sense Revolution' in 1995, the Niagara Falls MPP helped Thomson turn what was just an idea into a reality. 
"It was an exciting time," said Maves. 
"The community really pulled together to get Casino Niagara and Fallsview Casino Resort here in the first place, and it has continued to pull together over the years many times to keep both open – specifically in 2003, 2009, 2012, and more recently in 2018." 
"The casinos have been good for the community."
Like Thomson, Maves talked about how Niagara Falls – with its world-wonder – was only a one season tourism destination for decades, with almost all visitors coming in the "magic 100 days" between Victoria Day at the end of May and Labour Day in September.
"The original intent was to give visitors more to do year-round and to keep people here two or three days, instead of two or three hours," said Maves. 
"We made sure tourism leveraged gaming, not vice versa. In fact, the province listed four principal goals for gaming in Niagara Falls in 1996: to support economic development; to support the growth of tourism; to create jobs; and the fourth and final one was to provide revenues to the province."
While these four principal goals were met with verve in the first decade or so of operation, according to Maves, things started to degrade in the years thereafter.
"In that first decade this initial vision worked, and the private sector leveraged gaming 
to invest nearly $2 billion in new hotels, restaurants, attractions and eventually even the convention centre," explained Maves. "But the OLG and Queen's Park somewhere along the line lost sight of the original intent of gaming specific to Niagara Falls – and they now treat it as simply a cash machine." 
Thomson agreed with Maves that it hasn't always been smooth sailing dealing with the OLG.  "We've had some arguments with the OLG," lamented Thomson, who continues to serve the City of Niagara Falls as a municipal councillor. 
Maves concluded that the government needs to get back to the principal goals it originally established 25 years ago if local gaming is to succeed in Niagara. 
"It would be really nice in the next 25 years to see the government return to that original mandate and to add some competition into the marketplace, something stakeholders, the community, city hall and multiple studies have urged over the last 15 years. This would bring new investment, jobs and a rejuvenation of tourism that would lift us to 
that next level."
"What a great economic boost that would be to help pull us out of the pandemic recession."
Together, Casino Niagara and Fallsview Casino Resort employ nearly 3,500 people. After closing down in March 2020 due to the COVID-19 pandemic, both properties reopened with limited capacity in July 2021. While some 2,200 employees have returned to work at the casinos, over one-third of associates remain out of work.