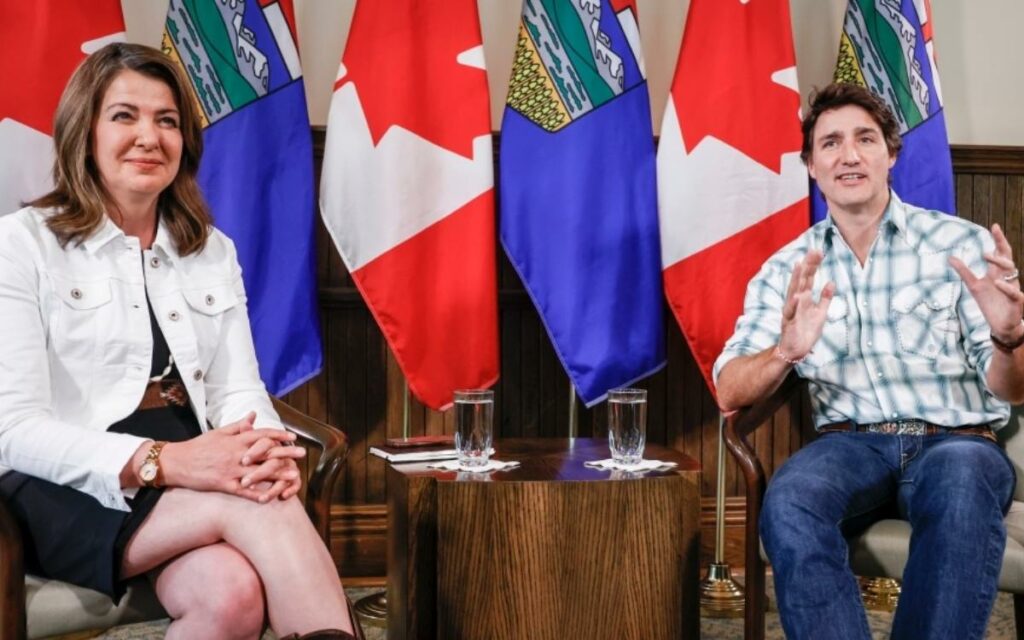 Premier of Alberta Danielle Smith and Prime Minister Justin Trudeau faced off in Calgary last Friday ahead of the city's famous rodeo festival. Although both behaved themselves at the meeting, it is clear the stage is being set for a major conflict between the federal government and Alberta. Photo credit: The Canadian Press/Jeff McIntosh
In all the hoopla around the Calgary Stampede, and debates about who looked best on a horse in a cowboy hat and who flipped the best flapjacks, the meeting between Alberta Premier Danielle Smith and Prime Minister Justin Trudeau got lost in the shuffle. It was, however, quite an important meeting. Smith has been saying for some time that she would not accept the federally-imposed emissions cap as it would be far too damaging to Alberta's oil and gas industry, not to mention the rest of the country that enjoys the benefits of Alberta's oil and gas revenues via equalization payments. 
Smith has also stated that she believes net zero emissions can be achieved by Canada, but not by the 2035 deadline or by the methods the federal government proposes. In fact, many experts agree that the various goals that the federal Liberals claim will be achieved by 2035 – such as all new vehicles being electric vehicles – are absolutely unachievable and it is foolish for the federal government to put forward such unrealistic objectives with no plan in place to try and meet them. 
To date, Smith has actually been quite cordial with the federal government considering all of the policies the Liberals have implemented and plan to implement that will be negative for Alberta. During their meeting last Friday, Smith reiterated to Trudeau the position she has stated for some time that her province will not be complying with the federal plan for net zero by 2035. She also stated that the proposed emissions cap which represents a reduction of 42 per cent of emissions from the oil and gas sector, would effectively mean a reduction in oil and gas production. It's ironic and hypocritical that as various federal Liberal ministers currently boast about Canada's economic performance, a key reason Canada is doing better than it otherwise would is the strong performance of our fossil fuel sector, which those same Liberal ministers seek to destroy. 
During the meeting both sides were polite, but absolutely no agreement was reached. Smith remained cordial, while clearly stating that the various federal government goals were unrealistic and impossible to achieve. She proposed a working group to be formed between the Alberta and federal governments to attempt to reach some compromise solution. Trudeau, while nodding throughout Smith's statement to the media, exhibited no interest in compromising on any of the goals or deadlines the federal government has set. 
Smith also brought up the Vancouver port strike during the meeting, and how it was harming Alberta's export businesses as well as those in other parts of Canada, and asked Trudeau to recall Parliament from its summer break to end the impasse. Trudeau was noncommittal, as usual. 
Although Smith has shown some willingness to compromise on the various climate-related objectives, the federal government has shown no such flexibility. The federal Liberals have also treated Newfoundland's oil and gas sector with much more consideration than Alberta's and Saskatchewan's, presumably because Newfoundland voters still support Liberals. That suggests that this very important debate is not so much about the climate as it is about selfish partisan concerns for this Liberal government and virtue signaling that it is concerned about climate issues, but seemingly only in one part of the country. 
Although Smith and Trudeau behaved themselves at the meeting, it is clear the stage is being set for a major conflict between the federal government and Alberta. In the next few weeks, for example, Trudeau has said his government will be announcing their plans for clean electricity regulations. Alberta's electrical grid is heavily dependent upon natural gas, which will not be acceptable to the federal government's plan. The notion of imposing a 42 per cent reduction on the oil and gas sector's emissions remains highly controversial and likely impossible without seriously curtailing the industry that brings so much wealth to Canada. 
The pompously named Council of the Federation, which comprises the Premiers of all provinces, is also meeting in Winnipeg over the next couple of days. You can be sure that Smith's meeting with Trudeau will be on the agenda. Saskatchewan and Manitoba have already lined up with Alberta to oppose federal impositions on provincial energy policies, and hopefully other provinces will join in as well. The foolish and impractical climate policies the Trudeau government is pursuing with such inflexibility deserve to be strenuously opposed for the good of all affected provinces, national unity and the Canadian economy overall. The battle is on – let's hope the Premiers stick to their guns.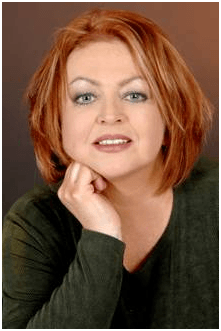 Catherine Swift is President of the Coalition of Concerned Manufacturers & Businesses of Canada (CCMBC). She was previously President of Working Canadians from 2015-2021 & President & CEO of the Canadian Federation of Independent Business (CFIB) from 1995-2014. She was Chief Economist of the CFIB from 1987-1995, Senior Economist with TD Bank from 1983-1987 & held several positions with the federal government from 1976-1983.
She has published numerous articles in journals, magazines & other media on issues such as free trade, finance, entrepreneurship & women business owners. Ms. Swift is a past President of the Empire Club of Canada, a former Director of the CD Howe Institute, the Canadian Youth Business Foundation, SOS Children's Villages, past President of the International Small Business Congress and current Director of the Fraser Institute. She was cited in 2003 & 2012 as one of the most powerful women in Canada by the Women's Executive Network & is a recipient of the Queen's Silver & Gold Jubilee medals.
She has an Honours BA and MA in Economics.