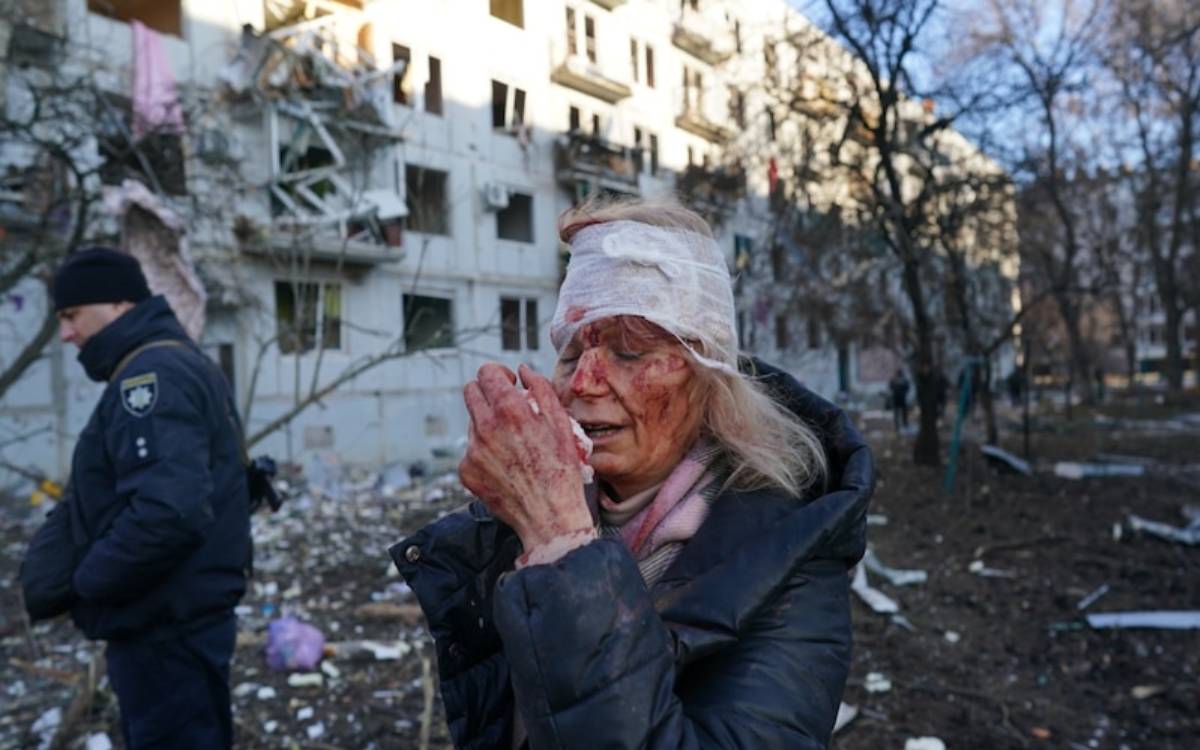 One of the many injured Ukrainians following Russia's nationwide assault early Thursday. Photo credit: Anadolu Agency/Wolfgang Schwan
Early Thursday morning Moscow time, after weeks of buildup and suspicion, Russian president Vladimir Putin ordered a "special military operation" into Ukraine. 
In a state-televised address, Putin "ridiculously" alleged that the Russian-speaking residents of Ukraine were being subjected to "genocide" and that the country needed to be demilitarized and "de-Nazified". 
Russian troops have reportedly moved in from the east, north, and south, with explosions recorded across the country, including in the capital of Kyiv. 
Ukraine is currently under martial law, citizens are being asked to take up arms, and people are scared. 
There have already been several dozen causalities reported on both sides. 
"I spoke with my family today in Ukraine – the situation is not good." 
According to Irene Newton, president of the Niagara branch of the Ukrainian Canadian Congress, residents are under serious threat and "very concerned". 
"The stores are empty, the banks are closed, and the schools are shut down – they're being used as refugee centres for people fleeing from the east."
In an unprecedented move on Monday, Putin recognized the so-called Luhansk and Donetsk People's Republics in eastern Ukraine as independent. The Donbas region in the east – where the two "republics" are located – is where the bulk of hostilities have taken place between Ukraine and Russian-backed separatists since 2014. 
"To be honest, at this time, we see Putin as a war criminal," said Newton. "He has invaded a country for no good reason." 
"Russia needs to be isolated from the international community immediately…it can't continue like this." 
While Newton supports the use of heavy sanctions against Russia at a minimum, she said the West, including Canada, needs to do more. 
"All Putin knows is strength and power."
"Right now, Ukraine needs defensive arms. The people are there – they're there to fight. They just need the proper weapons. They need planes coming in, they need anti-aircraft missiles. They need ways of defending themselves."
Ukrainian president Volodymyr Zelensky urged citizens on Thursday to defend themselves against Russian aggression, promising arms to anyone willing to fight. 
"We will give weapons to anyone who wants to defend the country," said Zelensky. "Be ready to support Ukraine in the squares of our cities."
Since the start of the conflict, the Canadian government has provided more than $890 million in multi-faceted support to Ukraine, including $7.8 million worth of lethal weapons. 
Canada previously sent a large cache of non-lethal surveillance and medical equipment.
Local Conservative MP for Niagara West Dean Allison called the escalating conflict between Ukraine and Russia "complicated" and wasn't exactly sure how best Canada should proceed. 
"Does this mean that we're going to end up getting further into it?", wondered Allison in an interview on Thursday. "There's a lot of unanswered questions right now."
In 2014, as chairman of the foreign affairs committee, Allison was one of 13 Canadian officials – alongside the likes of Chrystia Freeland and Andrew Scheer – barred from entering Russia. The entry ban, which Allison said he believes remains in place to this day, was retaliation for the Harper government imposing sanctions on Russia following the invasion and annexation of Crimea. 
While maintaining the complexity of the situation, Allison called Putin's latest actions intolerable. 
"It's completely unacceptable," said Allison. "My heart goes out to the Ukrainian Canadians here in Niagara. We have a large Ukrainian community here with a lot of family ties. We really don't want to see this escalate any further."
Canada is home to some 1.4 million people of Ukrainian descent, with "at least" 25,000 located in Niagara. 
The local Ukrainian Canadian Congress (UCC) branch is hosting a rally in support of Ukraine this Saturday, Feb. 26 in St. Catharines. Participants are asked to meet at Saints Cyril and Methodius Ukrainian Catholic Church near the corner of Vine and Niagara at 1:30 p.m. 
For more information on the event, please visit UCC Niagara's Facebook page here.