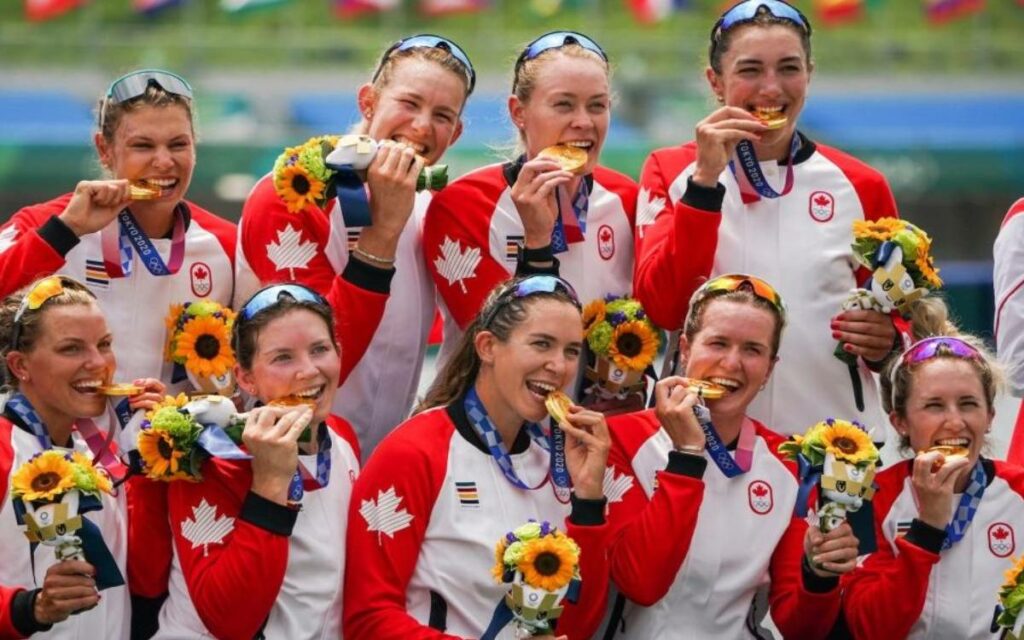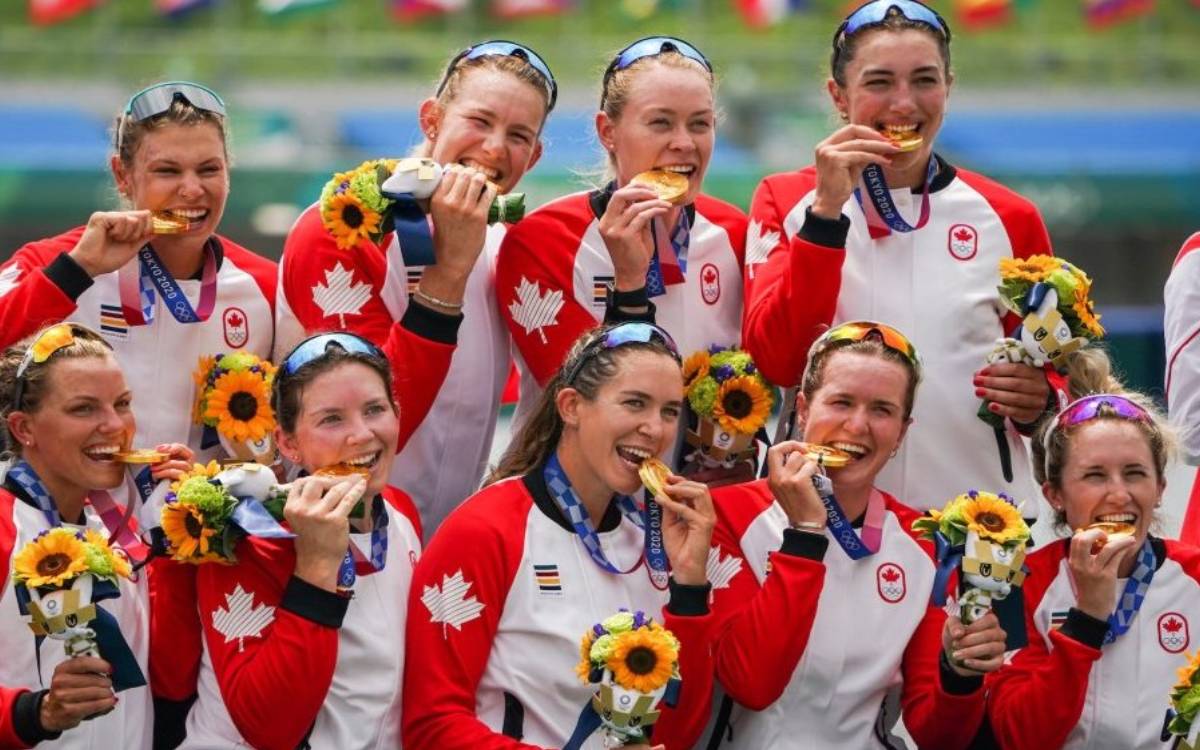 Garden City native Kristen Kit (bottom row, second from right). Kit and Canada's women's eight rowing crew captured gold in Tokyo last week. Photo credit: Twitter/Team Canada
There's no doubt the women have been the story for Canada at the Tokyo Olympics. 

As of Monday evening, 13 of the 14 medals won by Canadians were done so by women. 

And that included the women's 8 rowing crew, who captured gold last Friday morning. That crew was coxied by St. Catharines native Kristen Kit. 

It was Niagara's first connection to a medal in Tokyo. 

Kit's illustrious career already included nine medals at World Championships and World Cups over the past decade-plus, and Canada's first ever rowing Paralympic medal in Rio in 2016. 

The Oakridge Public School and Sir Winston Churchill Secondary School graduate was asked when she knew her crew could win at the Tokyo Games. 

"I mean from stroke one. I've been saying this for two years," the 32-year-old Kit explained. 

"This group of women is so special. We are committed to redefining excellence. I knew before we started the race that we could win it. I really truly believed it, and the girls really truly believed that. 

The last three strokes I definitely knew we had it, for sure. So basically the last three strokes, I was like we're going to win the Olympics!

Oh my god, we're Olympic gold medalists, is this for real?"

Indeed it was. Kit was quick to credit her time in St. Catharines for laying the foundation for her success on the water.

"Every rowing partner, every coach, every person that you've come into contact with sits at the start line with you and comes down the course with you to some extent.

I've been thinking about this a lot, my time at St. Catharines Rowing Club, at Sir Winston Churchill – my high school days really laid my foundation for this."

The gold medal presentation was the next step for Kit to reflect:

"I'm just really proud to be a Canadian. We did this for Canada. From the west coast to the east coast. Individually, I am really proud to represent St. Catharines."

Mohammed Ahmed, who calls St. Catharines home and was a proud member of the Niagara Olympic Club, and graduate of St. Catharines Collegiate high school, finished sixth in the 10,000 metre event last week.

The man nicknamed Mo Speed had the lead in the final lap, and set a Canadian record and personal best time in the event, crossing the finish line in 27 minutes 47.76 seconds. 

The 30-year-old Ahmed will run his first heat in the 5,000 metre Tuesday. Ahmed finished fourth in the event in Rio five years ago.

As of Monday, Canada had 14 medals – three gold, four silver, and seven bronze. 

The only Canadian male to medal thus far was sprinter Andre De Grasse, who won bronze in the 100 metres with a personal best time of 9.89 seconds.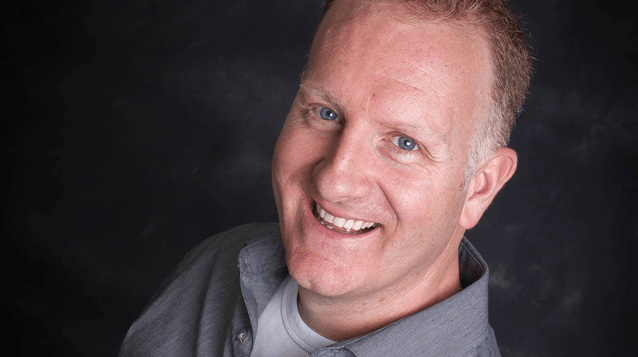 Rod Mawhood is a lifelong Niagara native who has had the pleasure of working in all three mediums – Radio, Print and TV – for over 20 years. His first announcing gig was with the then St. Catharines Stompers. Since then he's worked in radio and TV in Toronto, and currently is the announcer for the Niagara IceDogs and Niagara River Lions.
Rod also covers the Buffalo Bills for FOX Sports and the Buffalo Sabres for NBC Sports.