Canada has proven itself to be a powerful force for good in the past. It's high time that we once again live up to our potential and strive to be a global leader in the areas in which we excel. 
In recent decades, Canada has failed to realize its potential in numerous key areas. We are no longer filling our role as an economic, military and resource-rich leader in the free world. This state of affairs is a national tragedy. It is time to reclaim the vision and zeal of our forefathers, such as Sir John A. MacDonald and Sir Wilfred Laurier, in order to passionately pursue Canadian excellence. 
First of all, Canada must assume leadership over its natural resources. We represent one of a handful of countries that possesses the raw materials, technology and manpower to become a clean energy superpower. This blessing cannot be taken for granted. 
Exporting Canadian electricity, oil, and water is the best policy to protect agriculture as well as wildlife. Our resources are developed with high environmental standards in mind. In addition, energy exports promote human rights as the world becomes less reliant on dictator-controlled assets. 
Pursuing resource industrial growth is also the best policy to advance Canadian unity. Our natural resources are the backbone of western economies. Canada is most unified, prosperous and free when natural resources are being developed and distributed to global markets. 
Secondly, Canada will only be successful when it is a dynamic infrastructural powerhouse. Canadian architects, designers and engineers are among the best in the world. We also boast phenomenal construction companies and fantastic tradespeople that can complete expansive projects. True leadership is needed if we wish to realize our potential. 
Governments must review protocols to identify unnecessary red tape. Permits and inspections need to be accessible within reasonable timeframes. A balanced approach to environmental policy, that seeks to preserve our rich natural resources/agricultural industries while encouraging responsible land development, is an absolute necessity. Strategic tax policy/incentives that foster innovation are also indispensable. 
Neither natural resource utilization nor infrastructural development is possible unless we maintain a highly trained workforce. Robust education opportunities are required. Canada is world-renowned for its prestigious post-secondary institutions. However, there are ways to further improve our accessibility and offerings. Universities, colleges and trade schools could all benefit from revamping. 
Pandemic restrictions required that universities and colleges effectively utilize technology for program delivery. While online learning is not for everyone, e-learning, in many cases, is more convenient, economical and practical for students. E-learning does not need to replace in-person learning but the two options can co-exist. Canadian universities and colleges should bolster hybrid/online delivery in the years ahead. 
We can also examine our requirements for admissions and program completion. Pathways for law, medicine and teaching are arguably arbitrary. Each profession demands students receive an undergraduate degree prior to enrollment in the respective program. Perhaps we could consider alternative options, such as the completion of one five-year program, which one can enter upon the conclusion of high school, which strategically combines in-class learning alongside apprenticeship. This is similar to the pathway of accounting students. 
There is a tremendous need for quality carpenters, plumbers, electricians, landscapers and masons. Canada would be well served to consider innovative techniques for recruiting students to the trades. We need to communicate to high-school students that mastering a trade can be as rewarding a choice as going to college and university. A similar campaign is needed to grow the Canadian military, which is also greatly understaffed. 
Canada is the second-largest nation in the world by landmass. We also sport one of the most advanced economies in the world. Our Canadian Armed Forces have proven throughout various conflicts that they can play a pivotal role in advancing, promoting and defending freedom and democracy. It is time for Canada to take on a much greater role in defence/peacekeeping. 
Canada is currently ranked as the eleventh most powerful member of the North Atlantic Treaty Organization (NATO). This is unacceptable and embarrassing. Canada should easily occupy a spot in the NATO top ten. In fact, we should arguably be in the top five. It is not worth asking why Greece and Italy have larger militaries than Canada? 
There are many benefits to a strong Canadian Armed Forces. CAF would be able to play a more constructive role in peacekeeping missions. We would also hold more negotiating leverage when seeking to prevent/end global conflicts. Finally, the past decade has demonstrated that America may not be a reliable leader on the world stage going forward. NATO leadership will likely be shared among many nations, not exclusively the United States, in the decades ahead. Maintaining a strong military allows Canada to take a serious seat at the leadership table. 
A strong military, of course, will require robust support for our soldiers and veterans, as well as their loved ones. This means helping our brave transition from combat to civilian life. We will need to help them access education and employment opportunities. It will also be necessary to invest in our overstretched medical system to ensure that soldiers have access to the healthcare they need. This leads us to the next point of discussion. 
Canada is revered for its universal healthcare system. It is important to recognize, however, that our system needs improvement. It is noble that basic health services are available to all Canadians. Effective options for eye and dental care need to be examined. There is also an immense need for physiotherapy and rehabilitative care. Increasingly, people are finding holistic and naturopathic medicine to be extremely helpful. Excellent long-term care for seniors and the disabled must also be considered. A combination of private and public investment will be needed to further improve Canadian healthcare for all Canadians. 
It is imperative that we create a robust industry for the research, development and manufacturing of vaccinations. This rich nation should not rely on other countries to supply its immunization programs. The same principle is applicable to pharmaceuticals and therapeutics. It may be cheaper to offshore the production of drugs… but cheaper is not always better. 
Canada should be a manufacturing powerhouse. Our health and ethical standards are among the highest in the world. In the realm of therapeutics, vaccines and other pharmaceutical products, it is time for Canada to transition from importer to exporter. Doing so could lead to the establishment of countless new firms and jobs for infrastructural hubs such as Montreal and the Greater Toronto Area. 
Finally, there is the entertainment industry. Canada has made tremendous contributions to the arts and sports. Unfortunately, Canadian industries do not always effectively ensure that our artists/athletes are recognized as homegrown treasures. We fail to introduce effective policy initiatives and strategic investments that facilitate grassroots growth for entertainment industries. This is detrimental to Canadian business, reputation and prosperity. 
Canada laments that it is not a home to more professional sports franchises. The presence of these clubs creates vibrant economies. They also foster positive notoriety for the incredible cities in our great nation. If Canada wants to become a pro-sports hub, we must present our cities at their best. This requires ensuring that taxes are low. Otherwise, it will be difficult to compete with American cities and states that have more competitive rates. It also means preventing bureaucracy from delaying the construction of arenas, stadiums and fields. Canadian cities must provide housing and lifestyle opportunities that are comparable with the largest American cities. 
These investments will be tough. They are, however, necessary if we wish to see real progress on relevant issues. 
Canada is also a leader in the arts. We have fantastic musicians, actors, painters, etc. Recognizing artistic contributions for their Canadian originality, however, can be a challenge. We are relatively close to Hollywood. Therefore, Canadian artists do not always appear unique to their American counterparts in film and music production. It is commonplace for Canadian artists to be mistaken for Americans. 
Canada should seek to further develop its channels for domestic film and sound production. We must also spearhead an identity for Canadian artists that is clearly distinguishable from the USA. It will take significant brainstorming and creative thinking to determine how to achieve this objective. Canada does, after all, share cultural, geographical and linguistic roots with the United States. It is worthwhile, however, to trailblaze a future in which Canadian acting, art and music can be universally acclaimed for certain attributes and qualities that are exceptional. 
There are just a few areas where Canada needs to take leadership as we progress deeper into the 21st century. This nation built the Trans-Pacific Railroad and defeated Nazi Germany on Juno Beach. We own 20 per cent of the world's freshwater and boast the third-largest oil-reserve market. Our inventions include hockey, insulin and the telephone. It is time to return to our ambitious, bold and creative legacy as developers and innovators. Let's get to work! 
Nick completed his Honours Bachelor of Arts Degree in Labour Studies at Brock University. He previously served in the Office of Mayor Jim Diodati and the Constituency Office of MP Tony Baldinelli. Nick has always held a keen interest in local, Canadian and international politics. In his free time, Nick enjoys reading biographies and memoirs, studying history and following various sports. Nick resides in Niagara Falls.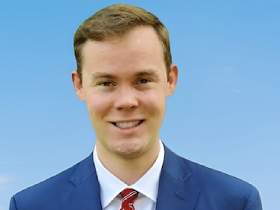 Nick Redekop completed his Honours Bachelor of Arts Degree in Labour Studies at Brock University. He has previously served in municipal and federal politics. In his free time, Nick enjoys following sports, taking part in outdoor activities, and reading biographies. Nick resides in Niagara Falls