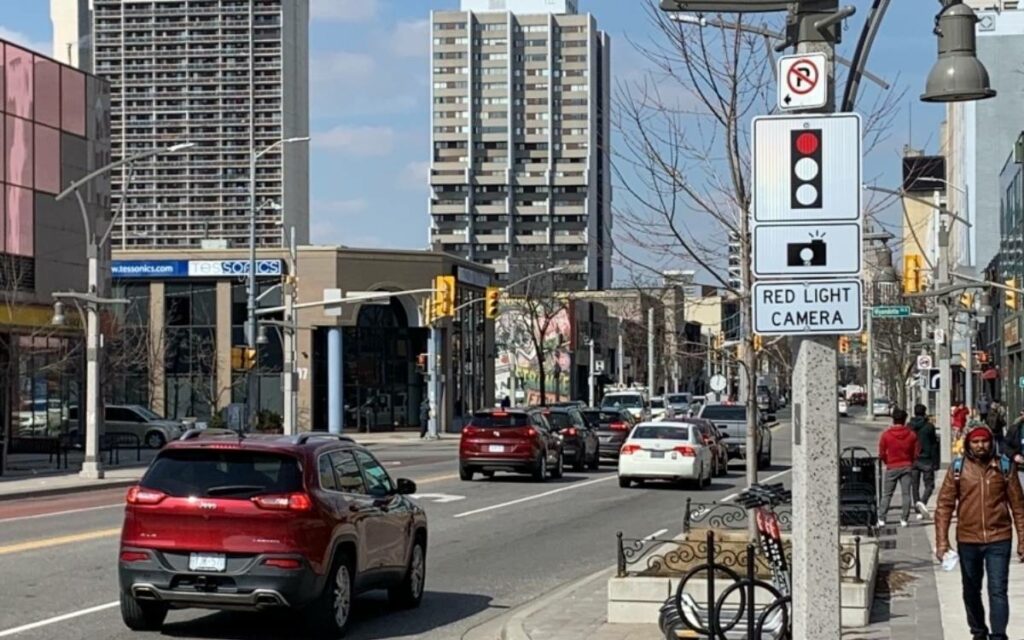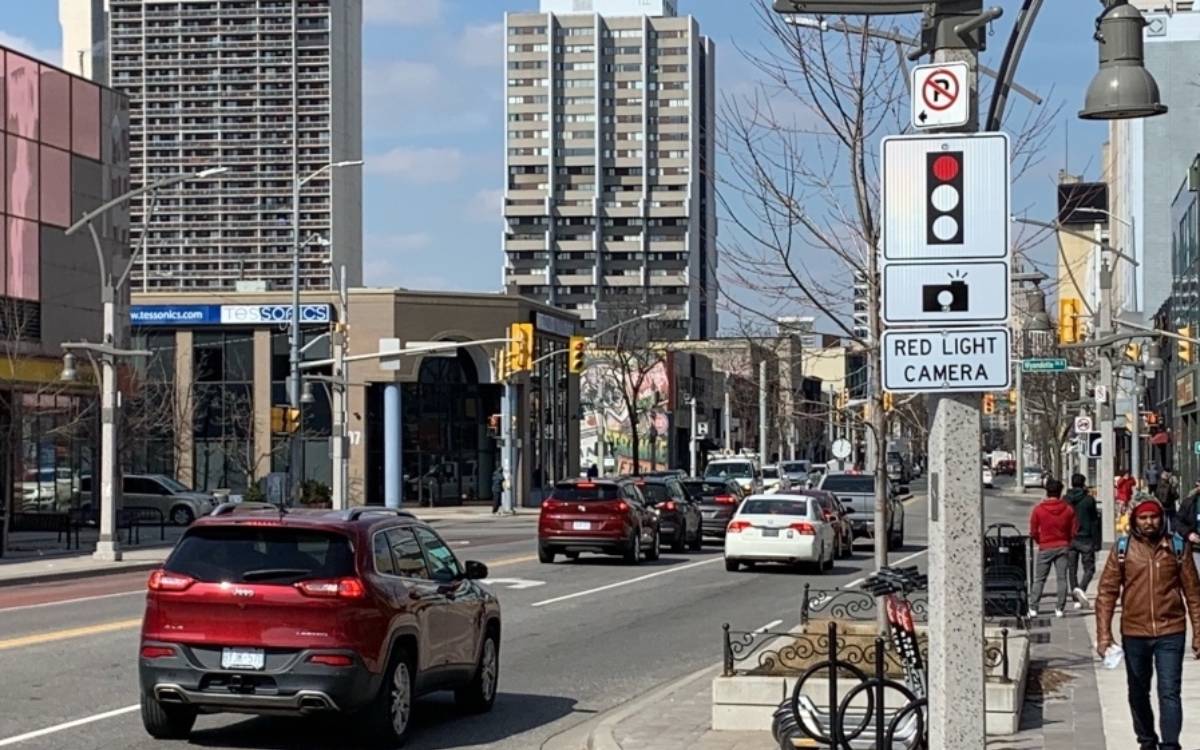 Affirmed as not another government cash grab, ticket revenues from the traffic safety program will be used to offset implementation costs, with any profits set aside for community education. Pictured is a red-light camera sign recently installed in downtown Windsor. Photo credit: CTV Windsor/Chris Campbell
After twice rejecting plans to install red-light cameras and automated speed enforcement machines around Niagara, the Town of Grimsby finally signed on to the region's new traffic safety initiative.
At a special council meeting on Monday, town council voted 7-2 to support regional transportation staff's 'Vision Zero' program. 
The program required unanimous approval from all 12 of Niagara's lower-tier municipalities to secure funding and move forward. Grimsby was the only holdout. 
Implemented in numerous cities worldwide, including Hamilton, Toronto, and Ottawa, Vision Zero is a multi-national road safety project aimed at eliminating all traffic-related fatalities and incidents of serious injury. 
Locally, the initiative will see 10 red-light cameras and four automated speed enforcement (ASE) systems set up in communities across Niagara. 
While specific locations have yet to be determined, the red-light cameras will be installed at select signal-controlled intersections. At present, there are around 400 such intersections around the region. 
The four ASE machines will be installed and rotated around Niagara's 13 designated community safety zones near schools to start. After a year, they'll be alternated around other high-risk zones, like outside of parks or retirement homes. 
The machines will be calibrated to only flag vehicles travelling at excessive (though, unspecified) speeds. Drivers going 55km/hour in a 50km/hour, for example, would not get tagged. 
According to transportation services director Carolyn Ryall, the program will cost just over $4 million to implement annually. Ticket revenue will be used to offset implementation and maintenance costs, with any surplus profit split 50/50 between the region and host municipality and used strictly for community education.
With unanimous support now obtained, transportation staff will report back to Public Works Committee and Regional Council to seek approvals where required to launch the program.
Per Ryall, the region is "targeting program launch in 2022."
"There are many factors to be lined-up from equipment availability, equipment installation, notice periods, public education and communication releases and campaigns, to name a few."
When asked if the region had yet to consider what to do with any regional or municipal workers caught speeding by the cameras, something officials in Ottawa are currently dealing with following a Canadian Taxpayers Federation investigation that revealed offending employees got off ticket-free, Ryall said relevant parties will be held accountable. 
"Communications, education and monitoring related to accountability for payment of fines will be completed with all staff driving regional or municipal vehicles, emergency services, regional contracts, etc.", Ryall told The Niagara Independent. 
"In the case of emergency vehicles (i.e., EMS, police), there are limited exemptions under the HTA (Ontario Highway Traffic Act). If they fall under them, the ticket may not be issued or could be withdrawn." 
According to the latest Ontario Road Safety Annual Report (ORSAR), 535 people were killed in transportation accidents across the province in 2020, with 31,538 more injured. 
Niagara residents can report unsafe drivers with the Niagara Regional Police Service here.