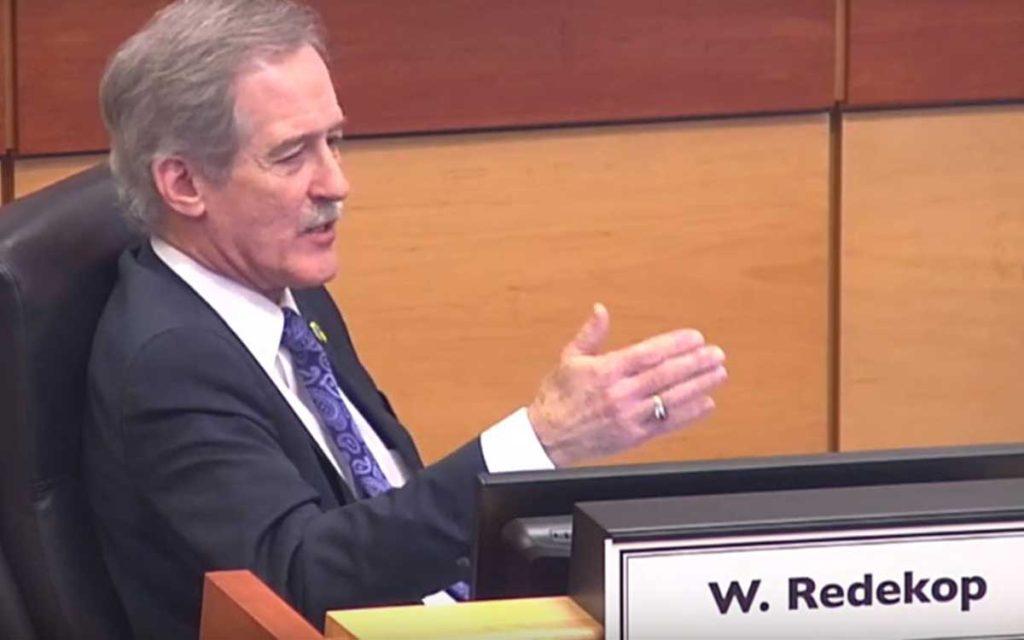 Fort Erie Mayor Wayne Redekop asks a question during the Region's Budget Review Committee meeting.
Niagara's regional councillors are in budget mode and it appears a lot of money is going to be spent this term of council.
Helen Chamberlain, the Region's Director of Financial Management and Planning, provided a presentation to councillors at last Thursday's Budget Review Committee of the Whole.
In her presentation, Chamberlain informed councillors that capital spending would be increasing significantly from the $186.5 million spent in 2018 to $273.9 million this year. She broke the lump sum down into three areas:
1) Sustainability ($163.8 million – 60 per cent of the budget).
2) Strategic Investments ($53 million – 19 per cent), such as regional transit.
3) Growth ($57 million – 21 per cent), projects like the Martindale Road and QEW work in St. Catharines.
Chamberlain said that staff look to maximize external funding sources first, before they look at internal sources like reserves and debt. The largest sources of external revenue for the Region are development charges at an astounding $57 million, with the Federal Gas Tax a distant second at around $13 million.
The proposed budget would add a whopping $60.9 million worth of debt (which can only be used for capital) and take $131 million from the Region's reserve fund, which currently sits at $160 million. The total projected debt load for the Region at the end of 2019 is $388 million.
Chamberlain also informed councillors that over this term of council there is an infrastructure deficit of $214 million. In addition, the 2020 and 2021 capital project funding requests will be "quite significant". One of the biggest expenditures will be the redevelopment of three long-term care homes at a cost of $115 million.
During the question and answer portion of the meeting, veteran Councillor Brian Heit of St. Catharines asked staff if there were different options available for funding the redevelopment of those long-term care homes. Councillor Heit suggested a public-private partnership or selling off adjacent land that is not needed. Heit's St. Catharines colleague, Tim Rigby, asked if the proposed $4 million for the barriers recommended for the Burgoyne Bridge is part of the budget. He was informed it is not. Although, Chamberlain indicated staff could find $1.5 million, and they have identified three projects to defer that would free up the remaining $2.5 million. The particular projects weren't specified.
Councillor Rob Foster of Lincoln said he is nervous about the eight per cent increase to the debt, adding that it looks as though there will be another pile of debt added over the next two years as well. "This isn't sustainable," said Foster. Todd Harrison, the Region's commissioner/treasurer for Enterprise Resource Management Services Administration said staff will be doing a sustainability review for exactly that reason.
Fort Erie Mayor, Wayne Redekop, who has been through 14 regional budget processes, says they never get easier. He indicated he had the same concerns as Councillor Foster with regard to the Region borrowing so much money over the next two years. "It may be well and good that the provincial government says you can borrow 25 per cent but no responsible municipality would do that. They wouldn't get close to it," said Councillor Redekop, referring to the piece of the Municipal Act that states debt servicing charges cannot exceed 25 per cent of the annual budget. "We need a better understanding of how we are going to pay for all these projects."
Councillor Redekop asked what the infrastructure gap is for the next 10 years. He was told it will be $450 million. He also said that it felt like staff were using "sleight of hand" to get around the two per cent increase guidance they were given by using the special levy. "Maybe the guidance is wrong. Maybe we should be three per cent," he said.
The final budget will be brought back to Regional Council on Feb. 28.