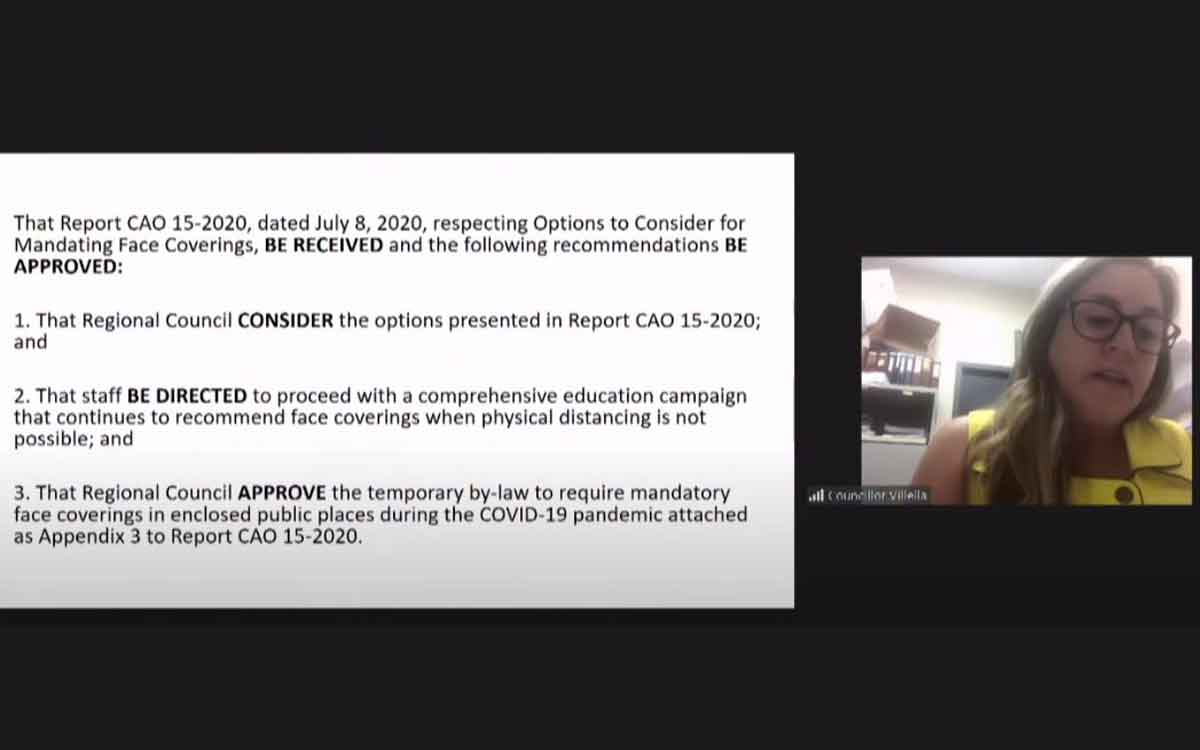 Welland Regional Councillor Leanna Villella speaks to the proposed motion on a mandatory mask bylaw.
The only thing that became clear after almost five hours of discussion at Wednesday's special meeting of Regional Council, was that elected officials are deeply divided on the issue of implementing mandatory masks in Niagara to limit the spread of COVID-19.
When the issue came to a vote, Regional Council was divided 15-15 between implementing the bylaw or taking more time for study.
In the end, Regional Chair Jim Bradley, who only votes in instances of a tie, voted to send the issue for further study.  More information is due to come before Regional Council at its next regular meeting scheduled for July 23.
Bradley's decision to delay comes on the heels of the St. Catharines Council's decision Monday to also delay Mayor Walter Sendzik's motion to implement mandatory masks at the city level.
Three options on how to proceed with the issue of face coverings were laid out to Regional Council by staff.
The first was for the Niagara Region to support local municipalities that wish to implement local bylaws requiring face coverings.  This option noted that leaving the issue to the local municipalities would allow them to address their own set of unique circumstances, including economic recovery strategies.
The second option was for the Niagara Region to implement a temporary region-wide by-law mandating face coverings.  In this scenario, the report highlighted that this option would not afford flexibility amongst Niagara's local municipalities should certain communities begin to recover sooner than others and would require enforcement efforts by the Niagara Regional Police and/or by-law enforcement officers.
The last option provided to Regional Council was to launch a comprehensive education campaign that would continue to recommend face coverings when physical distancing is not possible.  This option was said to "preserve the autonomy of local area municipalities to make their own determination" around the issue.
"This is such a polarizing item, that if the numbers are going down I think it's not something we should act on," Niagara Falls Councillor Bob Gale told Council.  "But education, I'm fully in support of." Gale was also frustrated that councillors only had a very brief time to review the documents prepared by staff. His Council colleague from Niagara-on-the-Lake, Gary Zalepa shared Gale's frustration with the last minute delivery of information. "This needs to go to committee first for more study," said Zalepa. "I need to have more than the two hours I have had this report in my hands."
Welland Regional Councillor Leanna Villella called the bylaw a "paper tiger".  "Do we have the resources or the actual ability to enforce or police any proposed bylaw?  Clearly not."
Villella continued with strong comments against a mandatory mask bylaw.
"What use would an unenforceable mandated bylaw serve, other than to create more fear, anxiety and stress…and may I add divide – that I have seen more over the last few weeks than I care to see."
The only medically trained professional on council, Lincoln Mayor Sandra Easton who is a registered nurse, said there will be people that will be non-compliant no matter what council does. "I believe with an education program they will continue to be in the minority, but …. I can't support the mandatory nature of this."
Later in the meeting, Sendzik, who has been a major proponent of implementing a mandatory mask regime, spoke as if the bylaw had already been approved and sought to bypass future Regional Council discussions.
"Is it allowable to delegate to the CAO and Chair, amendments to this bylaw that would enhance the bylaw without having to come back to Council for approval?"
Ann Marie Norio, the Niagara Region's clerk, shot down Sendzik's proposal. "No, a by-law needs to be passed by Council.  So it would not be appropriate for anyone else to make changes to the bylaw," responded Norio.
Sendzik called Norio's response "concerning".
While the mandatory mask issue is put off until July 23, Regional Council provided immediate direction to staff to proceed with their proposed education campaign outlined in the report.  The exact cost of the marketing campaign was not revealed.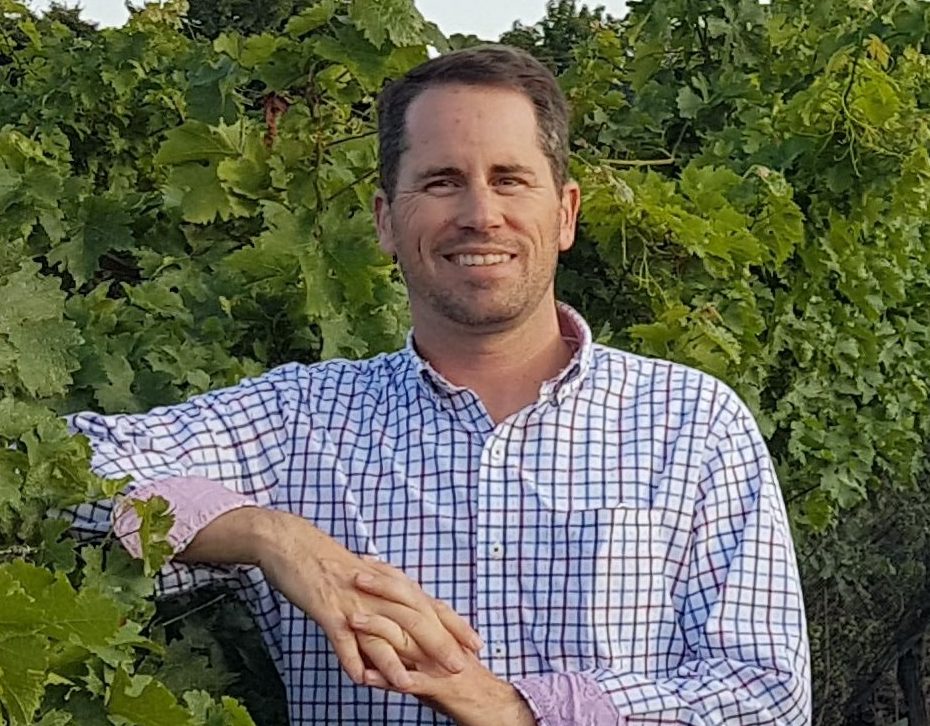 Kevin has spent over two decades as a public relations professional in a variety of sectors including professional sports, the arts, industry and healthcare.  After tiring of the daily commute to Toronto he returned to Niagara and launched The Niagara Independent, an online news source published twice weekly.
He is a graduate of Brock University, Niagara College and the Richard Ivey School of Business. He was named one of Niagara's 40 Under Forty in 2005.
Kevin is most proud of his twin daughters. He is also a triathlete and four-time Ironman finisher.