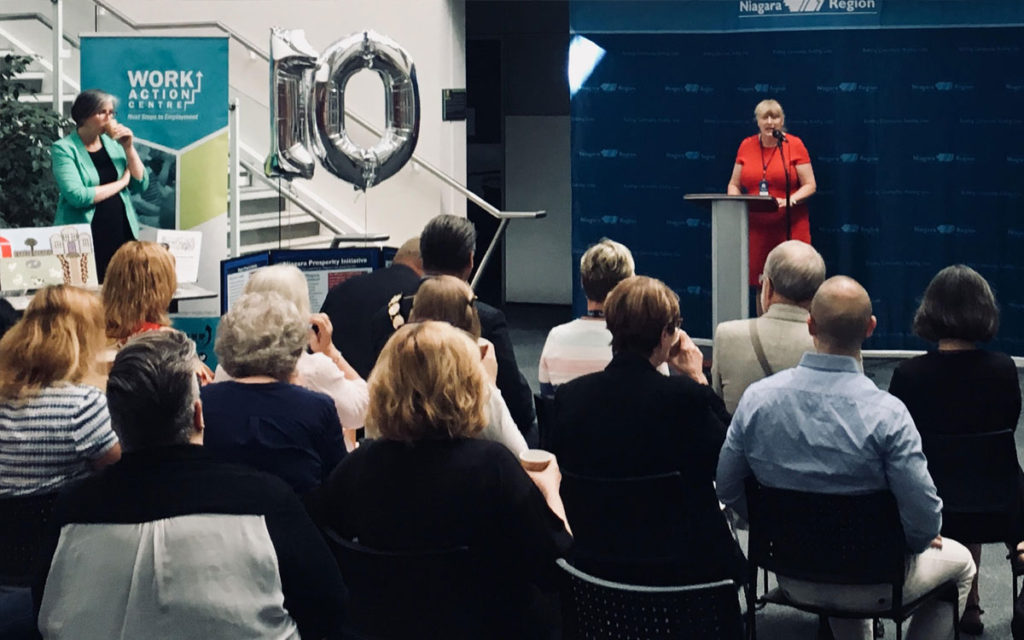 Members of the Niagara Prosperity Initiative Celebrate their 10th Anniversary
On Friday, June 15 public officials and relief agencies from across the region gathered to celebrate 10 successful years of the Niagara Prosperity Initiative (NPI).
Established in 2008, the NPI administers $1.5 million in annual funding to a variety of local organizations maintaining missions to reduce and prevent poverty.
The event was moderated by Commissioner of Community Services Adrienne Jugley and featured statements from Regional Chair Alan Caslin, Township of West Lincoln Mayor Doug Joyner, and program director at Westview Centre4Women Jane LaVacca.
Appearing to hold back tears, LaVacca opened the event with an emotional story of her introduction to Westview, and spoke poignantly about the women who require the support centre's services.
"The loneliness [of some women] is unbearable," said LaVacca. "Even after treatment. Personally, I know I wouldn't be here if it wasn't for Westview."
Mayor Joyner stressed the importance of a collaborative approach to combating poverty. "We can't conquer the challenge of poverty in Niagara on our own. It's going to take all of us continuing to work together to make a real difference in the lives of thousands of our residents," said Joyner.
The West Lincoln mayor closed by reminding all those in attendance to; "continue to be advocates for change".
Regional Chair Alan Caslin announced the 2018 NPI grant recipients and said he was once again pleased to see a diversity of programs receiving funding.
Amongst many other objectives; projects dedicated to skills development, securing affordable housing, engaging marginalized groups in the community, and providing healthy food options to those in need were chosen to receive funding. In total, 23 programs from agencies across the region received NPI funding.
Regional Councilor Selina Volpatti from Niagara Falls, who sits on the committee that ultimately decides where NPI money goes, was also in attendance. She detailed the arduous process of selecting recipient projects.
"We get $3.5 million in requests from over 50 applicants. With only $1.5 million to distribute, the committee has to be extraordinarily scrupulous. Government bodies are almost automatically denied. Ideally, we want to help community-based projects", said Volpatti.
According to the seasoned politician; "no other committee is as careful with taxpayer money" as the Public Health and Social Services Committee.
Well over 300 projects have been buttressed by NPI funding over the last decade. It is estimated that at least one in five Niagara residents has felt the positive effect of the initiative.
With a recent $470 000 grant from the Government of Ontario's Local Poverty Reduction Fund, the Niagara Region, in partnership with Brock University, will evaluate the impact of the NPI. The study promises to produce invaluable data that will be used to improve future NPI efforts.
Moving forward, Mayor Joyner envisions even more collaboration between community members, government entities and aid agencies in the ongoing battle against poverty.
"The strength of our partnerships will determine the future".