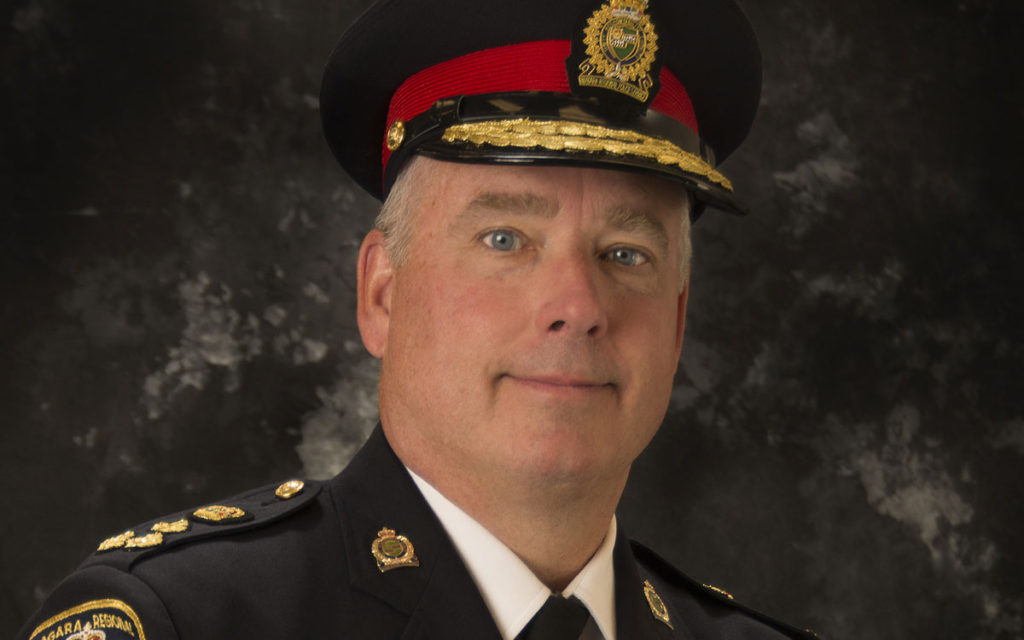 Niagara's Chief of Police, Bryan MacCulloch, has been awarded the Order of Merit of the Police Forces for 2017/ 2018.
Niagara's Chief of Police will soon don a new insignia atop his black Eisenhower jacket.
Bryan MacCulloch, who has been at the helm of the Niagara Regional Police Service for just under one year, has been awarded the Order of Merit of the Police Forces for 2017/ 2018.
The accolade is one of the top honours any police officer can receive in Canada and is only conferred upon those who illustrate "exceptional merit" and produce career-long "contributions to policing and community development".
Prior to his ascension to the top of the NRP, MacCulloch served four years as Deputy Chief of Operation Services. In the over 33 years that MacCulloch has spent in the policing profession, he has held a number of positions across a diversity of departments. Throughout his career, amongst other units, MacCulloch has worked in the NPR's: Tactical Unit, Marine Unit, Fraud Unit, Homicide Unit, and Detective Services.
On top of his extensive professional experience, MacCulloch holds a diploma in Police Studies from McMaster University, along with a BAA in Justice Studies and MA in Leadership, both from the University of Guelph. He is also a graduate of the University of Toronto's Police Leadership Program.
In a media release regarding his achievement, the Region's Chief of Police modestly said he is "humbled to have been nominated and to have been selected to receive this very prestigious award". Going on to say, "it's been an honour to work alongside the many dedicated men and women of the Niagara Regional Police Service, both sworn and civilian, to serve our community".
Bob Gale, chair of the Niagara Police Services Board, said that since taking over as head of the NRP MacCulloch has "fulfilled and exceeded expectations".
"Bryan is unique in that he garners the respect of every single member of the police service and all members of the board", said Gale. "The entire command team [made up of the chief and two deputy chiefs] is stellar. When we brought them in last year we wanted to see more community engagement, and all three have delivered".
Outside of work, MacCulloch is very active in the local community. Currently, he serves on the Board of Directors for Big Brother Big Sisters of St. Catharines – Thorold and District, and for many years has dedicated his time coaching minor hockey and soccer.
MacCulloch will join 62 other member level recipients of the Order of Merit from across the country at an upcoming investiture in Ottawa, where the police chief will formally receive his honour.
The award will be presented at Rideau Hall by the Governor General of Canada, Julie Payette.