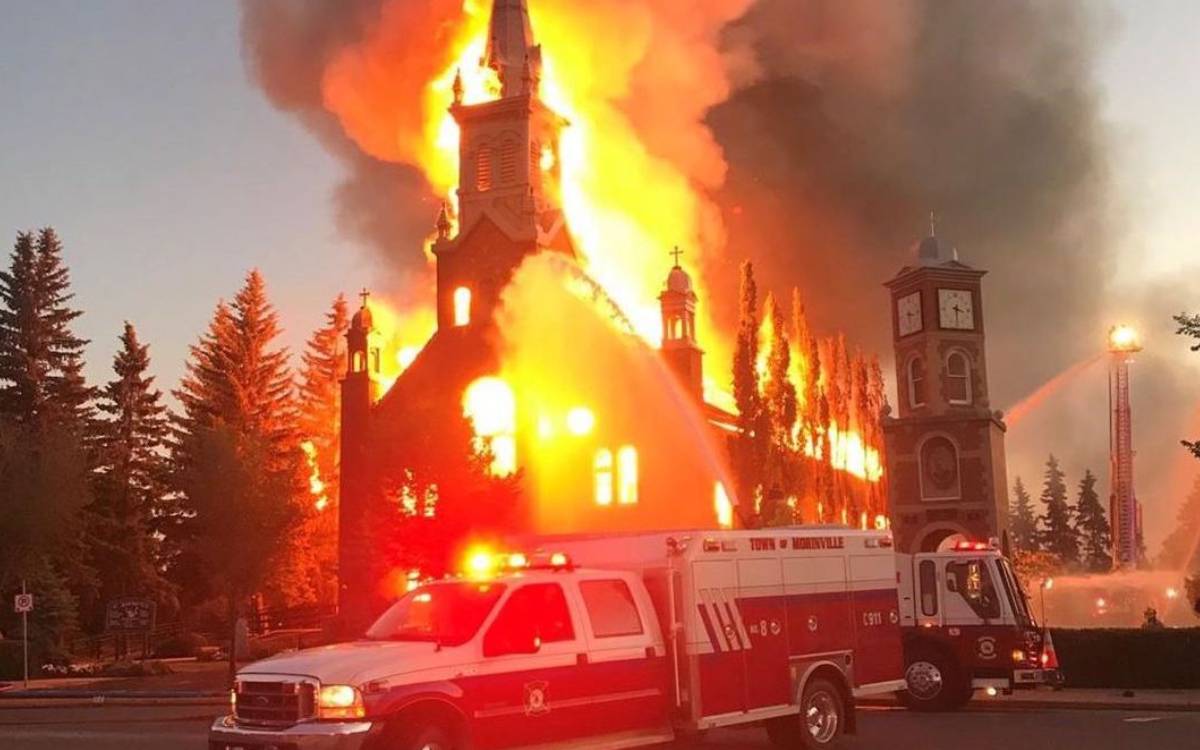 Morinville, Alberta's St. John Baptiste Parish engulfed in flames, June 30, 2021. The church is one of over 50 that have been either burned to the ground or vandalized across Canada in recent months. Photo credit: The Canadian Press/Tracy Dalzell-Heise
 Since when did reconciliation come in the form of burning down churches? Is this how Canada – the country which prides itself on peacekeeping and freedoms – is willing to strengthen its relationship with its Indigenous peoples? 
In light of the devasting discoveries of several hundred unmarked graves at former Indigenous residential schools across the country – an issue Canada needs to admit to and take responsibility for – we have noticed an increase in attacks on Catholic churches. What happened in the residential schools is indisputably a horrendous crime. However, when paving the way forward we must seek to find a better response model. We must build relationships, not burn down churches. 
Since June, dozens of churches have been severely vandalized or torched in Canada. In all, over 50 churches have been desecrated or destroyed. This means that over 50 communities were stripped of their right to practice their religion and pray. A subtle reminder that the Charter of Rights and Freedoms clearly delineates that all Canadians have the right to freedom of conscience and religion. 
But religious or not, it is devastating to see the gruesome acts which have taken place across Canada these past couple of months. 
The latest incident took place in British Columbia on Monday, where a Coptic Orthodox church burned to the ground. This is an addition to the four other Catholic churches in B.C which were burned to the ground and the others in Alberta, Ontario, and the east coast. The Royal Canadian Mounted Police deemed these incidents as "suspicious" and are continuing investigations. 
The RCMP has been actively investigating the damaged churches, however in most cases, there have not been any identified suspects, and no one is taking credit for the fires. Nonetheless, many politicians and other officials are associating the damaged churches with the recent discovery of unmarked graves at the residential schools. The assumption is that many are fueled by hate that these residential schools were run by the Roman Catholic Church and are therefore trying to get revenge or simply visualize their anger through violent reprisal. 
For an activist, it can be quite tempting to fall into the narrative that you are a valiant saviour. However, what takes genuine courage is to step aside from that narrative and be able to condemn these actions – which not many people have done. As the number of incidents continue to grow, this is no longer simply an attack on the Catholic Church, it is an attack on religious freedoms. 
Many frustrated Canadians are turning to their leaders and questioning why they aren't taking stricter measures to condemn these actions. With most leaders playing politics and fearful of the political climate surrounding Indigenous peoples, silence is dominating the stage. And as we know, silence speaks volumes. 
Although incredibly angry with the Catholic Church, several Indigenous leaders dared to step up and condemn the violence. Grand Chief Stewart Phillip, president of the Union of B.C. Indian Chiefs, said he was "upset with the church (on the Lower Similkameen Indian Band) being burned down."
How do politicians pick and choose which forms of hate they'll condemn now and which ones they'll be a little more silent on? 
On July 2, Prime Minister Justin Trudeau said that he "understands the anger" and added that the attacks were "unacceptable and wrong." 
Conservative leader Erin O'Toole has been more vocal on the incidents – as we'd expect him to be. On June 28, he tweeted, "It is appalling to see churches in Canada burned and vandalized. We all have work to do on the path to reconciliation, and these acts undermine the important discussions on how we move forward. It needs to stop." 
About 30 km from Edmonton, there is a town called Morinville that watched a fire destroy a century-old Catholic church. After the tragedy occurred, Audrey Poitras, president of the Metis Nation of Alberta, came out and said that the town and church have close relationships with the Metis community. He also noted that "some of our citizens were married there. Some left shoes on the steps to commemorate the children whose lives were lost at residential schools." 
Religious freedoms are the hallmark of Canada and appeal to many immigrants around the world. Will this crisis dissuade them from moving to Canada? In our country, we're noticing a war on religion vs atheism that is slowly erupting, but the question should not be religion vs. atheism, it should be centred around reconciliation – a path to reconciliation that doesn't damage sacred grounds for thousands of people.
Destruction does not equal reconciliation.