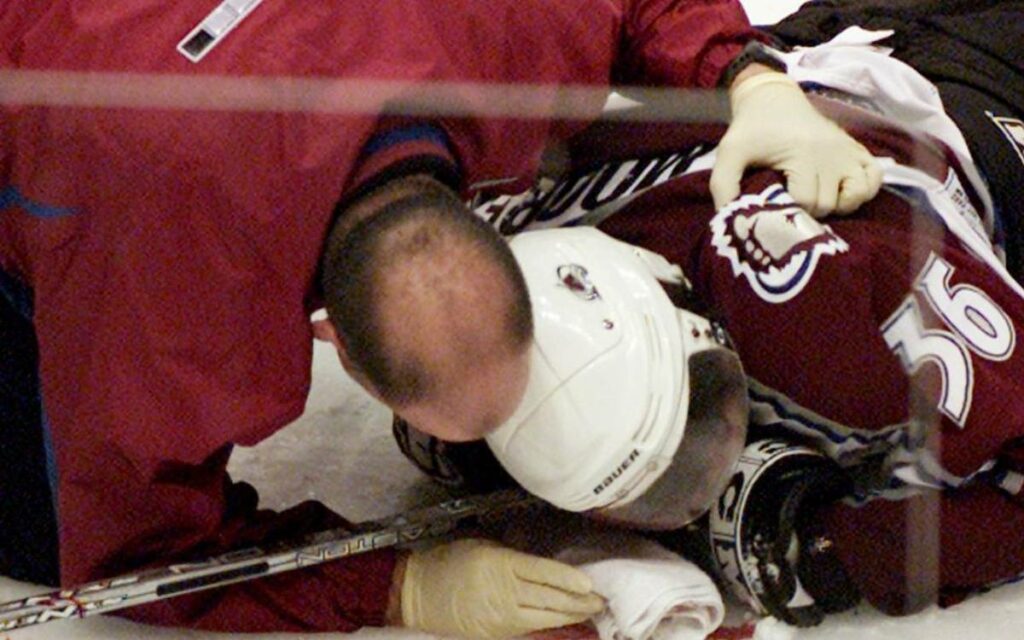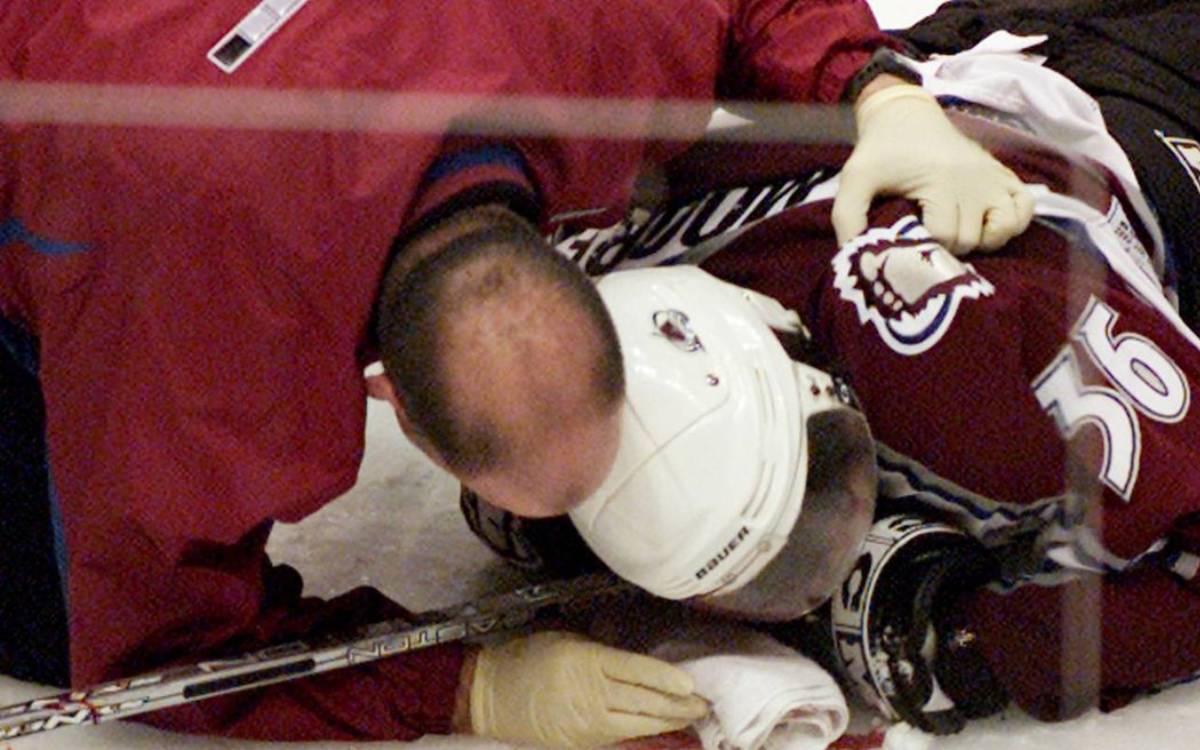 Colorado Avalanche centreman Steve Moore lies on the ice after getting struck from behind by Vancouver Canucks power forward Todd Bertuzzi. March 8, 2004. Photo credit: The Canadian Press/Chuck Stoody
In 1954, Tonight Show host Art Linkletter asked hotel mogul Conrad Hilton if he had any message he would like to share with his customers.
"Whenever you take a shower, make sure the curtain is inside the tub," Hilton answered. The response has become synonymous for not making obvious things more difficult.
On Tuesday, the NHL had an opportunity to avoid the chaos that occurred one night later at Madison Square Gardens and chose to ignore the obvious solution. As a result, more than 141 penalty minutes were handed out. Throughout the game, there were multiple fights and scenes that could only be compared to the great hockey film, Slapshot.
I know that generally I write about politics, and for the past 14 months COVID-19, but I decided to give my readers and myself a break and write about hockey this week. Hockey, and sports in general, are one of the few reprieves we have all had since the start of the pandemic.
In case you have not been following, a few nights ago modern-day NHL goon Tom Wilson of the Washington Capitals was at the centre of a melee with Capitals' rival the New York Rangers. During the scrum he took hold of Ranger superstar Artemi Panarin and slammed his helmetless head into the ice.
Following the event, George Parros, head of the NHL's Department of Player Safety, saw fit to only fine Mr. Wilson $5,000 for what many believed should have been a suspension. Ironically, Mr. Parros' own career was cut short while playing for the Montreal Canadiens when he tussled with Toronto Maple Leaf Colton Orr and went down head (or face) first into the Bell Centre ice.
Despite fully understanding the dangers of ice and an unprotected skull, Parros choose to let the five-times suspended Wilson off the hook. This lead to the New York Rangers sending a missive to NHL Commissioner Gary Bettman demanding that Parros be fired.
He wasn't.
Thus, Wednesday night fight night at Madison Square Garden happened. A highly anticipated evening that started with a line-bawl immediately following the puck drop and saw more fights in the first five minutes than any NHL game in history.
The fights even included former Niagara IceDog Dylan Strome, now of the Rangers, squaring off against the Capitals' Lars Eller. A fight no one would expect (frankly, paling in comparison to Ty Domi versus Bob Probert tilts of yesteryear).
While the first period of the game was highly anticipated and watched by many, the fact that people could have gotten seriously hurt seems to have been and remains lost on most. What is worse, the whole thing could have been avoided.
Now, I am a rabid fan of the Toronto Maple Leafs and have had the great Conn Symthe's mantra of "if you can't beat 'em in the alley, you can't beat 'em on the ice" ringing in my ears since PeeWee hockey.
One of my favourite players is the great Wendell Clark, who could destroy what passes for any modern-day NHL goon. My first goal when I was in Bantam hockey I rode my stick a la Dave 'Tiger' Williams, another NHL great whose hands' primary purpose was not to fire pucks, but rather fire bombs.
But the days of Mr. Clark and Williams are over and the NHL, all sports for that matter, have taken great strides to protect players – especially their heads.
So bouncing a helmetless head off the ice should be at the very least a single game suspension. A time out for Mr. Wilson would have sent a message of the dangers of his actions and avoided the donnybrook at Madison Square Wednesday night.
If I had the chance, I'd ask Mr. Bettman if he could go back in time and suspend Steve Moore after he ran Vancouver Canuck Marcus Naslund into the boards while he played for the Colorado Avalanche in 2004.
The Naslund/Moore event is more famous for the retribution exacted by NHL pariah Todd Bertuzzi. The situation was different and the premeditated attack by Bertuzzi happened four games after the questionable Moore hit that put Naslund out for three games.
Still much of the same rhetoric was spewed following the Naslund/Moore incident with former Buffalo Sabre, then Canuck, Brad May actually putting a bounty on Moore. The next time the teams met there were no incidents, so many thought the tempers settled down.
Five days later the Canucks and Avalanche met again, tempers had not settled down. Matt Cooke decided to fight Moore early on in the game and lost, badly. Then with the Avalanche leading 8-2 midway through the third, Bertuzzi grabbed Moore from behind and pile-drove him headfirst into the ice, leading to a pile-on of several other players.
After lying prone on the ice for more than 10 minutes Moore was taken to hospital. He was treated for three fractured vertebrae in his neck, a grade-three concussion, vertebral ligament damage, stretching of the brachial plexus nerves, facial lacerations and suffered from amnesia. He would never play hockey again.
In this case the NHL's discipline was not enough. Bertuzzi was suspended for a total of 20 games and the Canucks fined $250,000.
On June 24, 2004 Bertuzzi was charged with assault causing bodily harm. Yes, an incident in a hockey game moved past the world of sport and into criminal law.
Eventually Mr. Bertuzzi was given a conditional discharge with one-year probation and 80 hours of community service. He continued to play, but went from a superstar to obscurity.
The night before the sentencing remains one of the more bizarre of my career. Sitting in a Safeway grocery store parking lot running a press conference on my cellphone with sports media and the British Columbia Attorney General; the entirety of the answers consisting of: "yes", "no", "that's up to the courts to decide."
Steve Moore never played again, with many attributing the event to the crack down on gratuitous violence in hockey. Given the NHL's meek response to the Wilson incident this week it seems they are angling for another such event.
Thankfully, no one was badly hurt Wednesday night, but all the elements for disaster were there. And just like putting the curtain in the shower, a simple solution could have avoided it all.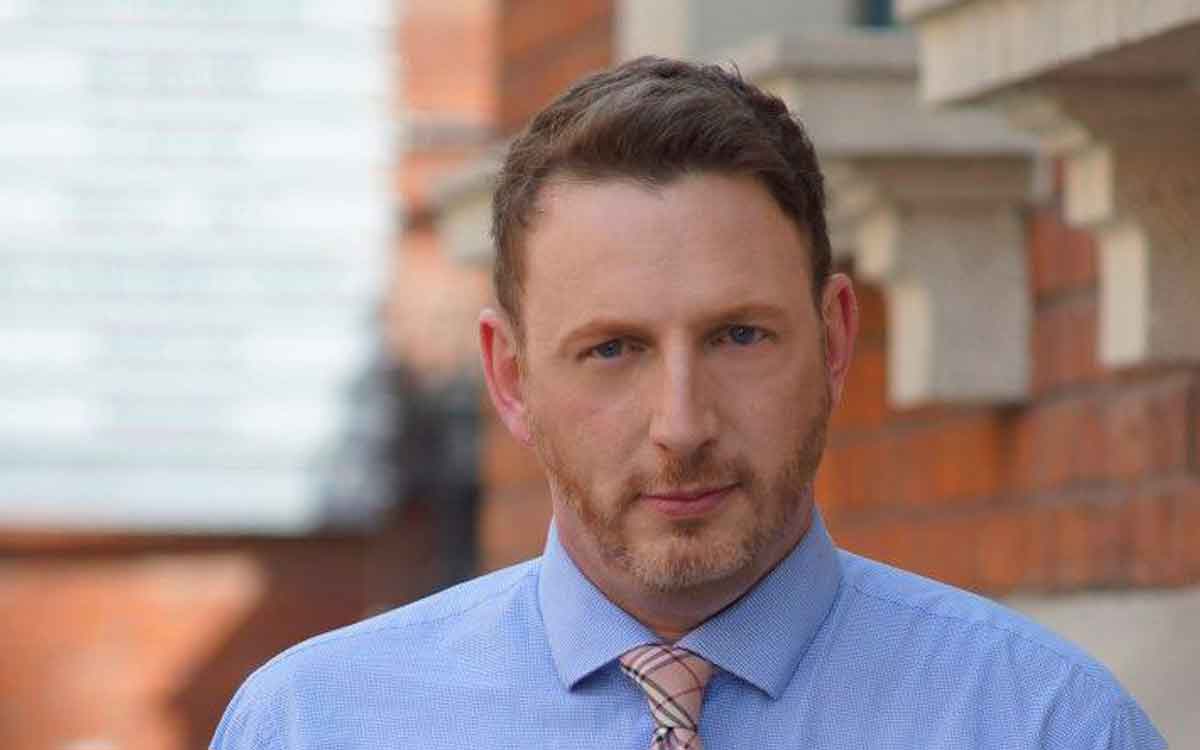 Kelly Harris is Principal of Harris Public Affairs. He is a regular commentator on Global News Radio 640. He has spent the last decade working with Canada's credit unions and served as Director on the Board of the Canadian Credit Union Association. An internationally published journalist, he has held senior positions in the Gordon Campbell government in British Columbia and Tim Hudak's opposition at Queen's Park. An avid traveller, cyclist, member of Bills Mafia and die-hard fan of the Toronto Maple Leafs.