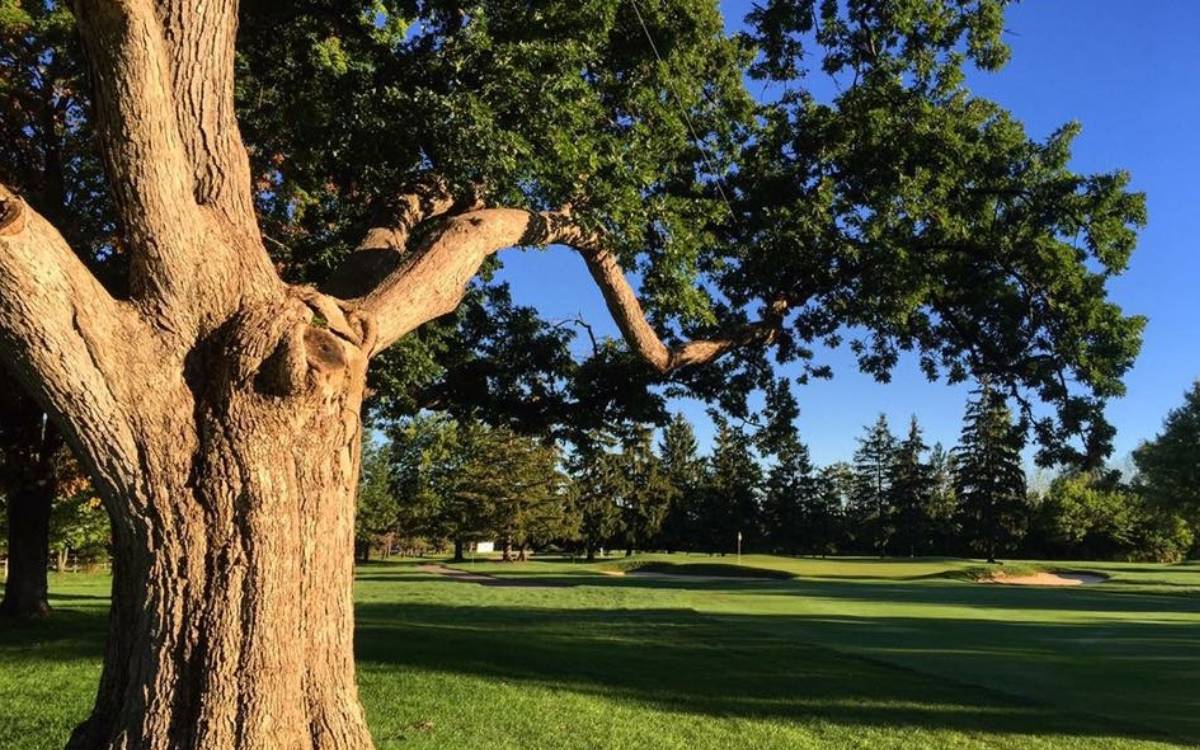 Cherry Hill Club (pictured) and Lookout Point Country Club, both celebrating a century in operation this year, were Niagara's only two representatives on SCOREGolf's 2022 list of Canada's best golf courses. Photo credit: Cherry Hill Club
Earlier this week, sports website and magazine SCOREGolf released its biennial ranking of Canada's top 100 golf courses. 
The now world-famous Cabot Cliffs in Inverness, Nova Scotia once again took top spot in the country, a position the seven-year-old, Coore and Crenshaw-designed links has held since its creation. 
Rounding out the top three for 2022 were the Stanley Thompson-designed St. George's Golf and Country Club in Toronto and Fairmont Jasper Park in Jasper, Alberta. 
Just down the road in Ancaster, Hamilton Golf and Country Club earned the number four spot. 
"While judging golf courses is obviously subjective, and everyone has his or her opinion on what makes one better than another, the Top 100 is an earnest and comprehensive effort to identify the best of the best in Canada, the top 4.3 percentile of the nearly 2,300 golf courses in the country," editor of SCOREGolf Jason Logan said in a media release Monday.
"We do it not only to foster discussion, but also to honour the genius of those architects who designed these wonderful courses and the hard work of those who maintain them every day."
Locally, two Niagara golf courses made the 2022 list, both of which happen to be celebrating a century in operation this year and share the same architect. 
Cherry Hill Club, located off Highway 3 in Ridgeway (Fort Erie), again maintained its place atop Niagara's golf scene, coming in at 44 overall. 
Consistently ranked one of the best golf courses in the country, the private, Walter Travis-designed, 18-hole championship course is "is a study in subtlety". 
As SCOREGolf previously commented about the 1972 Canadian Open host, "The parcel of land on which it sits isn't as dynamic as others on this list but its holes are strategic sensations with excellent bunkers and terrific greens — perhaps the best set in Canada." 
Cherry Hill has placed in the top 50 courses in Canada for three consecutive rankings: 2018 (44), 2020 (43), 2022 (44). 
About a half hour northwest of the region's finest golf establishment is Niagara's only other top 100 representative: Lookout Point Country Club. 
Located off Highway 20 in Fonthill (Pelham), Lookout Point earned spot 71 on SCOREGolf's 2022 list. 
Also designed by renowned Australian-American golf course architect Walter Travis, Lookout Point, situated at the top of the Niagara Escarpment, is celebrated for its spectacular panoramic views of Lake Erie, Lake Ontario, and Niagara Falls. 
The course's first hole, which dips 130 feet from elevated tee to green, was once referred to as the "best opening hole in Ontario". 
Lookout Point has now made the country's top 100 list every year of ranking since 2004, last coming in at 78 in 2020 and finishing as high as 65 in 2006. 
SCOREGolf began ranking golf courses in 1988, expanding the list to its present length in 2000. The current panel of more than 100 volunteer judges rate courses based on several criteria, including beauty, design, par-3 holes, par-4 holes, par-5 holes, conditioning, and fun factor.