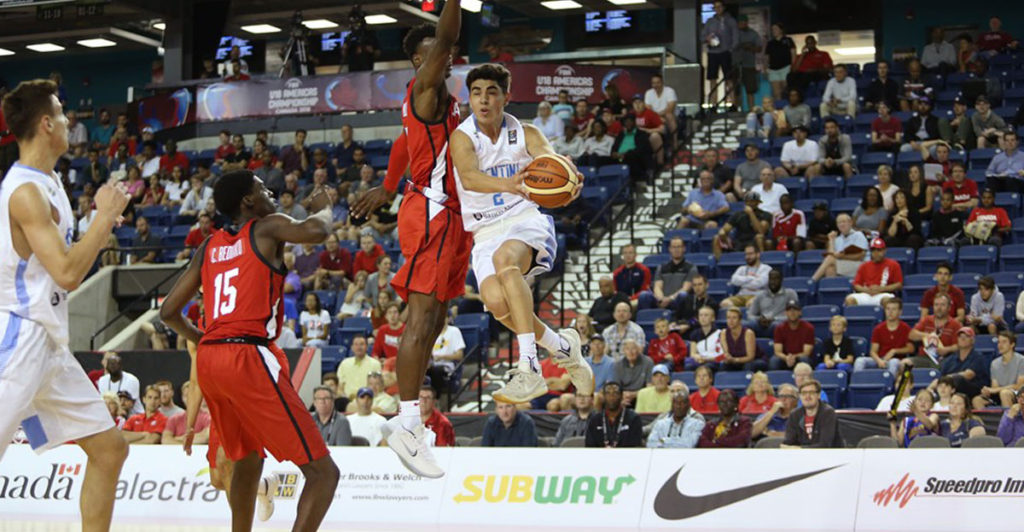 Team Canada player Charles Bediako defends against Argentina at the FIBA U18 Championships in St. Catharines – FIBA/ AJ Lawrence
There's a local connection – in fact two of them – at this week's FIBA U-18 Americas Championship basketball tournament at Meridian Centre in St. Catharines.
The Bediako brothers, who both play for the Ridley College Tigers Prep Team, are suiting up for Team Canada.
Jaden, 17, is a 6-foot-11 centre, while younger brother Charles, who just turned 16, is a 6-foot-9 centre/forward.
Both brothers grew up in Brampton before making the trip down the QEW to join the Tigers.
"This is awesome, I had the chills," said Jaden moments after being introduced to a boisterous crowd, including close to 60 Ridley students, at a pep rally last Friday at the Pen Centre in St. Catharines.
"They're both really great kids," Tigers head coach Tarry Upshaw said. "They're both really hard working. Obviously Jaden is a little bit older, you can expect a little more leadership from him. Charles is just young and learning with eyes wide open. They're both a pleasure to coach."
Upshaw feels Jaden is the more traditional big man, while Charles is definitely more athletically gifted.
"Charles can face up a little more and step out sixteen to eighteen feet and make that consistent shot, where Jay is kind of dominant in that low block and little hook shot."
"I think they both have bright futures, but Charles being so young and versatile I think his impact will be a little more than Jay's."
Ridley College Director of Athletics Jay Tredway is beyond ecstatic that a pair of Tigers can represent Team Canada.
"We are so proud of Jaden and Charles," explained Tredway. "They are valued members of our school community, demonstrating grit, focus and humility.
Ridley and our nation are fortunate to have them as representatives at this amazing event in our great city."
Canada is in Group B of the eight team tournament with Argentina, Chile and Ecuador, while USA hi-lites Group A with the Dominican Republic, Panama and Puerto Rico.
Canada opened the tournament with a 92-75 victory over Argentina Sunday afternoon.
Charles scored four points and pulled down one rebound in the win, while Jaden had two boards and one steal.
This is the first time in history Canada is hosting the event, and if all plays out according to plan the second ranked Canadians should meet the top-seeded Americans in the medal round later this week at Meridian Centre.
"I can't wait to play the U.S," said Jaden with a smile. "They practiced in our (Ridley) gym. I definitely want to play them. That's what the guys (teammates) are hoping for too."
The following is the schedule for the rest of the week at the 2018 U-18 Americas Championship: (all games played at Meridian Centre in downtown St. Catharines)
Tuesday June 12th:
Ecuador vs. Argentina 12 p.m.
Dominican Republic vs. Panama 2:15 p.m.
Puerto Rico vs. USA 6 p.m.
Chile vs. Canada 8:15 p.m.
Wednesday June 13th: OFF DAY
Thursday June 14th:
Quarterfinals (TBA) with four games scheduled
Friday June 15th:
Semi-Finals (TBA) with four games scheduled
Saturday June 16th:
(TBA) Classification Game – 7th vs. 8th 12 p.m.
(TBA) Classification Game – 5th vs. 6th 2:15 p.m.
(TBA) Bronze Medal Game 6:00 p.m.
(TBA) Gold Medal Game 8:15 p.m.
Visit www.fiba.basketball/americas/u18/2018/ for more information.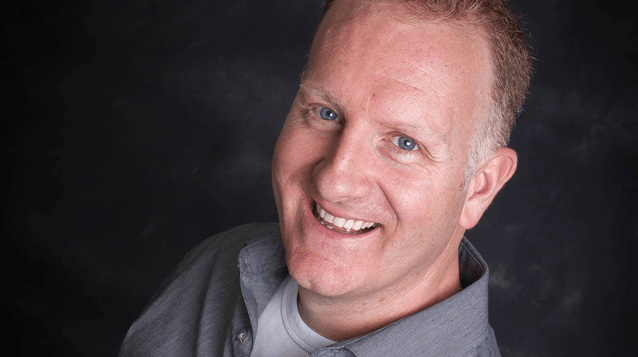 Rod Mawhood is a lifelong Niagara native who has had the pleasure of working in all three mediums – Radio, Print and TV – for over 20 years. His first announcing gig was with the then St. Catharines Stompers. Since then he's worked in radio and TV in Toronto, and currently is the announcer for the Niagara IceDogs and Niagara River Lions.
Rod also covers the Buffalo Bills for FOX Sports and the Buffalo Sabres for NBC Sports.