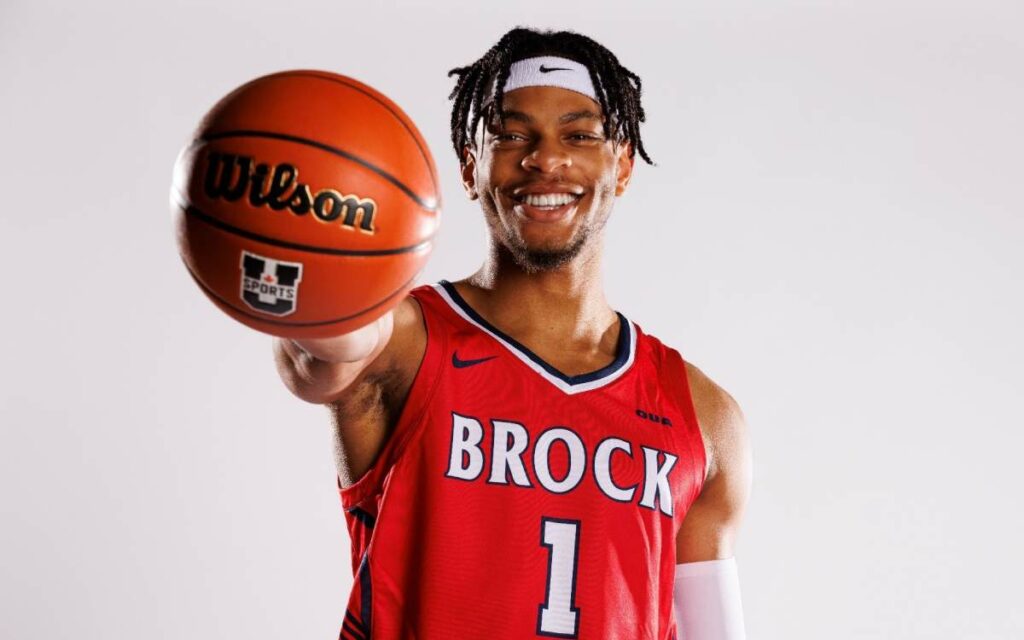 Pictured is Jordan Tchuente. Photo credit: Brock Badgers
The Niagara River Lions stayed close to home when they announced one of their two selections in the CEBL (Canadian Elite Basketball League) 2023 U SPORTS (Canadian University) Draft, selecting Jordan Tchuente of the Brock Badgers along with Aiden Warnholtz of Carleton University.
The partnership between U SPORTS and the CEBL allows student-athletes the unique opportunity to get their first taste of professional basketball by sharpening their game both on and off the court during the summer months.
Draft-eligible U SPORTS players may have completed their university eligibility in 2021-22, or they may be returning to their university team this fall and be classified as a developmental player.
Tchuente, a 6'7″ forward, just completed his second season with the Badgers. 
"Dino (Jordan) made an excellent impression on us last season and we knew we wanted him back as a River Lion for 2023," said River Lions Head Coach and General Manager Victor Raso.
"He is tough, physical and plays bigger than he is. Most importantly he is an incredible teammate. He had a great season for a great Brock program, and we're excited to welcome him back!"
A familiar name to the River Lions, Tchuente signed a developmental contract for the 2022 CEBL season where he averaged 1.7 points and 1.4 rebounds in 9 games. 
After returning to Brock in the fall, Tchuente averaged 10.8 points, 8.6 rebounds and 2.3 assists for the Badgers. He scored a career high 24 points and career high 15 rebounds, while finishing the U SPORTS season registering 7 double-doubles.
"I am excited to be selected to be part of the River Lions organization," Tchuente said. "It's a great opportunity for me to learn, develop and contribute, and I can't wait to get to work."
The River Lions used their first-round pick to select Aiden Warnholtz, a 6'2" guard from Ottawa, Ontario.
"Aiden is a skilled, smart and competitive guard who plays the right way," explained Raso. "He is a winner, comes from a winning program, and is an excellent person. We're excited to welcome him to our organization!"
Warnholtz had a record-breaking career with the Carleton Ravens, earning his fourth National Championship with the team last month, and becoming a five-time Academic All-Canadian while earning his Bachelor of Health Sciences. 
During the 2022-23 season, Warnholtz broke seven program records including assists in a season (145) and in a playoff (46), and most minutes played (761). 
Warnholtz was twice named Nike Top Performer in U SPORTS championship games and was named the U SPORTS Final 8 MVP and First Team All-Canadian.
Warnholtz finished the season averaging 17 points, 6.6 assists and 5.5 rebounds per game.
"I am grateful for the opportunity and excited to be part of the River Lions organization," said Warnholtz. "I'm looking forward to being on a team that has championship aspirations as I develop my own game under Coach Raso and learn alongside seasoned pros."
The Niagara River Lions are one of the original six teams of the CEBL. Playing out of Meridian Centre in downtown St. Catharines, the River Lions represent the 12 municipalities of the Niagara Region while living up to the River Lions moniker of pride and strength of community. 
Season tickets, voucher packs, group tickets and single game tickets are on sale now. Visit www.riverlions.ca/tickets for more information.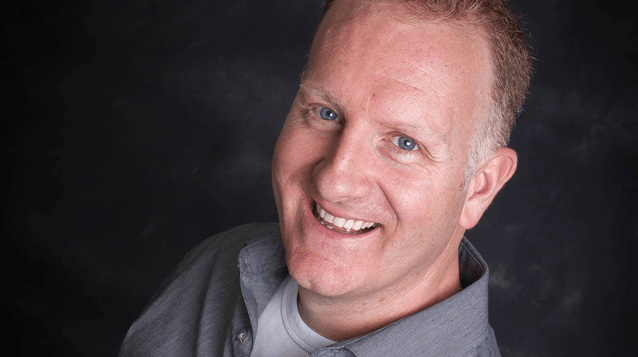 Rod Mawhood is a lifelong Niagara native who has had the pleasure of working in all three mediums – Radio, Print and TV – for over 20 years. His first announcing gig was with the then St. Catharines Stompers. Since then he's worked in radio and TV in Toronto, and currently is the announcer for the Niagara IceDogs and Niagara River Lions.
Rod also covers the Buffalo Bills for FOX Sports and the Buffalo Sabres for NBC Sports.