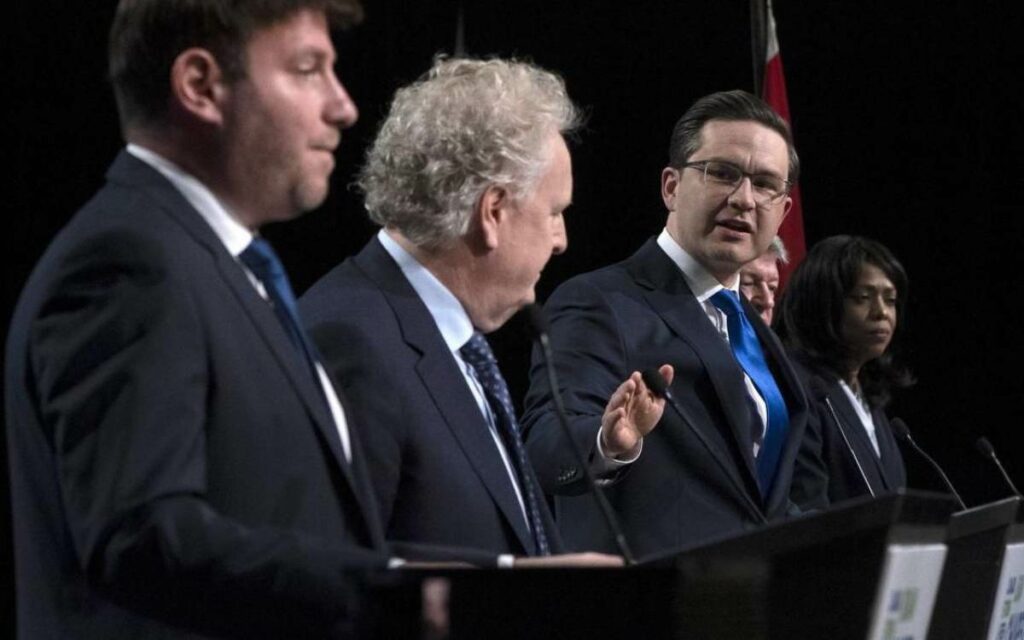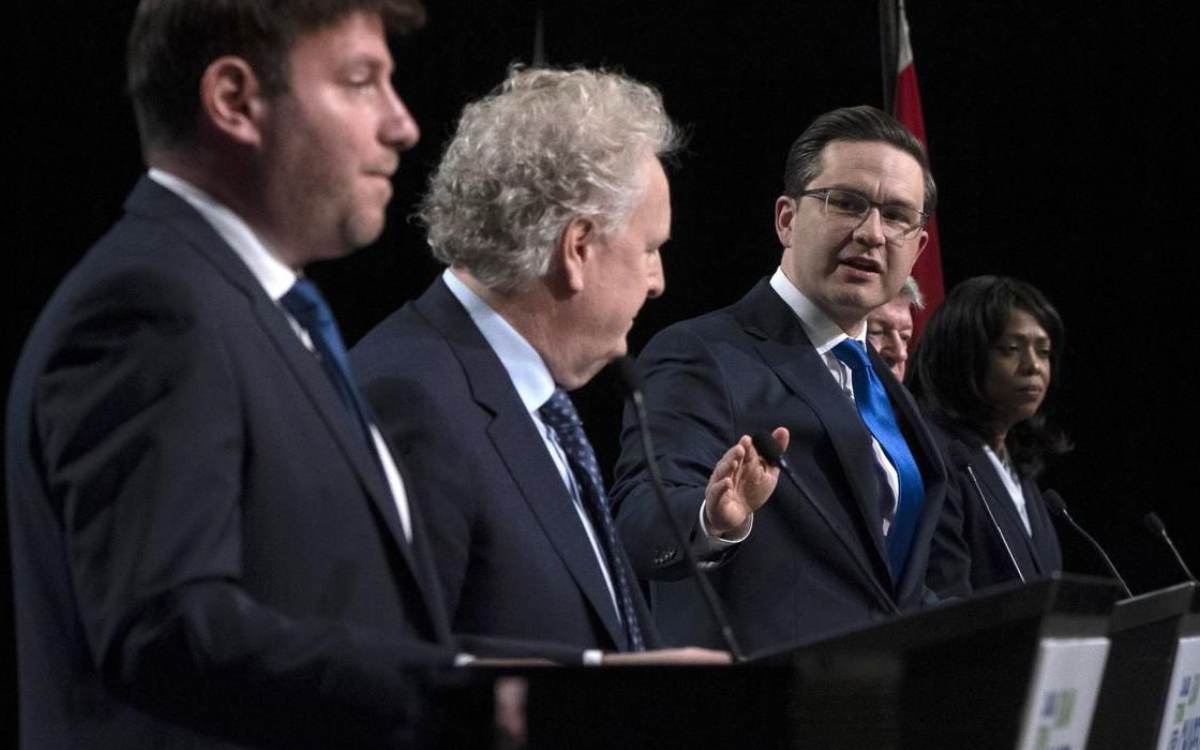 The first of three Conservative Party leadership debates took place last week and, as anticipated, it was something of a raucous affair. Photo credit: The Canadian Press/Adrian Wyld 
Last Thursday, Conservative leadership hopefuls took to the stage for the first time to debate one another. Taking centre stage on day one of the Canada Strong and Free Conference, formerly the Manning Conference, the gloves were quick to come off and nobody was safe, including Patrick Brown, who was AWOL. 
For 90 minutes, each candidate was given equal time to present their ideas for the party and rebut their opponents. The main event was Pierre Poilievre versus Jean Charest, as they were literally in the centre of the stage and exchanged the most blows. 
The frontrunner of the race, Poilievre, started the debate doing what he is best at and that is attacking. He was quick to go after Charest and his record of raising taxes and introducing a carbon tax while he was Premier of Quebec. Poilievre called Charest a Liberal a number of times and those are fighting words within the CPC.
Showing his experience from his past of leading parties, Charest showed his statesmanship and, mostly let the attacks slide. He spoke with passion and pride about his record as premier and attempted to throw a few punches back. He even took a page out of Joe Biden's playbook and laughed every time his opponents called him a Liberal. 
The crowd that Canada Strong and Free attracts is by nature an audience that is more favourable to the free market and less government messaging of the Poilievre campaign. The room very much felt like an away game for Charest and he was even booed for his remarks on the trucker convoy that occupied Ottawa's downtown core for nearly a month. 
Poilievre was like a preacher at church on a Sunday morning, sharing the gospel to the crowd with several applause lines. The room was behind him with a number of supports waving "Poilievre for Prime Minister" signs when he spoke. Poilievre spoke with passion about his support for the convoy and his love for Canada's energy sector. He was able to attack all his opponents and play up his attack dog personality. 
Though the spotlight might have been shining brightest on Poilievre and Charest, Dr. Leslyn Lewis, Roman Baber and Scott Aitchison were able to have their moment in the sun. Dr. Lewis, who is a well-liked and respected social conservative, struggled to find her stride and have her moment. She was the true star of the 2020 leadership race and the bar had been high for her since she announced she would be running for leadership again. She focused much of her attacks on Poilievre, saying he is not as freedom loving as he presents himself and questioned his record on abortion. 
Baber showed up well at the debate and was able to position himself as a guy who has more to offer than being the anti-lockdown guy. He strung together a few good one-liners and showed he has a few more tools in his toolbox other than opposing COVID. Similarly, Aitchison punched above his weight and appeared reasonable with his ideas and messaging of wanting to end the division that is ripping through the party and this campaign. 
If you were a spectator looking window shopping for a new political party to park your vote in the election, this would not have been the debate for you. The debate was raw, with emotions running high at some points. The attacks between Poilievre and Charest almost seemed personal and there is an obvious difference in the direction that they want to take the party if elected leader.
Poilievre sees the party as needing to be unapologetically conservative, whereas Charest will put some water in his wine to win. The latter was the approach by former Tory leader Erin O'Toole and look how well that worked out. 
A debate like this and the ones to come this month are important given the rank ballot that the party uses. Tory members are not just voting for one person, they have the option to add a second to sixth-round pick to their ballot. And as we have seen in previous Conservative races, down-ballot support matters. 
As candidates prepare for this week's debate in Edmonton, they are going to have to think beyond the attacks and how they can garner the support of a few of their rivals. Some common ground may go further than one thinks to not only gain down ballet support but to stitch together a fractured party before an election is called. 
Daniel Perry is a consultant with Summa Strategies Canada, one of the country's leading public affairs firms. During the recent federal election, he was a regular panelist on CBC's Power and Politics and CTV Morning Ottawa.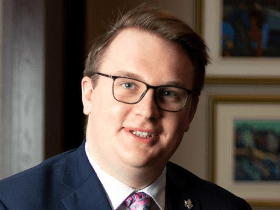 Daniel Perry is a consultant with Summa Strategies Canada, one of the country's leading public affairs firms. During the most recent federal election, he was a regular panelist on CBC's Power and Politics and CTV Morning Ottawa.