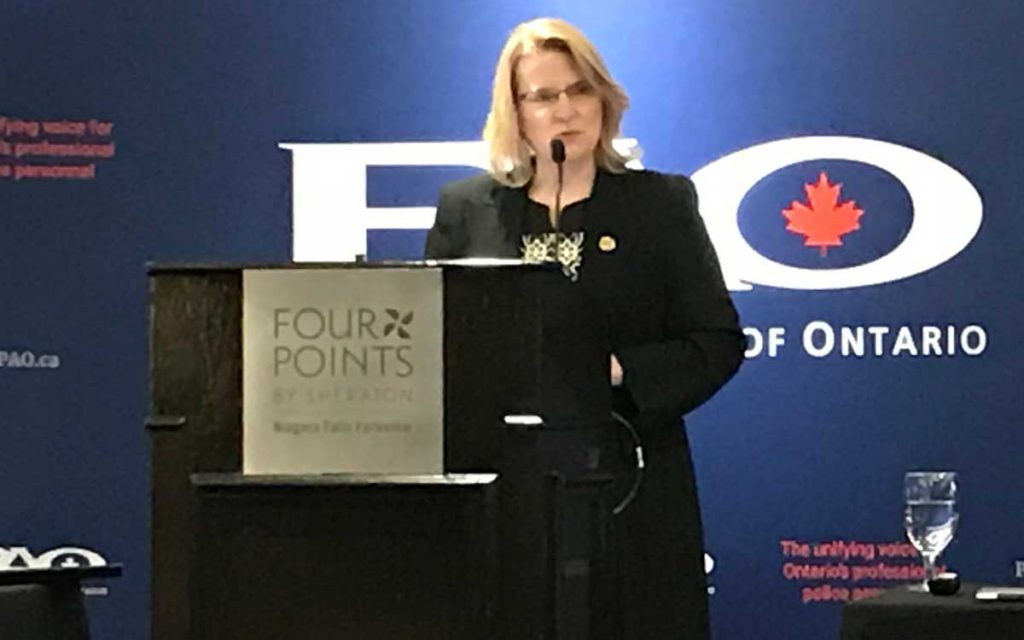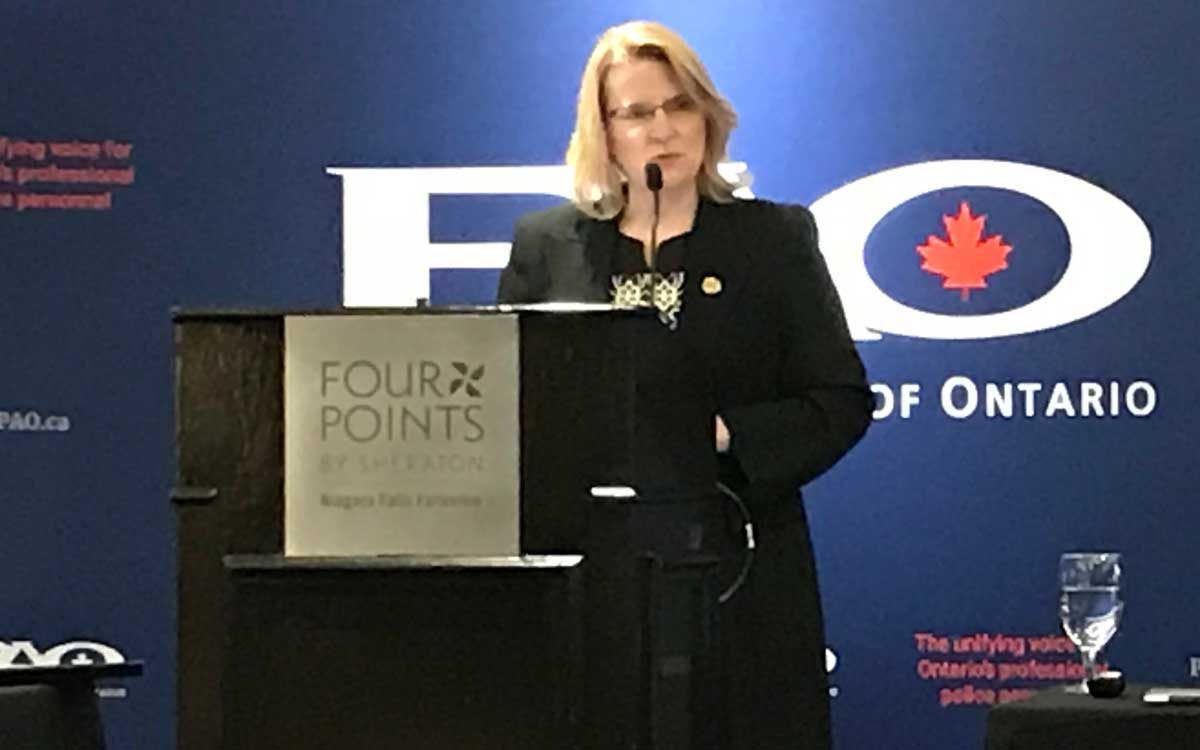 Ontario's Minister of Community Safety and Correctional Services, the Hon. Sylvia Jones.
Ontario's Minister of Community Safety and Correctional Services, the Hon. Sylvia Jones, was in Niagara Falls yesterday to address the Police Association of Ontario (PAO). The PAO is the official voice and representative body for Ontario's front-line police personnel. It provides representation, resources, and support for 53 police associations across the province, with a membership of over 18,000 police and civilian members.
As former Minister of Tourism, Minister Jones said she was thrilled to see the PAO holding their annual winter membership meeting in Niagara Falls. The falls will be lit blue this evening to recognize the Police Association of Ontario and honour deceased members. There will also be a fireworks display. "It's a very nice gesture to our fallen officers," said Minister Jones.
While there is an annual recognition of fallen officers at Queen's Park, the Minister said the falls event is a nice additional gesture in support of Ontario's police officers.
"I appreciate the support from the city and Niagara Parks," said Minister Jones.
The MPP from Dufferin—Caledon said that the mental health of front-line officers is very important and was one of the main issues she addressed in her talk. "If our officers are not feeling 100 per cent then it makes it hard for them to help our citizens who are in need of help."
Minister Jones said police officers across the province are responding to more and more mental health related calls. "We as a government need to fix mental health services," she said. One of the key ways to accomplish this is to work collaboratively across ministries and not in silos, explained Minister Jones. "Mental health isn't just a Ministry of Health issue. It touches many ministries like education, community safety and others."
In her address, Minister Jones also talked about the federal government's legalization of marijuana and the impact that policy decision is having on provinces. She said it is another example of where ministries need to work together to ensure the safety of Ontario residents and police officers.  Police officers will now have to deal with drivers who may be high, in addition to preventing tragedies from drinking and driving. Canada has one of the worst records in the world for deaths caused by drunk driving. "We have to focus on the preventative measures but we also have to make sure our communities are safe now," said the Minister.
The Ford government recently increased the fines for driving while impaired. Minister Jones said it is important to have communities free from impaired drivers, particularly in popular tourists areas like Niagara where, particularly in the summer, the streets are full of people sightseeing.
Niagara Regional Police Chief Bryan MacCulloch appreciated the Minister meeting with police officers face-to-face. "I had the opportunity today to meet and discuss with the Minster the combined impact that mental health, addictions, poverty and homelessness are having on police resources," explained the Chief. "We also talked about our focus as a Service on member wellness and highlighted the steps we are taking to safeguard our people."
The Chief said he had the chance to discuss a few other issues with Minister Jones. "We discussed the budgetary pressures of managing resources in an environment when the demands on policing and calls for service are increasing. "We, as a Service, always appreciate the opportunity to share and discuss our challenges and successes."
Minister Jones said policing in Ontario is constantly evolving with many moving parts. She said she was happy to meet with the police association and hear feedback directly from those on the front lines. "We want to know what tools we can provide that will make our police officers and our communities safer."