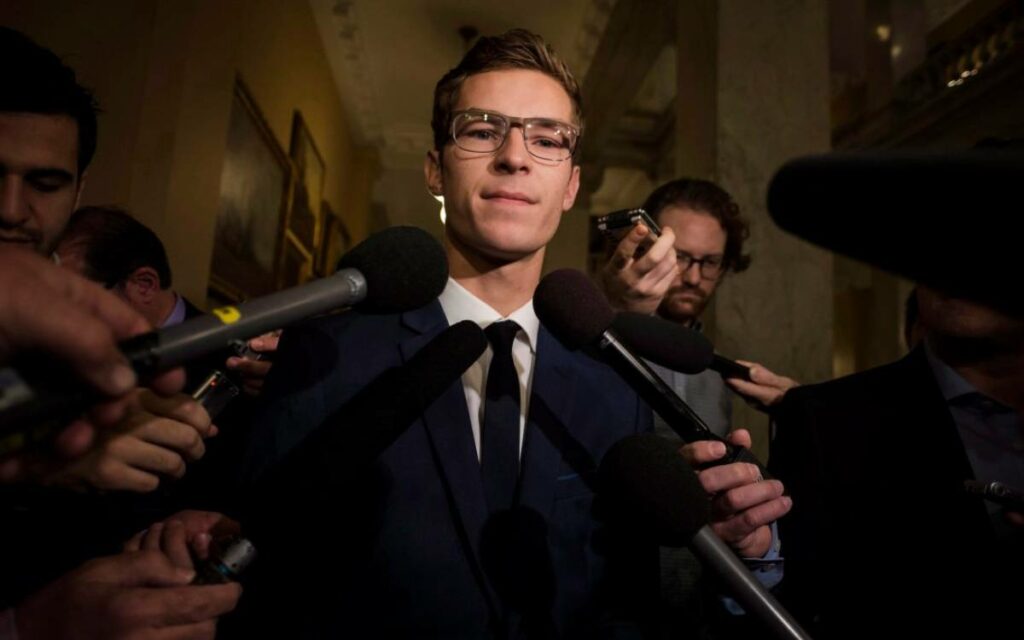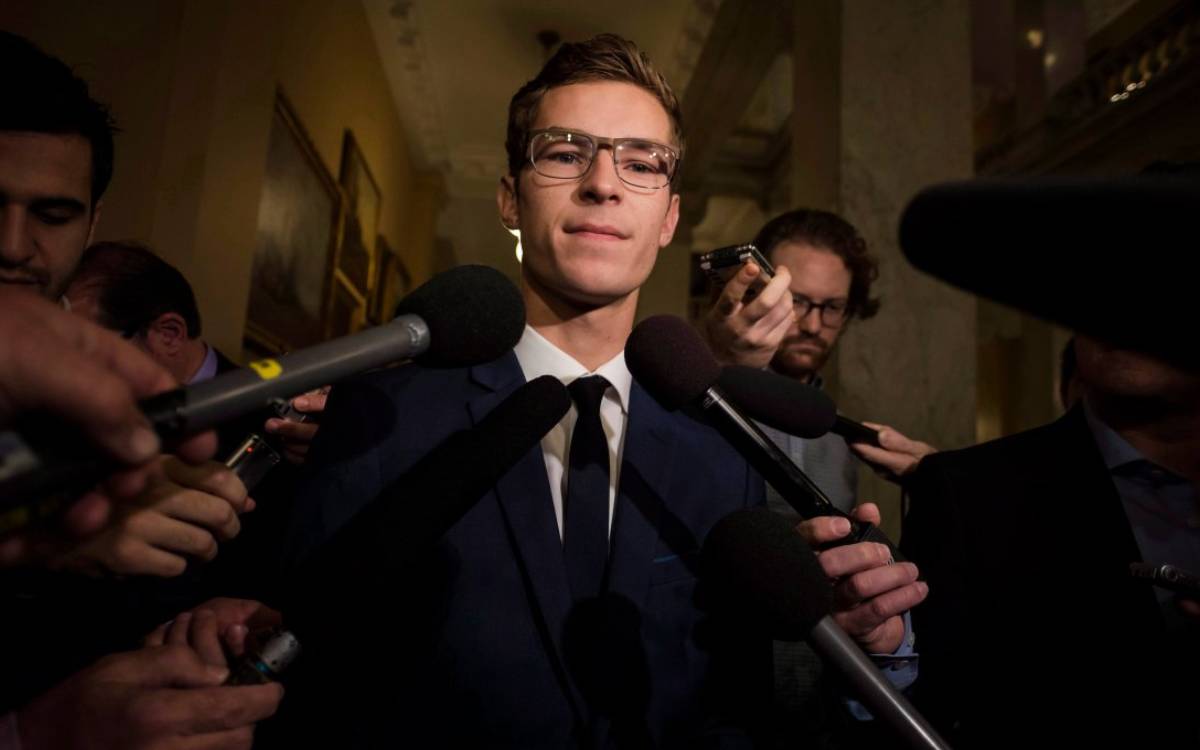 The Twitterverse has spoken and Premier Doug Ford is being told to oust young Sam Oosterhoff from Queen's Park.
What the Tweeters don't know, could fill an ocean, but in this instance they don't seem to know the Premier does not have the power to remove the Niagara West MPP. He does have the power to kick him out of caucus so Sam could run as an unbeatable independent in the riding, likely gathering more from his social conservative flank to also take up the flag.
Then you would have not one, but several social conservative anti-choice voices throughout Ontario, none of which would be subject to the Premier's direction. Now imagine if the local boy started his own party, picked up three or four seats in the 2022 provincial election.
Everyone expects a Liberal rebound even though Steven Del Duca's numbers are relatively low. That is because Ontario doesn't know him; otherwise they would be much lower.
Still the Natural Governing Party will pick up seats in 2022. They may come at the expense of Andrea Horwath and her entirely underwhelming opposition. Still, some may come at the expense of the Premier and the Ontario Progressive Conservatives.
Perhaps the PCs fall into minority and then you run the risk of a social conservative fringe party holding the balance of power. Does that mean Choice will be back on the table? Absolutely not.
No politician in their right mind is ever going to touch a woman's right to choose. I would expect this Premier would rather lose the house known as Queen's Park than get kicked out of his own home by his wife and daughters.
So here is the thing; regardless of young Sam's opinion and position, "Choice" will never again be up for serious debate. Neither will same-sex marriage or the litany of mine fields Liberals like to frighten people with pointing to the conservative boogieman.
Sadly for poor Sam he is the embodiment of the conservative boogieman, which in this case makes him not the least bit scary. Now if you choose to be offended or upset by the antics of the MPP, do so knowing he has absolutely no power.
As for the issue of social conservatism it will never go away. It's been around for a long time and it isn't conservatism at all, rather it's social beliefs reflected on politics and government.
It's the same kind former-Liberal cabinet minister Joe Volpe was famous for whilst he spent his time in the cabinets of Paul Martin.
Giuseppe – his unanglicized name – was an advocate for the "faith community" holding out until 2004 to change his position on same-sex marriage. This allowed the federal government to bring in same-sex marriage everywhere, but houses of worship, in 2005. That was what Giuseppe was holding out for, allegedly.
This of course was two years after Progressive Conservatives in Ontario and the right-wing coalition BC Liberals (anything but Liberals) did it in their respective provinces.
Now Giuseppe changed his vote, but that doesn't mean he changed his opinion, one that is held by many people of devote Catholic and Jewish communities. Those communities are also known as Eglinton-Lawrence, the former riding of Joe Volpe. I'm sure the new guy is much more enlightened, or at least says he is.
Now while Joe was opposing love, not that love has anything to do with marriage, he was also opposing abortion laws from the cabinet table in Ottawa. This of course was no secret, neither was Kevin Lamoureaux, Liberal MP, from Winnipeg North's opposition.
Mr. Lamoureaux was able to run for Justin Trudeau twice despite their convergent views on a woman's right to choose. Interesting he is one of the few Liberals west of Ontario and east of the mountains.
Also interesting is that he represents a city which has one of, if not the largest, human rights museums in the world. I'm pretty sure at least one of my five sisters, my mother, and my multitude of nieces have drilled "Choice" as a human right, into my brain.
So there is no hypocrisy there from Trudeau or Mr. Lamoureaux, none at all.
The reason of course is because Justin Trudeau implemented a policy before the 2015 campaign that all Liberal candidates must be "Pro-Choice." Mr. Lamoureaux, to keep his government cheque, and the Liberals to keep their one hold-able seat on the prairies, keeps letting him run.
Regardless, the point is that people with these beliefs are all over government and every political party. Despite this, the hard fought social victories are here to stay regardless of what a few scattered politicians think.
The other thing that is here to stay is the conservative boogieman theory because Liberals are allowed to strike fear in the hearts of women and the LGBTQ communities by saying others are going after their rights. It simply will not happen and no matter how many anti-abortion videoconferences a backbencher from Niagara Region attends in Ontario, that will not change.
Should Mr. Oosterhoff be attending these types of calls? Probably no. Are his beliefs consistent with many of the people he represents in Niagara West? Definitely yes.
Is this an issue that will make a spec of difference in the halls of power? No, this is being used to hammer the conservative boogieman coming for your rights theory.
For that reason the "probably no" statement above should be changed to "definitely no". But then Sam would be a hypocrite with no real beliefs in what he is doing, choice or not. And blatant hypocrisy is a position reserved for Liberals.
Still, let's not do any more of those videoconferences Sam. They hurt other conservatives chances of getting elected and your party needs to stay in power.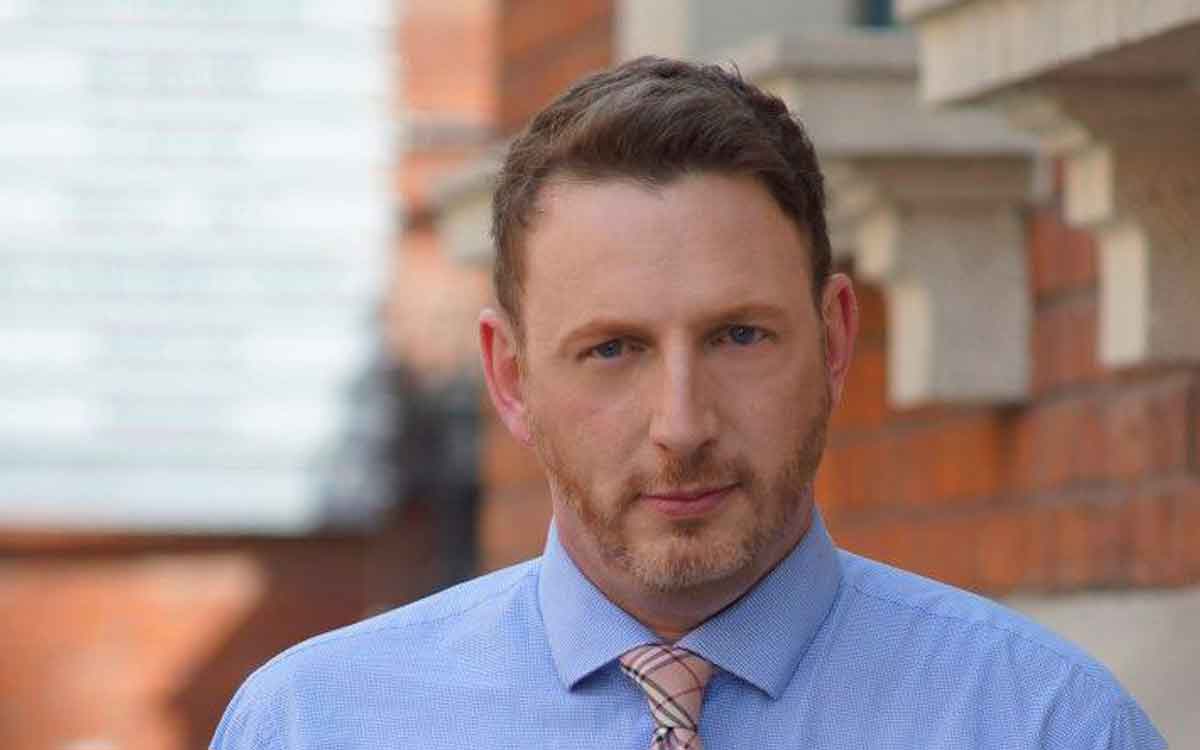 Kelly Harris is Principal of Harris Public Affairs. He is a regular commentator on Global News Radio 640. He has spent the last decade working with Canada's credit unions and served as Director on the Board of the Canadian Credit Union Association. An internationally published journalist, he has held senior positions in the Gordon Campbell government in British Columbia and Tim Hudak's opposition at Queen's Park. An avid traveller, cyclist, member of Bills Mafia and die-hard fan of the Toronto Maple Leafs.