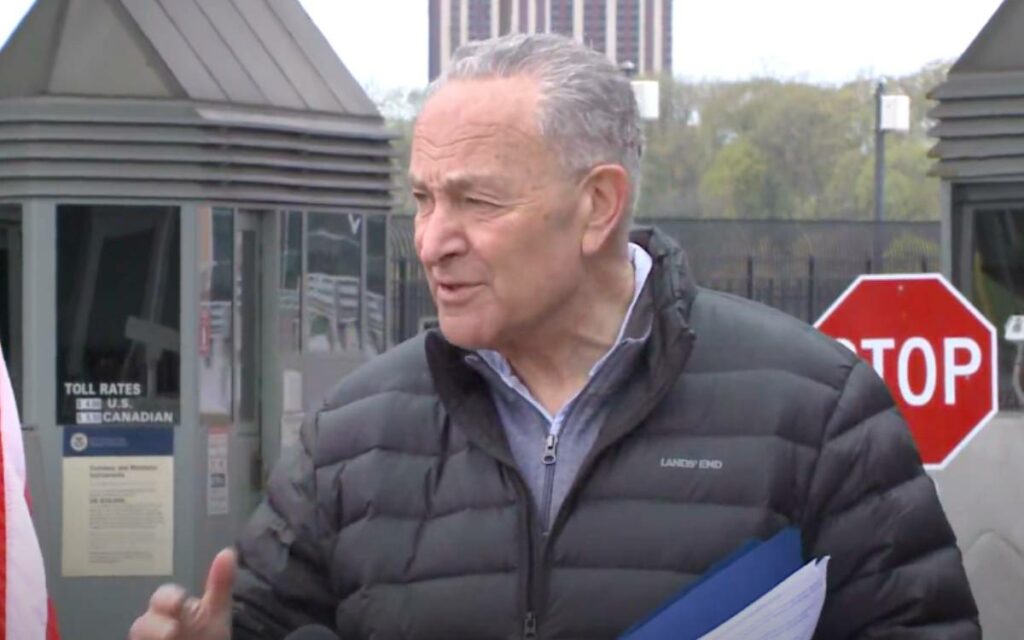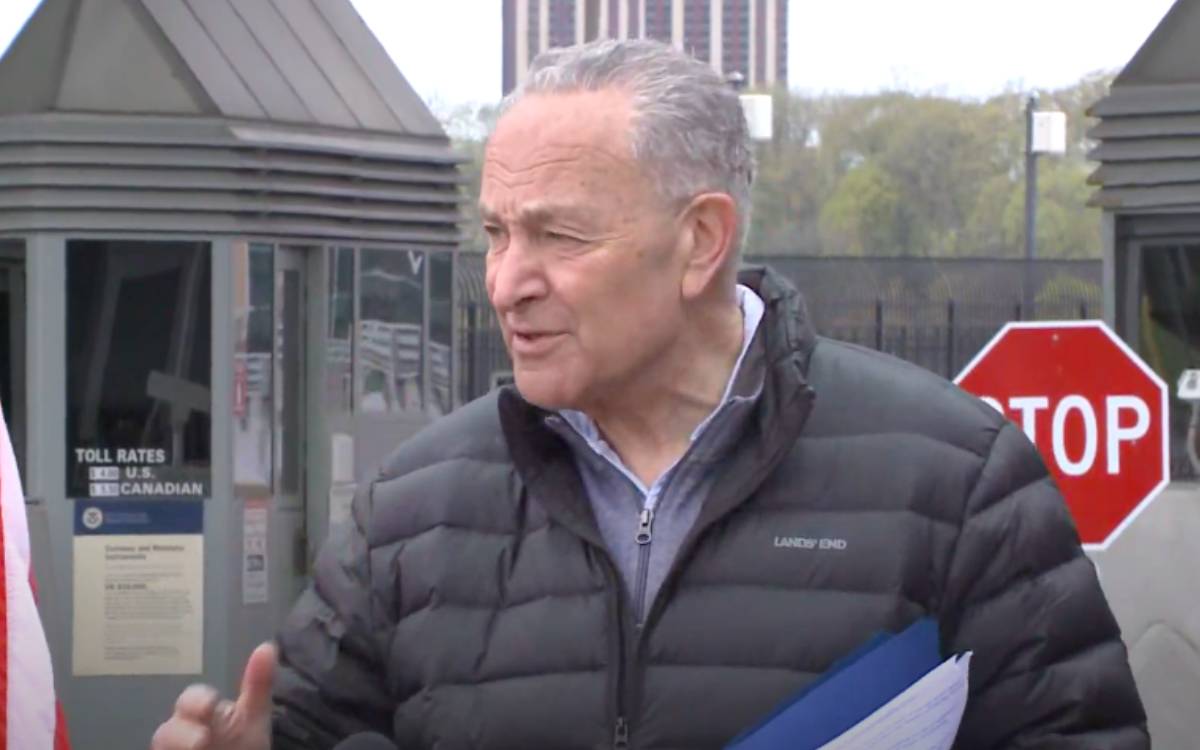 U.S. Senate Majority Leader Chuck Schumer fields questions at a press conference Wednesday in Niagara Falls, New York. Photo credit: YouTube/WGRZ-TV
Democrat senator Chuck Schumer, the newly installed Senate Majority Leader and highest-ranking federal politician in the State of New York, held a press conference at the Rainbow Bridge in Niagara Falls, New York on Wednesday.
At the press conference, Schumer put forward a four-point plan for reopening the border between the U.S. and Canada.
During his address, Senator Schumer pointed out that, "The deep, long-standing social and economic bonds that communities in Western New York and Southern Ontario share were abruptly severed last March to deal with the profound public health challenge that COVID presented, and since then residents and businesses up and down the northern border have been eagerly waiting for the day when rates would be low and vaccinations available so that restrictions could be relaxed and logically lifted."
"While at the beginning — and in the height — of the pandemic it was understandable for such drastic measures to be taken, we know much more about the virus than we knew in March of last year and are making strong gains against it," Schumer continued. "Since vaccination rates have risen and overall rates are steadily falling and New York is ready to reopen, based on the data, it is time to take the first steps towards reopening the Northern Border to non-essential travel. That is why I am calling on Secretaries Blinken and Mayorkas to coordinate with their Canadian counterparts ASAP and come up with a plan — based on science, data and common sense — that will allow for staged and steady border travel and reunite families and friends and jumpstart local economies."
Schumer was joined by Niagara Falls, New York Mayor Robert Restaino, Buffalo Niagara Partnership CEO Dottie Gallagher, Niagara Falls Bridge Commission CEO Ken Bieger, and Pat Whelan, Director of the Canadian-American Border Trade Alliance.
Whalen noted his organization had just concluded a bi-national conference on border issues where reopening was widely discussed.
"I don't think we're going to cross back and forth until we're comfortable, and we're not going to be comfortable until we're vaccinated," Whalen said.
"While we are doing a good job here in the United States with vaccination, we learned yesterday that just three per cent of Canadians are fully vaccinated – three! So, we need to help the Canadians – the Americans need to help the Canadians get vaccinated."
As part of his four-point plan, Schumer asked that a bi-national agreement with reopening criteria be established and disclosed to the public without delay. Second, he pushed for a re-evaluation and expansion of the essential travel designation, arguing that American and Canadian citizens with familial, educational, medical, and property interests should be considered essential travelers if they've been vaccinated.
Before moving on to his third and fourth point, Schumer stopped to take a shot at Canada's governing federal Liberals and their newly announced plan to add a tax to underutilized residences. The New York senator pointed out that many Americans own cottages in Canada and to tax them because COVID travel restrictions have prevented Americans from coming to their Canadian properties was lunacy.
"People can't visit these homes and now they're taxing them because they can't visit these homes. That's gotta stop," he admonished.
Rounding out his four-point plan, Schumer stressed the importance of recreational and commercial boating in the waters along the border. He then urged the federal government to provide all necessary support to Customs and Border Protection (CBP) officers and other federal personnel along the Northern Border.
Schumer explained that no effective border policy can be implemented without ensuring proper vaccination, testing, and protective equipment for the federal employees managing the border and ensuring the continued flow of goods, services, and travelers.
Schumer then urged experts to find a way to allow an open border for those with proof of vaccination.
"There are people checking for vaccination at all sorts of venues. It's easily doable here…That is not at all an insurmountable problem."
Niagara Falls, New York Mayor Robert M. Restaino endorsed Schumer's plan, saying, "his four-point plan walks out what I think is a smart method to bring this region back to life again."
"Those of us who live here in Niagara Falls and all along this border, so many of us look at Canada not as a foreign country. It's really another neighborhood that we share common interests with."
Buffalo Niagara Partnership CEO Dottie Gallagher noted the urgency of the situation.
"We need this to happen. Fall is too late," Gallagher said. "Please, please, President Biden and Prime Minister Trudeau, get to work on this for all of us."
"The time has come to re-establish the cross-border connections which have served us so well over the centuries," concluded Schumer.  "The longer we wait, the more damage will be done."