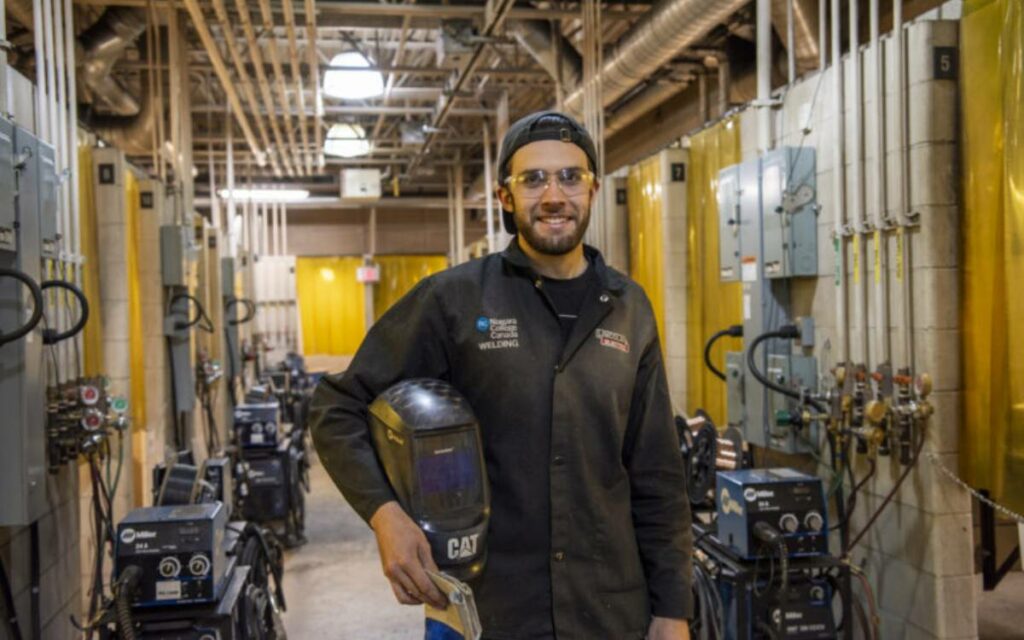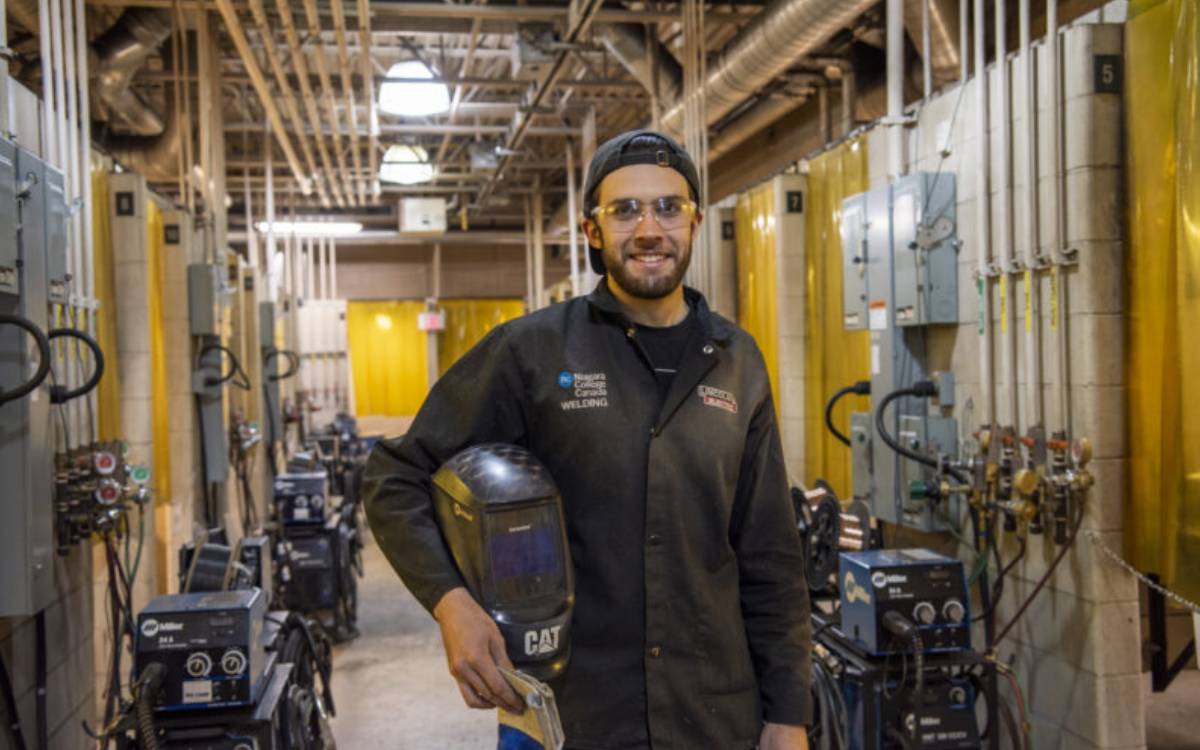 Top-earning gold medalists in last month's virtual Skills Ontario Competition, five hail from the District School Board of Niagara, two from Niagara College. Pictured is Niagara College welding technician student Jake Boekestyn, who won gold in welding at the provincial level and will compete at the national competition later this week. Photo credit: Niagara College
The annual Skills Canada National Competition takes place via hybrid format this week from May 25 to 28.
Participants will demonstrate their hands-on capabilities in everything from welding to web technologies. 
This year, the post-secondary and Team Canada Selection competitions will be held at the Vancouver Convention Centre. More than 300 competitors from all regions of Canada will participate on site in over 35 skilled trade and technology competitions. 
The secondary school competition will be held virtually, with more than 200 competitors from around the country testing their skills in 45 categories. 
A total of seven secondary and post-secondary students from schools across Niagara will compete as part of Team Ontario at this year's national showcase, following a dominant performance at the Skills Ontario Competition last month, which saw Niagara take home 31 medals: 13 gold, six silver, and 12 bronze. 
The District School Board of Niagara (DSBN) was awarded its second consecutive School Board Award of Distinction as the provincial competition's overall winner with the highest cumulative score, earning a total of 20 medals, including 11 gold.  
The powerhouse performance from the DSBN, the school's board best to date, resulted in five of its gold medal-winning students garnering spots in this week's 2022 Skills Canada Competition:
Abby Bruneel from Sir Winston Churchill (St. Catharines) – Hairstyling
Tommy Friesen from Sir Winston Churchill (St. Catharines) – Mechanical CAD
Tyler Lounsbury from AN Myer (Niagara Falls) – 2D Animation
Branka Peles from Westlane (Niagara Falls) – Fashion Design
Eric Hribljan from Beamsville Secondary (Lincoln) – Automotive Service
The remaining two representatives from Niagara competing at this year's Canada-wide skills competition are Niagara College students Matt Mackie and Jake Boekestyn. 
Both gold medalists are set to compete in-person in their respective disciplines at the Vancouver Convention Centre.
A game development student from Grimsby, Mackie captured first place at the provincial level in 3D Digital Game Art, having to create a 3D model of a butler robot and standing base using concept art provided. The model was required to be UV unwrapped, textured, and displayed, and it all had to be completed within eight hours.
"I didn't really expect to win based on how challenging the competition was," said Mackie in a statement afterward. "Now that I have, I'm just overjoyed…this reaffirms all the skills I've gained over the past three years, making me very proud of myself for being able to provide them in such a unique experience like this."
A welding technician student from Niagara-on-the-Lake, Boekestyn took home gold in his highly competitive trade of training. He was tasked with two simultaneous welding projects using a variety of materials, including mild steel, stainless steel, and aluminum. He had to complete the projects in seven hours. 
"Competing in the day-long competition was fun for me," said Boekestyn, who explained how his program prepared him with the ability to weld using different processes and positions. "I benefitted from the support of my instructors so much from the excellent tips and tricks that made fabricating and welding faster and more precise."
The 2022 Skills Canada National Competition is a qualifying competition for WorldSkills Shanghai 2022, which is scheduled to take place this October. Competitors in most post-secondary competitions and a few secondary competitions are eligible to move on to WorldSkills. Outside of three categories, to compete at the international level participants had to have been born on or before Jan. 1, 1999. 
Held every two years, the WorldSkills International Competition brings together over 1,000 competitors from 85 member countries to raise the status and standards of vocational skills and training worldwide.