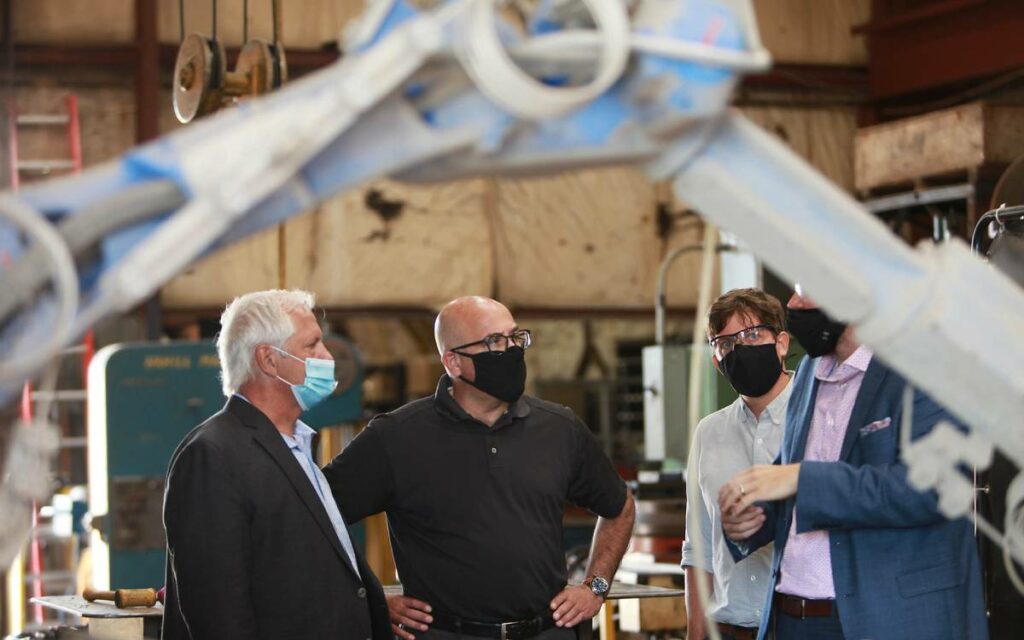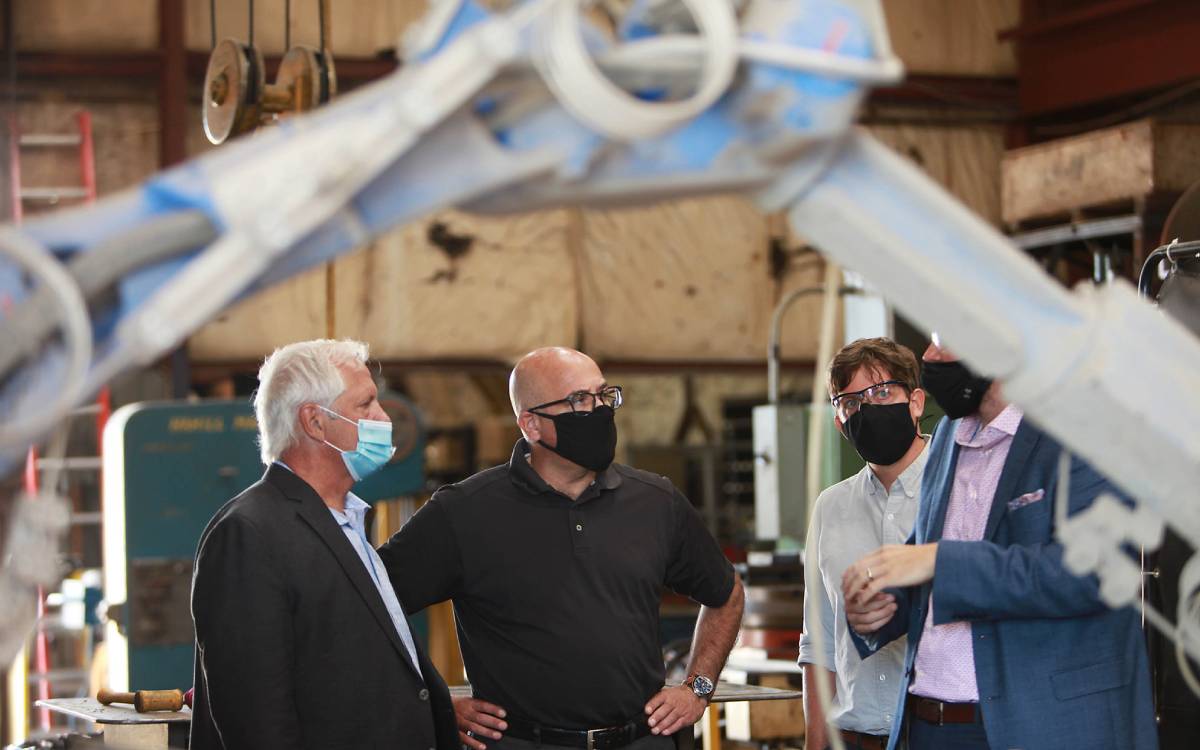 Niagara Falls MP Tony Baldinelli was named Shadow Minister for Manufacturing and Export Promotion at the beginning of November. Pictured is Baldinelli (centre) at Hamill Machine Co. in Niagara Falls, Sept. 5, 2020. 
Barely a month in and Niagara Falls MP Tony Baldinelli said he is thoroughly enjoying his new critic position. 
On Nov. 9, Conservative leader Erin O'Toole named his new shadow cabinet for Canada 44th Parliament. Baldinelli, who was re-elected to his second term on Sept. 21, was named Shadow Minister for Manufacturing and Export Promotion. While he enjoyed his previous role as Special Advisor to the Leader on Tourism, he's looking forward to the opportunities that this new challenge brings.
"I'm honoured," said Baldinelli, as he happily recounted receiving the call and being asked to take on his new position. 
While he feels that he will be able to continue on directly with some of the important work he had started as tourism critic, he sees overlap in his previous and current roles. 
"Ultimately, tourism is an export industry as well…in terms of the manufacturing sector in Canada, we're looking at about 91,000 companies – it's about $690 billion in annual sales, and about 10 per cent of our total GDP here in Canada, and 1.7 million employees alone. The manufacturing sector touches every aspect of the country and every sector."
Over the past three weeks, Baldinelli has jumped right in with both feet, promptly setting up meetings with stakeholder groups. 
"What we've done is immediately gone to work. We've reached out to some of our national stakeholder organizations. I've already had four meetings and I'm scheduling more. What I also want to do is talk to our local manufacturers and hear their issues, so we can bring forth the concerns that the manufacturing sector in Niagara is facing."
Despite his short tenure, Baldinelli appears to already have a solid grasp on some of the major issues facing the export and manufacturing sectors today.
"Labour is a huge issue that our sector is facing…We also have to bring forward the concerns we're facing with regards to the protectionist tendencies we're seeing down in the United States. Not only do we have the 'buy American' provisions which are limiting access to Canadian manufacturers and exporters, but now we also see the recent Biden administration decisions with regards to providing tax credits for the purchase of electric vehicles, especially with the batteries and the vehicles having to be made in the United States."
The new manufacturing critic made it clear that he feels Prime Minister Trudeau has not done what he needs to do to support the sector over the last six years. 
"This Prime Minister has failed with two administrations now," said Baldinelli, also noting how President Biden recently increased the softwood lumber tariffs and how it affects areas closer to home. 
The Niagara Falls MP said he wants to bring the unique perspective of Niagara manufacturers and their concerns to Parliament to better meet local needs. 
"We've got an engine plant in St. Catharines…eventually when these companies are looking to invest in the future as we move to electric batteries, with these provisions in place by the United States, why are they going to be looking to Canada to invest?" 
While he's yet to speak with his counterpart in the Liberal government, Baldinelli has found that his new position has afforded the opportunity to work with his fellow caucus members even more closely than before. "I have colleagues – be it in small business, labour, industry, or international trade portfolios – and we all are going to be working together."
"I'm so pleased to be back here in Ottawa in the House serving on behalf of the residents of Niagara Falls, Fort Erie, and Niagara-on-the-Lake," concluded Baldinelli. "I'm so humbled and honoured to have been re-elected to bring voice to their concerns, and the place to do it is in the House of Commons."