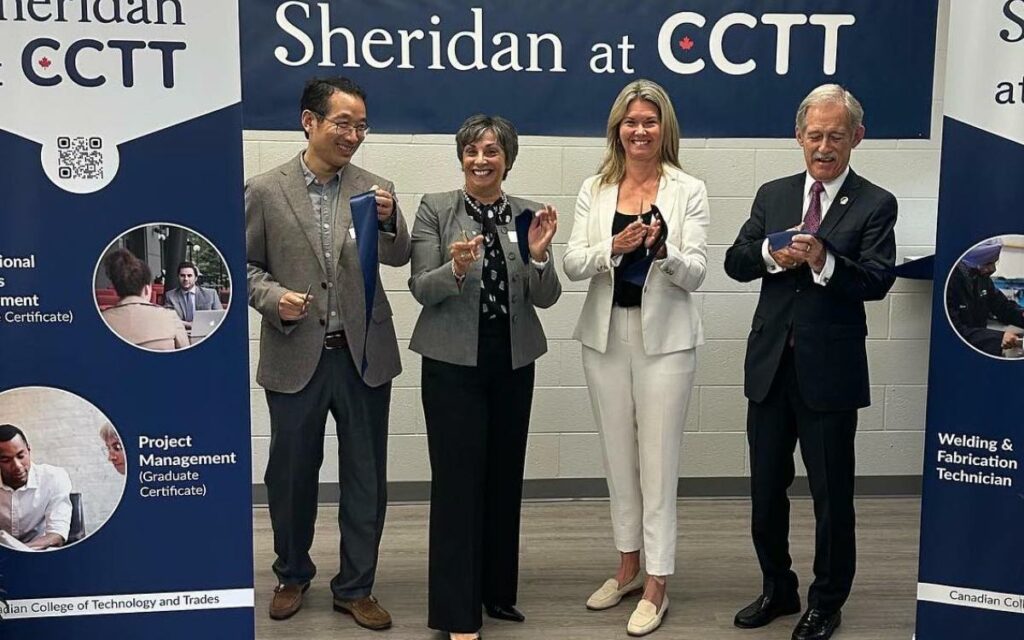 Minister of Colleges and Universities Jill Dunlop (centre right) joined Mayor of Fort Erie Wayne Redekop (right) and school officials for a ribbon-cutting ceremony at the new campus last week. Photo credit: Facebook/Jill Dunlop
As students and educators return to the classroom after Labour Day, many post-secondary applicants will soon have a new and exciting option. Sheridan College is in the final stages of preparing to open a satellite campus in the Town of Fort Erie. 
The campus is a key component of a new partnership between Sheridan College and the Canadian College of Technology and Trades (CCTT). The goal is to enhance opportunities for students to receive training for in-demand careers in the skilled trades. 
Jill Dunlop currently serves as Ontario Minister of Colleges and Universities and was on tap for a celebration commencing the partnership last week. 
"Thrilled to be a part of this very special ribbon-cutting ceremony celebrating the partnership between the Canadian College of Technology and Trades and Sheridan College," Dunlop shared in an August 15 social media post. "This is a great example of (Ontario post-secondary education) institutions coming together to foster world-class education for students that Ontario is known for… all while supporting the province's workforce." 
Dr. Janet Morrison, President and Vice Chancellor of Sheridan College, expressed great optimism for this new era of partnership between the school and CCTT. 
"Sheridan and CCTT are ideal partners," she said when the partnership was first announced in May 2023. "We have many complementary strengths (which include) strong shared values in the beliefs in the power of experiential, career focused education that change people's lives for the better." 
"Today marks the beginning of a new partnership that will provide opportunities for students to gain skills training and an education that's highly relevant for the times, helping to ensure their long-term employability and bolster Ontario's future competitiveness and prosperity." 
As a critical decade in a transformational century continues to unfold, addressing the shortage of workers in the skilled trades will be crucial to realizing economic resilience for the province. The Town of Fort Erie, specifically, serves as a large North American trade corridor, with more than 21 per cent of jobs located in the trades, transport and equipment operators category. 
For these reasons and more, Mayor Wayne Redekop believes the venture will be extremely successful. 
"This is very exciting for Fort Erie," Redekop said. "We have long known that education is a key factor in the future success and prosperity of communities," he furthered. "(This partnership) brings together two of our leading institutions to address (an) increasingly troubling trend in Ontario, and indeed, Canada – the lack of skilled trades." 
"This program will help to create the workforce of tomorrow, meet the skilled trades shortage, provide a path to citizenship for new Canadians and bring a post-secondary presence to Fort Erie." 
The Fort Erie campus will become the fourth that Sheridan operates in Ontario, in addition to existing sites in Brampton, Mississauga and Oakville. The new satellite will be located at the Fort Erie International Academy, the former Fort Erie Secondary School (7 Tait Ave). 
Classes are expected to begin later this fall. Prospective applicants can learn more about the offerings by visiting the Sheridan at CCTT website.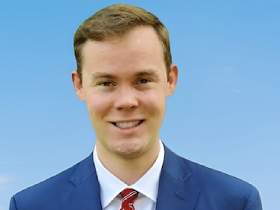 Nick Redekop completed his Honours Bachelor of Arts Degree in Labour Studies at Brock University. He has previously served in municipal and federal politics. In his free time, Nick enjoys following sports, taking part in outdoor activities, and reading biographies. Nick resides in Niagara Falls