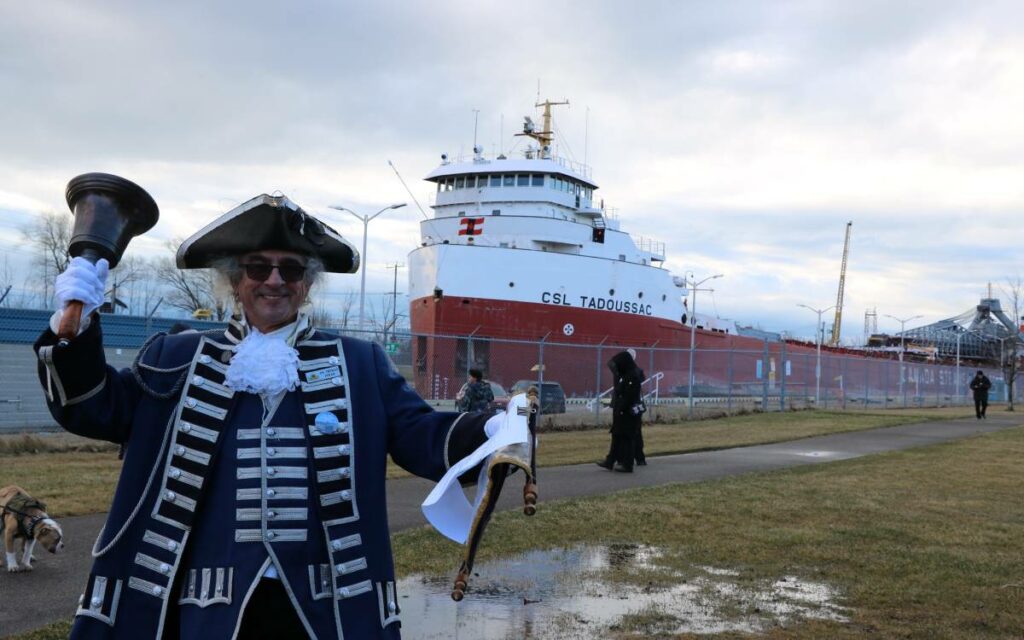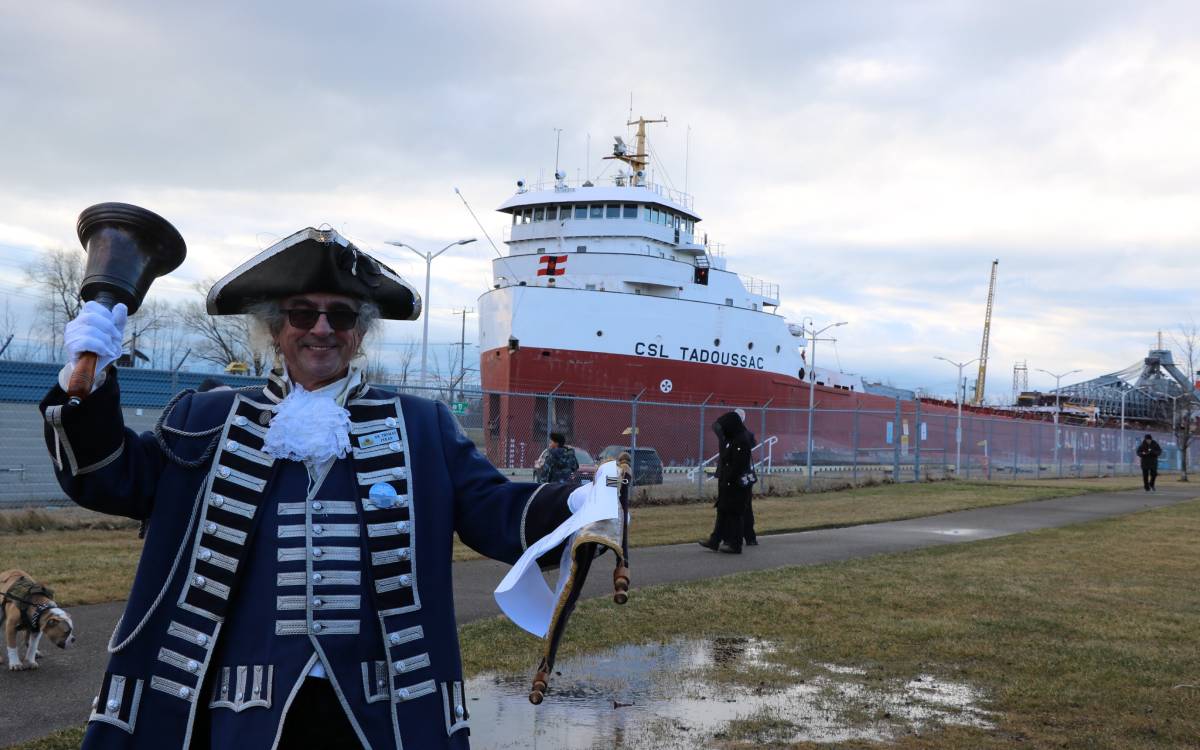 The City of Port Colborne welcomed the first downbound vessel of the 2022 shipping season into the Welland Canal at its annual top hat ceremony on Thursday, Mar. 24, 2022. Photo credit: Twitter/City of Port Colborne
The first vessels of the 2022 navigation season travelled up and down the Welland Canal on Thursday. 
Officially opening the cross-peninsula waterway from the south in Port Colborne was the bulk carrier CSL Tadoussac. 
The City of Port Colborne held its annual top hat ceremony at the Lock 8 Gateway Park pavilion to mark the occasion. Mayor Bill Steele presented this year's ceremonial fur hat to Captain Wilson Walters on behalf of Captain Jesse Vickers, who waved to onlookers aboard the Tadoussac as the ship sailed downbound toward the Atlantic.
In his address to spectators, Mayor Steele discussed the importance of shipping to the local economy.
"We want Port Colborne to remain an important location within the seaway where marine related businesses can flourish," said Steele. "Through strong partnerships with those in the marine industry we continue to create opportunities for marine related development within the seaway trade corridor and our city of Port Colborne."
At the other end of the watercourse in St. Catharines, the CSL Welland was the first upbound vessel of the season to enter the canal.
The St. Lawrence Seaway Management Corp. held its annual ceremony at the St. Catharines Museum and Welland Canals Centre at Lock 3 to celebrate the event.
On hand for the ceremony were a number of dignitaries, including Canada's Minister of Transport Omar Alghabra, Niagara Regional Chair Jim Bradley, and president and CEO of Canada Steamship Lines (CSL) Louis Martel.  
"Our government's top priority is keeping our supply chains moving. The St. Lawrence Seaway is critical to Canada's economy, supporting over 92,000 jobs and moving $17 billion in trade activity each year", said Minister Alghabra. 
"With the end of the winter season, we look forward to once again welcoming ships from around the world back to Canadian waters."
Freshly painted on the accommodation block of the CSL Welland was a massive 16-by-14-meter depiction of four runners "striving together towards a common goal."
Created by Canadian artists Bryan Beyung, Emmanuel Jarus, Andrea Wan, and K.C. Hall, the mural was commissioned by CSL to honour the 2022 Canada Summer Games taking place across the Niagara Region this August.
"As the primary sponsor of the Canada Games torch relay, we were very excited to work with these young artists," said CSL president and CEO Louis Martel. "They were able to capture the spirit of athleticism, and the common values we share with the Games – collaboration, inclusion, diversity, integrity, responsibility and perseverance."
The 2021 shipping season saw more than 38 million tonnes of cargo transit the Welland Canal. Since 1959, over three billion tonnes of cargo have passed through the waterway.