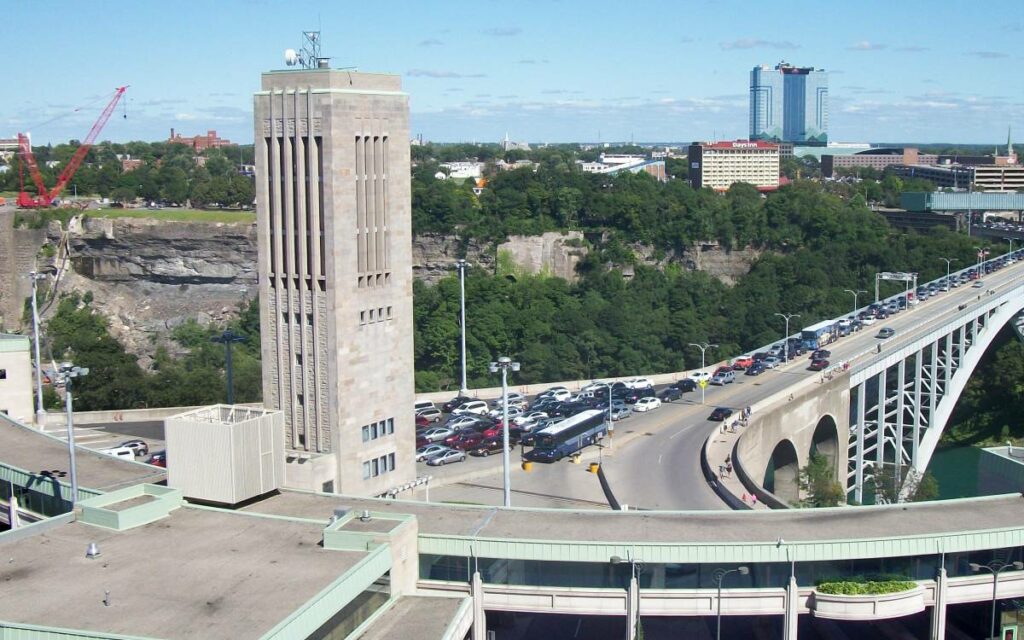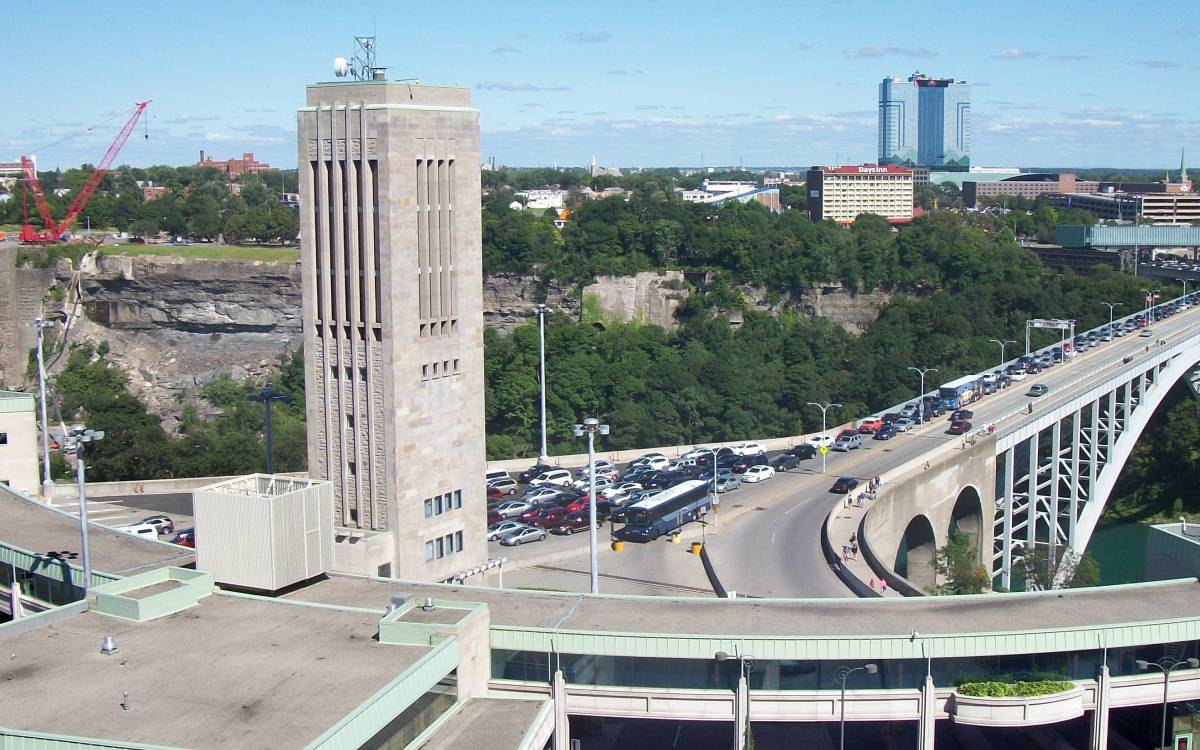 International Rainbow Bridge. View from Niagara Falls, ON looking toward Niagara Falls, NY.
In a recent opinion piece for the Globe and Mail, Council on Foreign Relations senior fellow Edward Alden argued that it's high-time Canada's prime minister work with his American counterparts to examine options for reopening the world's longest land border.
According to Alden, author of  The Closing of the American Border: Terrorism, Immigration and Security Since 9/11, the need to restore non-essential land travel between Canada and the United States is both economic and compassionate. The tourism sectors on both sides of the border have been devastated, while thousands north and south of the international boundary have been stranded from friends and family for an achingly long time.
Regarding his latter concern, many locals appear to agree. On Wednesday, Richard Hutton published a story in the Fort Erie Post highlighting some of the pain experienced by Niagara residents unable or limited in their capacity to visit loved ones in the U.S. Per Hutton, a locally-administrated Facebook group calling for relaxed restrictions for separated families has accumulated several hundred members since it was created some three weeks ago.
Across the river from Fort Erie, Western New York congressman Brian Higgins has been working tirelessly as co-chair of the House's bi-partisan Northern Border Caucus to see land crossings reopen for non-essential travel between Canada and the U.S.
In a February letter to President Biden, the Democratic congressman from New York's 26th District wrote, "I believe that now is the time to think boldly and proactively in planning out the incremental re-opening of our border with Canada…I challenge the administration to work with me to reach a goal for a partial re-opening of the Northern Border by Memorial Day of this year [May 31] with a full re-opening by July 4 of this year."
Higgins pointed to increasing vaccine distribution, growing testing capacity, sound hygiene protocol, and continued adherence by the public to proper social distancing precautions to support his plea.
"Even though my district in Western New York sits just across the Niagara River to the Canadian province of Ontario, the distance to Canada is now further than it has ever been in my lifetime", Higgins told the president.
While land travel across the border has been significantly reduced over the past year, cross-national travel has hardly ceased. Canadians have been permitted to venture to the U.S. by air throughout the pandemic. Likewise, certain U.S. foreign nationals have been able to enter Canada via airplane.
Hundreds of thousands of Canadians and Americans have voyaged both ways across the international border since the boundary was 'closed' last March.
As countless have wondered aloud: if individuals can enter a sealed tube with hundreds of other people sitting in close quarters for several hours en route to warmer climes, why can't they drive the family car over to Buffalo for the afternoon to picnic at Canalside?
In a recent interview with Buffalo-based news show WGRZ '2 on Your Side', Mayor of Niagara Falls Jim Diodati said that he supports Congressman Higgins' plan to reopen the border this summer.
"Most of us are very supportive of your Congress leader Higgins suggesting that the border should open for the July 1st, [July] 4th weekend," Diodati told WGRZ. "I know there is discussion about that right now — around what that will take and if people can prove they've been vaccinated — [but if people can prove that] why wouldn't they be allowed to cross the border?"
Concerning Mayor Diodati's final point, one option that has received growing attention and support as of late is the idea of using so-called "vaccine passports".
A vaccine passport is effectively just proof of immunization against Covid-19. It could take the form of a physical card or certificate, or perhaps even an app on one's phone. Though some have suggested requiring immunity passports for such things as attending concerts or playing team sports, others have been more measured in their view of how proof of vaccination can and should be used.
Former Niagara Falls MPP and Regional Councillor Bart Maves said that he sees the utility of vaccine passports, but only for limited purposes.
"I don't think it prudent nor practical to demand people show proof of vaccination before entering a grocery store or a movie theatre", said Maves. "However, when it comes to international travel, vaccine passports could work as a relatively straightforward way to ensure safety, while expediting the reopening of the border. Customs officers are highly trained and experienced in a variety of verification techniques. They would be able to properly assess proof of vaccination, whereas those employed at other venues likely would not have the expertise or resources to do so."
Maves, who currently sits on the 8-member binational Niagara Falls Bridge Commission, pointed out that such a move is actually not a novel qualification for international travel.
"People have had to show evidence of immunization prior to entering and exiting certain countries for decades now," said Maves. "Should I want to travel to Malaysia, for example, I would need to provide proof of vaccination for Polio."
But before vaccines passports even become a possibility, over the next several months all levels of government will need to work hard to acquire, distribute, and administer the five available vaccines approved for use in Canada. To date, only around 2 per cent of the Canadian population has been fully vaccinated, with another 12 per cent having received the first of two doses. The U.S. is well ahead of Canada in terms of vaccination, with over 33% of its population already having received one dose and nearly 20% fully vaccinated.
Fortunately for Canada, the U.S. is on track to have a surplus of vaccines by the end of May.
With the Biden administration already showing its willingness to help its northern neighbour, and given the two countries' proximity and close relationship, it's more than likely Canada will top the export list for excess American doses.