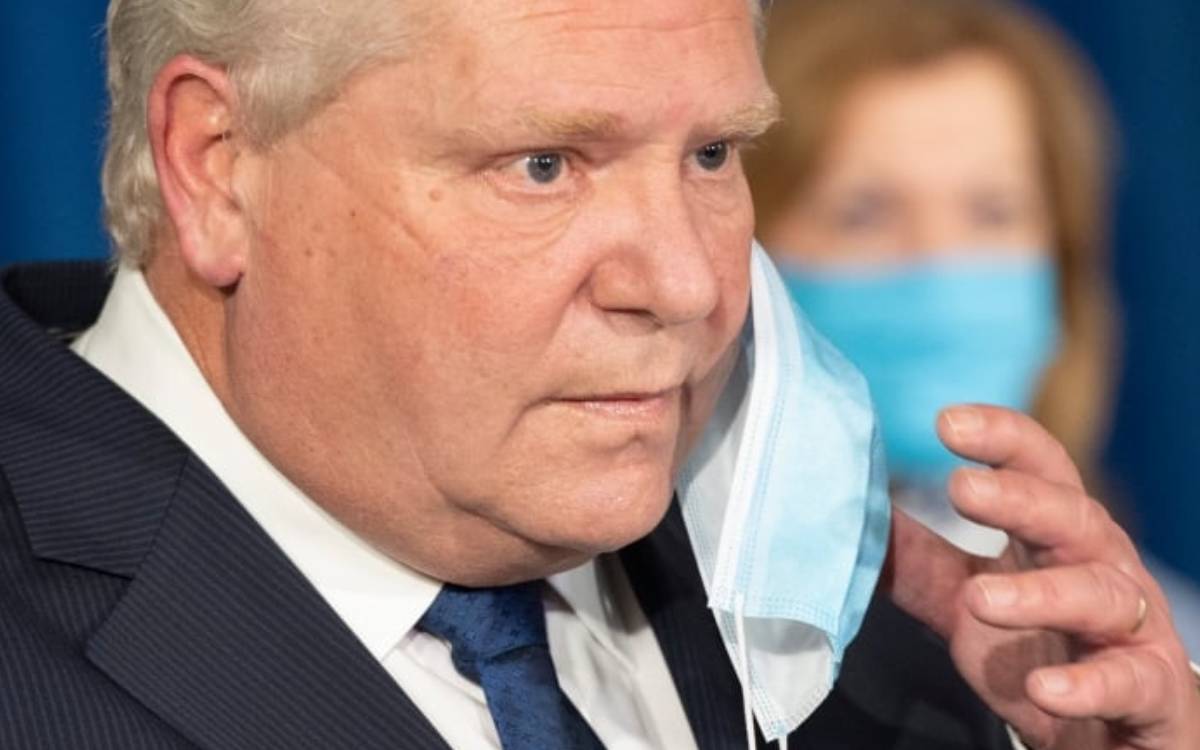 Ontario Premier Doug Ford. Photo credit: The Canadian Press / Frank Gunn
It is abundantly clear following the outrage of so many on social media that Ontario Premier Doug Ford should have instituted a curfew like Quebec, which has limited after-hours movement of its residents for 100 plus days now.
Instead of giving police the power to question people, he should have just said: after 8pm everyone not walking their dog gets a ticket. And don't try that 'putting-a-leash-on-your-husband' thing – it has been tried; it doesn't work.
Then again, maybe putting a curfew on one of the world's largest Covid-19 hotspots, with more than 4,400 cases a day thanks to the internationally imported variants, isn't the way to go.
Perhaps Mr. Ford should have done like the Atlantic bubble and shut down anything coming in or going out of Ontario. Institute full quarantine for anyone flying into the province, including the several flights of workers headed west on a monthly basis to work in natural resources that keep cars on the road and heaters or air conditioners going.
Maybe he could look overseas to a place like Ireland where you were not allowed to be farther than one kilometre from your home even to pick up groceries. Or he could have locked down Ontario – at any time really –  in the same fashion Australia, New Zealand, Taiwan or Singapore did.
Perhaps Mr. Ford should have created a true no-go zone, thereby stopping the hub of Canada's supply chain and emptying grocery store shelves from sea to sea to sea.
Actually, he couldn't do those last two because he doesn't have federal powers.
These are all options that have been on the table.
Instead, Mr. Ford chose to shut down playgrounds and beaches where multitudes of people gather on a daily basis. In doing so social media criticism was rampant, claiming that telling people to go home during a pandemic is basically akin to Nazi Germany, an oppressive regime that murdered 11 million or more people.
Honestly if you think the regime of Hitler or Mao or Stalin is anything like what is going on in Canada, then you need to reach down and extract your head from the orifice in which it is lodged.
Two days following the premier's announcement and subsequent climb down, Queen Street in Toronto was filled with a massive protest march against masks, vaccines and common sense. They would have all been shot in the previously noted regimes – and I don't mean with vaccines.
Of course, the police had already said they would not enforce the law and public health orders, so the march was allowed to proceed.
This is all happening while Ontario's modeling is showing by the end of May there will be 10,000 or more Covid-19 cases per day. At the province's current rate of Covid-19 deaths, that would mean nearly 200 would die from the disease every day (or just under 1,300 per week). That's not cases – one thousand three hundred of your neighbours, family and friends: dead.
Meanwhile, other than the anti-vaxxers on Queen Street, we have all concluded the only way out of the pandemic is vaccines. Thankfully provinces are rolling back the age for the AstraZeneca vaccine.
That particular vaccine is being rejected by many because of Health Canada's inconsistencies with age limits. First, only those younger than 65 years of age, then only those older than 55 years of age and now 40 and above is okay. Naturally, this has created doubt in the vaccine's safety and demographic suitability.
Regardless of all this, there is one fact that remains: Canada needs more vaccines, and they need to be targeted at hot spots.
Brampton Mayor Patrick Brown had a good quip on CBC news about a week ago. Mayor Brown said, and I am paraphrasing, if there is a house on fire, you don't send the fire department to the other houses on the street to douse them with water while that house is burning.
He is right, and that goes with all of Canada, not just Ontario vaccine distribution. Simply put, the Atlantic bubble works and has been working, why are vaccines going there when they have things under control? Maybe pause for a week so Ontario can deal with the hot spot?
The same could be said for Manitoba, Saskatchewan and the territories, all of which have control of Covid-19 due to distance and lockdowns. The issue is Canada's largest population cluster and international shipping hub – the Greater Toronto Hamilton Area. Something all of Canada relies on.
Almost no one in the media is talking about this, as they seem to give Justin Trudeau's vaccine allocation strategy a pass. At the same time, Premier Doug Ford is being vilified for how he is doling out the scraps.
Here is my advice.
Clearly, politics has played a role in hurting Canada's vaccine roll out and Covid-19 response. Perhaps the top politicians need to stand up in a press conference together – a real one – and let media have at it. Prime Minister Trudeau and Premier Ford in a room in a nationally televised news conference that doesn't end until all the media questions have been asked and answered. This includes an agreement on where vaccines are going and to what extent places should be locked down.
As crazy as it sounds I think the only way to take the politics out of the Covid-19 response is to inject even more politics.
We could then have a panel of doctors to dispute everything that is said. This shouldn't be difficult, one of the truest statements about Covid-19 I have come to believe is no matter what your opinion, there is a doctor somewhere being touted as "the expert" who will agree with your position.
The expertise of said doctor increases with your dislike of the politician they disagree with.
Still, the only way out is vaccines, we can all agree with this – unless you have a fine collection of tinfoil hats. So, when you can, get your shots.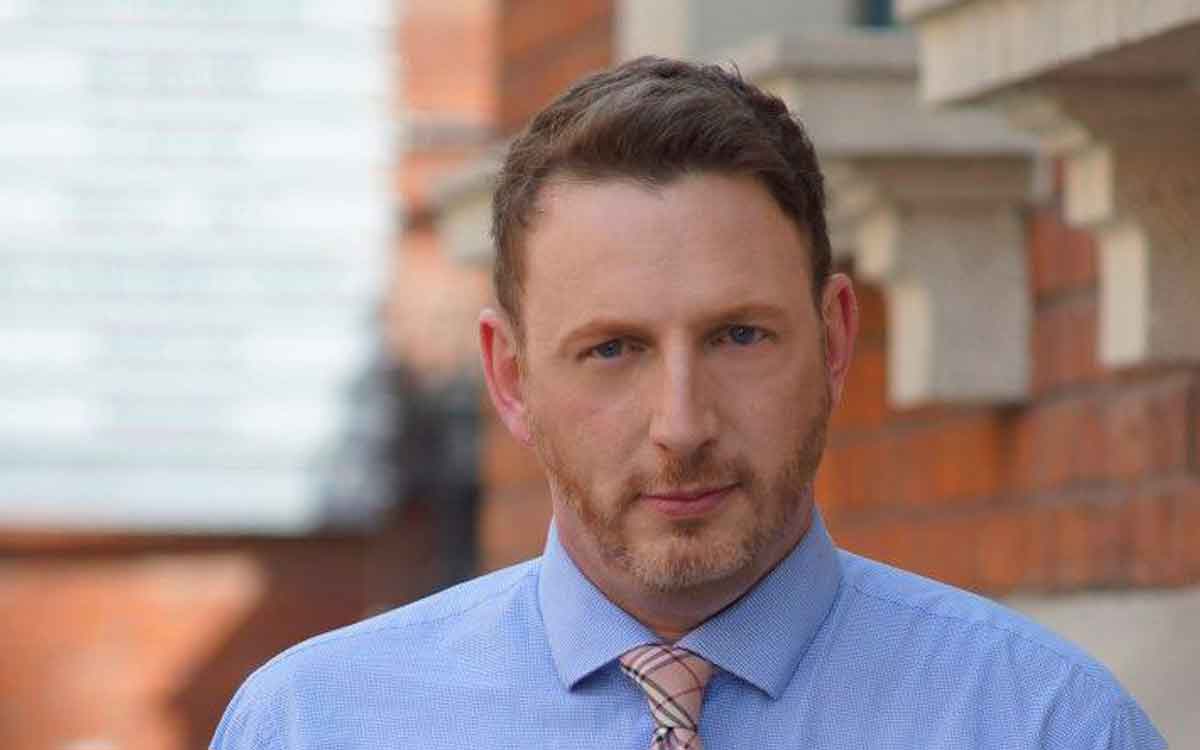 Kelly Harris is Principal of Harris Public Affairs. He is a regular commentator on Global News Radio 640. He has spent the last decade working with Canada's credit unions and served as Director on the Board of the Canadian Credit Union Association. An internationally published journalist, he has held senior positions in the Gordon Campbell government in British Columbia and Tim Hudak's opposition at Queen's Park. An avid traveller, cyclist, member of Bills Mafia and die-hard fan of the Toronto Maple Leafs.