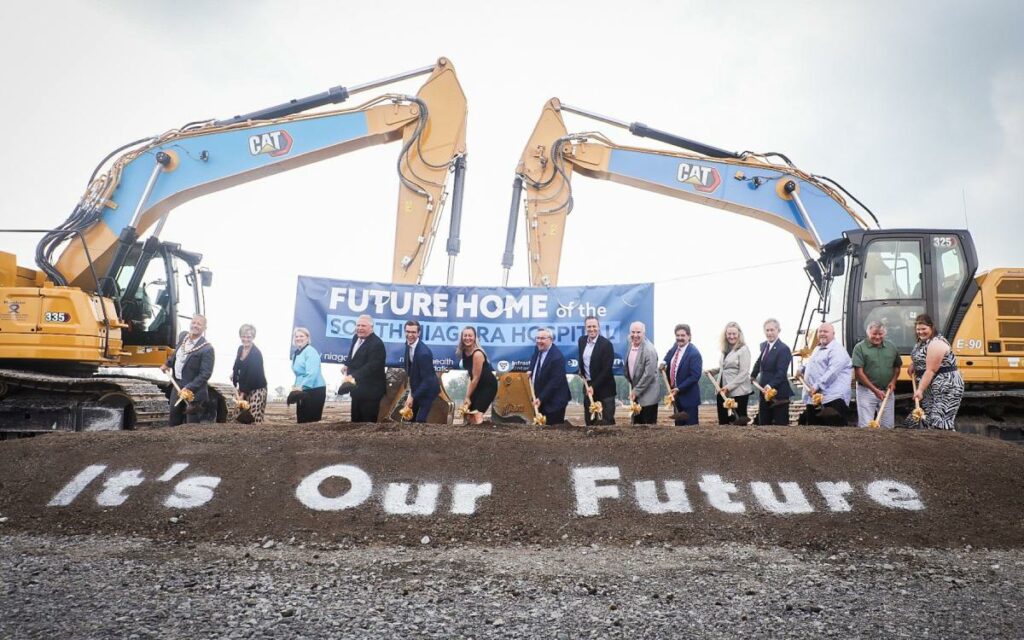 Several public officials, including Premier Doug Ford, were on hand for the official ground-breaking ceremony on Tuesday, July 18, 2023. Photo credit: Twitter/Doug Ford
On Tuesday, July 18, Ontario Premier Doug Ford was in Niagara to break ground on the region's new state-of-the-art $3.6 billion hospital: Niagara Health's South Niagara Site.
Ford was joined by a number of others, including Deputy Premier and Minister of Health Sylvia Jones, Minister of Infrastructure Kinga Surma, Niagara West MPP Sam Oosterhoff, Niagara Health Foundation President and CEO Andrea Scott, Niagara Health President and CEO Lynn Guerriero and Niagara Falls Mayor Jim Diodati.
Approximately 300 people attended the on-site ceremony which officially marks the beginning of the hospital's construction. The project is scheduled to take five years to build, with an expected opening date of Summer 2028.
The start of construction follows more than a decade of planning for the 1.3-million-square-foot facility.
Premier Doug Ford said that the ground-breaking event brings the province "one step closer to connecting the people of the growing Niagara region to more convenient care close to home for generations to come."
"Right across the province, we're investing nearly $50 billion over the next 10 years to support more than 50 major hospital projects," Ford continued.
The new hospital site is along the Queen Elizabeth Way in Niagara Falls at the corner of Montrose and Biggar roads, one highway exit south of the Niagara Square Shopping Centre.
Once completed, the 12-storey building will hold 469 single patient bedrooms, eight operating suites, 42 haemodialysis stations and two MRI machines. It will offer a full range of hospital services, including emergency, critical care, diagnostic, therapeutic and surgical services.
The hospital will increase regional healthcare capacity and is specifically designed to meet the needs of Niagara's aging population with centres of excellence in complex care, wellness in aging, and stroke recovery.
Jones says that residents of the Niagara Region will be able to "connect to the care they need right in their own community."
Hospital designers are also working on achieving the status of building the first "WELL-certified" hospital in Canada. WELL certification is awarded based on meeting certain criteria which measure how well a facility takes into account people's health and well-being. 
The certification includes various criteria involving lighting and soothing design elements. 
By incorporating these standards, officials hope to improve the patient experience and also create a "more positive workplace environment" which will help "to attract and retain top healthcare professionals."
London, Ontario-based builder EllisDon Infrastructure Healthcare (EDIH) was awarded the $3.6-billion contract in February 2023 to design, build, finance and maintain the hospital after an open and competitive bidding process. 
EDIH has managed dozens of healthcare projects, including Oakville Trafalgar Memorial Hospital.
The builder has also committed to prioritizing the use of local subcontractors and workers for the project.
Decew Construction (Rankin Construction) has already started site work on the property in preparation for the installation of the construction trailer complex. Excavation will then begin by the end of this summer.
The Province of Ontario is funding the majority of the project, with local fundraising mainly from philanthropists contributing over $50 million so far. The City of Niagara has committed $30 million that will be paid over multiple years through tax levies. Niagara Health is also sharing in the cost.
The multibillion-dollar Niagara Falls facility is one of the single largest design, build, finance, and maintain (DBFM) investments for a new healthcare project in provincial history.
Oosterhoff notes that the ground-breaking marks the second hospital in Niagara with shovels in the ground since the Ontario PC's took office in 2018. 
A new facility for West Lincoln Memorial Hospital in Grimsby is expected to reach substantial completion in February 2025 and final completion in Summer 2026 in what is a $224-million project.
Niagara Falls Mayor Jim Diodati said that "at the end of the day [the new South Niagara Site] is going to lead to the best healthcare for Niagara."
He continued, "This incredible hospital will raise the bar in healthcare in our region for generations of families. It will be the centre of excellence our residents deserve, with the newest and latest technology and equipment that will attract the brightest and best doctors, which will lead to the very best healthcare. Today marks the next step on this journey to up-level healthcare in Niagara Falls and South Niagara."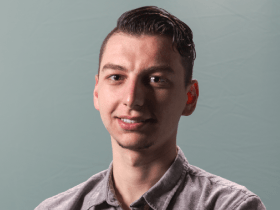 Based in Hamilton, he reaches hundreds of thousands of people monthly on Facebook, Instagram, TikTok, and Twitter. He has been published in The Hamilton Spectator, Stoney Creek News, and Bay Observer. He has also been a segment host with Cable 14 Hamilton. In 2017, he received the Chancellor Full Tuition Scholarship from the University of Ottawa (BA, 2022). He has also received the Governor General's Academic Medal. He formerly worked in a non-partisan role on Parliament Hill in Ottawa.